Mount Reagan: Why do Americans name mountains after presidents?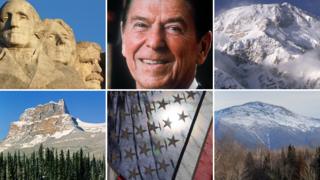 A campaign to rename a Nevada mountain after Ronald Reagan is gathering pace. Why are Americans so fond of naming peaks after their presidents?
The summit rises up from the Mojave Desert's arid expanse, looming above the garish sprawl of Las Vegas.
It's an impressive sight, which at present goes under the name of Frenchman's Mountain.
Soon, however, this landmark could become indelibly associated with Ronald Reagan. A campaign is gathering pace to name this 4,052ft (1,235m) lump of tundra rock after him.
The area's connections with the 40th president, who grew up in the Midwest and built his career in California, are tenuous at best. He apparently performed on the Las Vegas Strip for all of one fortnight during his early days as an actor, and appeared in a World War II propaganda film shot at a Nevada airbase.
And while Reagan enjoys a towering reputation among the American right, his would-be namesake's height is not particularly imposing. It is much smaller than Alaska's Mount McKinley - named after William McKinley, the relatively obscure 25th president - the highest peak in the US.
"It's not the highest peak in the state or the country," admits Chuck Muth, the conservative activist who is leading the Mount Reagan campaign.
"It's the view from the top, not the mountain itself - the contrast between the barren wilderness and Vegas, which shines like no other city."
If Muth succeeds, his hero will be in good company.
Some 14 presidents have already given their names to mountains across North America.
The Presidential Range in New Hampshire boasts mountains called after no fewer than 12 commanders-in-chief.
From New England to the West Coast, presidents as celebrated as Abraham Lincoln and as obscure as Zachary Taylor, who served for only 16 months from 1849, share the accolade.
It's a habit that distinguishes America from other nations.
In the UK, it's unlikely anyone would suggest renaming Ben Nevis, Snowdon or Scafell Pike after, say, Winston Churchill. Western Europe's highest peak is Mont Blanc, not Mont de Gaulle.
Perhaps the only other country to have been so assiduous in paying tribute to ex-leaders in this manner is the former Soviet Republic of Kyrgyzstan, which has named mountains after Russian presidents Boris Yeltsin and Vladimir Putin, as well as the decidedly non-political Santa Claus.
The iconic national memorial in South Dakota, featuring the faces of Lincoln, George Washington, Thomas Jefferson and Theodore Roosevelt hewn into the granite, may also have helped to link the landscape with presidential greatness.
"In the US it has a lot to do with the existence of Mount Rushmore," says Mr Muth. "It's so well known as a tribute that a mountain holds higher esteem than a valley or a stream."
While there are already 3,000 landmarks named after Reagan, including schools, roads, buildings and Ronald Reagan Washington National Airport just outside the nation's capital, the Nevada campaigners see a mountain as the ultimate expression of political immortality.
"Airports can be razed and taken down," Mr Muth adds. "There's more of a permanence to this."
One potential hitch, however, is that Mount Reagan already has a name. In fact, two names. Officially, it is known as Frenchman Mountain, though most locals refer to it as Sunrise Mountain.
When the New Hampshire state legislature attempted to designate a Mount Reagan a couple of years ago, the bid was over-ruled by the US Board on Geographic Names (BGN).
The BGN is reluctant to rename mountains that are already designated on maps, and New Hampshire's prospective Mount Reagan was already Mount Clay, named after the 19th Century secretary of state, Henry Clay.
Names of landmarks can be rescinded - but this mostly happens when they are regarded as racially offensive. In 2010 Negrohead Mountain in California was renamed Ballard Mountain after John Ballard, a blacksmith and former slave.
It's a reminder that deciding what to call a place is a deeply political act, especially in a country whose history includes slavery, and before that waves of migration and conquest.
"When you name a place after someone, you're giving them a sense of legitimacy. When you name a mountain after them, you are literally elevating them," says Derek alderman, professor of geography at the University of Tennessee, Knoxville.
But Mount McKinley remains known to Native Alaskans - and to some mountaineers - as Denali, its name in the Athabaskan language.
Furthermore, to those who actually climb a mountain, as opposed to merely looking at it on a map, the name can begin to lose its importance.
In 1970, Arlene Blum helped lead the first all-woman ascent of Mount McKinley.
On her way to the summit, she says, the last thing on her mind was the Republican former governor of Ohio who served in the White House from 1897 to 1901.
"You climb a mountain because it's beautiful, or challenging, or there's something special about it," she says.
"I really don't think I've ever considered what it's called, or who it's called after."