Tweets of the Week: Hackers, Google Glass, and the Oscars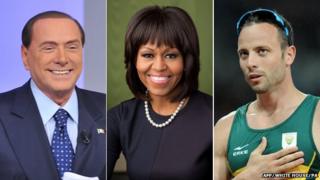 For the week ending 22 February, here is a look at the news in America - all in 140 characters or fewer.
1.#Pistorius magistrate, in granting bail, listed the state's missed opportunities, for example in finding out about house, assets abroad.
The New Yorker senior editor Amy Davidson (@tnyCloseRead). The murder case against South African athlete Oscar Pistorius continued this week, as a judge announced on Friday he was freeing Pistorius on bail.
2. If AshleyJudd becomes a Democratic Senator I want Morgan Freeman to become a Republican Senator and they solve a murder together
Voice actor James Urbaniak (@JamesUrbaniak). Actress Ashley Judd is said to be weighing a Senate run in the state of Kentucky.
3. "The good news is there's a real attractive, hot girl in the universe; the bad news is she's your sister" - Mark Hamill on Star Wars
Managing editor of the Next Web, Matthew Panzarino (@panzer). Mark Hamill, who played Luke Skywalker, revealed this week he was in discussions to return to his iconic role for a new Star Wars movie.
4.Alert reader points out that Google Glass demo lacks portrayal of its implications for dating. Which are just, ah, expansive.
Quartz technology and science reporter Christopher Mims (@mims). Google unveiled wearable computing project Google Glass this week.
5. Ben Affleck's comeback is impressive, but let's hold back on making it official until he makes an Oscar-winning film starring Jennifer Lopez
Copywriter Mark Campbell (@MrWordsWorth). Argo, the film by Ben Affleck, is mentioned as a favourite to win the Oscar for Best Picture as Hollywood prepares for the 85th Academy Awards on Sunday.
6. The cool thing about the sequester is without food inspectors we don't have to worry about anyone telling us that we're eating horse meat.
Liberal political humourist @LOLGOP sees the benefits of the "sequester", an imminent and probably punishing raft of across-the-board US government spending cuts due to take effect next month unless Congress acts to avert them.
7. I'm beginning to suspect that the Berlin Wall fell due to the insidious machinations of the Chinese army's hacking unit
Foreign Policy magazine's Evgeny Morozov (@evgenymorozov). A widely circulated report by US security firm Mandiant linked the Chinese military to a number of recent, high-profile hacks of American companies, including Apple, Facebook, and the New York Times.
8. Could Jesse Jackson Jr have blown his campaign money on gold watches if he was in a swing seat? Free anti-gerrymandering column for ya
Slate political reporter Dave Weigel (@daveweigel). Former Illinois Congressman Jesse Jackson Jr pleaded guilty this week to campaign finance fraud charges, admitting he spent $750,000 (£492,000) in campaign funds on personal items, including two mounted elk heads and a Rolex watch.
9. Berlusconi warns that the euro may break up; euro rises. This may be a good indicator of who will win the Italian elections
Financial Times currencies correspondent Alice Ross (@aliceemross). On the eve of Italy's general election, Silvio Berlusconi trails Pier Luigi Bersani with two days to go. The former Italian prime minister is attempting a comeback after being pushed out of power 18 months ago.
10. Asked if there was still time for a deal to avert the sequester, Obama replied: "Hope springs eternal."
Washington Post reporter David Nakamura (@DavidNakamura). The president hopes Congress will yet strike a deal to avert the cuts.