Private or state: Where do professional sportspeople go to school?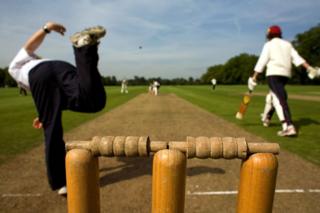 State schools do not play enough competitive sport at a high level, it has been warned. But do private schools dominate professional sport?
Even before last year's London Olympics, Prime Minister David Cameron was concerned that private schools produced "more than their fair share of medal winners".
Up to the age of 16, about 93% of children in the UK go to state schools. But this was not reflected among gold medal-winning Olympians.
The Good Schools Guide noted that 12 out of 41 British gold medal-winners educated in the UK attended private school. (A 42nd medal winner's educational background was unknown and a 43rd was schooled in Germany).
That's about 29%.
But break it down by category and there's plenty of variety.
Take rowing, and the 10 gold medal winners were split 50/50, state and private. At the other end of the spectrum in cycling, only one out of 12 gold medallists went to private school - Sir Chris Hoy.
It's a much smaller group but all three of the track and field gold medallists were state school-educated.
All three of the boxing golds were also state school-educated.
That's just the gold medallists of course. Malcolm Tozer, editor of Physical Education and Sport in Independent Schools, identified that 93 out of 542 members of Team GB for London 2012 were educated at independent schools. That's 17%.
Away from the Olympics, the ratios vary in professional sport.
England's recent one-day cricket squad to face New Zealand featured seven privately schooled players out of 15 - about 47%. Even without including Eoin Morgan, who was privately educated in Ireland, that still leaves almost half the squad.
Current captains Alistair Cook and Stuart Broad both went to private school.
Cricket is sometimes perceived as more private school-oriented. The association with rugby union is even stronger.
Of the UK-educated players in the latest England squad, there was a 50-50 split between private and state, with 12 players attending each. Fullback Ben Foden had both state and private education.
Of the 33 UK-educated players in the recent Scotland squad, 13 went to private school - just under 40%.
Rugby league is at the other end of the spectrum. It has had only six privately-educated players since 2000, according to Tozer.
This might be taken to reflect rugby league's strongholds in traditionally working class areas such as Wigan, St Helens, Widnes and Bradford. The London Broncos are the only Super League team in south-east England.
The educational make-up of football again indicates the working class base of the sport. Frank Lampard and Alex Oxlade-Chamberlain were the only privately-schooled players in England's recent 21-man squad against Brazil.
Football has always been associated with the working class.
But there are signs that this is changing. Derby's 17-year-old starlet Will Hughes, reportedly coveted by several Premier League clubs, is one of three young professionals to have gone to Repton School, a private school in Derbyshire.
Chelsea winger Victor Moses, 22, went to Whitgift School in Croydon while at the Crystal Palace academy.
Significantly perhaps, both Lampard and Oxlade-Chamberlain are the sons of former footballers.
With the staggering rise in the affluence of footballers and the likelihood that many will send their children to private schools, there could be more sons following fathers and changing the educational make-up of the game.
But the skew towards private schools in some sports should not necessarily be taken as a substitute for class.
The example of Victor Moses highlights another phenomenon. The ethos of many private schools places a strong emphasis on competitive sport as having "a positive influence on every pupil", as Repton puts it.
It has led the likes of Moses to receive scholarships and bursaries that open the doors to private schools for those who could not normally afford it.
Angus Porter, chief executive of the Professional Cricketers' Association, says this is an important point. He notes that although England international Joe Root went to a private school, "he does not have a [private] school background".
"Many are only in public school because they are very good," he says.
And of course any statistics that simply split sports professionals into private and state cannot reflect the class of grammar and academy schools that produce a disproportionately high number of sportsmen and women.
England footballers Scott Parker and Shaun Wright-Phillips both attended state school Haberdashers' Aske's Hatcham College in London.
But compared with the average state school, both facilities and the focus on sport can seem vastly superior in private schools.
North London's private Harrow School boasts two all-weather multi-sport pitches, an indoor climbing wall, a weights room, a swimming pool and a sports hall. There are courts for tennis, rackets, squash and fives. It has its own golf course. The school claims an Olympic-standard running track with a water jump for the steeplechase.
It's at the top end of the private sector, but the facilities disparity can be pronounced even among lesser schools.
For many it might be part of the explanation for the skewed statistics in some sports.