Horsemeat scandal: How often does food fraud happen?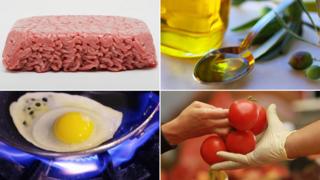 The horsemeat scandal has already been blamed on organised crime. But how common is food fraud and do long, complicated supply chains allow it to happen?
The mystery of how horsemeat got into Findus beef lasagne has led to an international hunt already taking in four countries.
The meat appears to have arrived in the UK via a factory in Luxembourg belonging to French food supplier Comigel. It reached there from Spanghero, a food plant in France, which in turn received horsemeat from Romania.
Comigel's president claims the company was unaware that Spanghero's meat was coming from abroad.
Many, including Environment Secretary Owen Paterson, suspect criminal gangs are to blame.
"What a mess the processed meat trade seems to have got into," says Tim Lang, professor of food policy at London's City University. "The much-vaunted control of big companies over their supply chains is looking tattered."
There has always been food fraud. Once upon a time it might have been watered down beer or bread adulterated with sawdust.
Today, rising food prices, long supply chains and high mark ups on some foods have made fraud easier and more profitable.
Hundreds of tonnes of fraudulent food were seized in raids across Europe in December 2011.
Food fraud had become very attractive to criminal gangs, says Europol project manager Chris Vansteenkiste.
"There is a much bigger market. Not everyone wants to take drugs, but everyone has to eat and drink."
The current scandal is over processed beef but fraud happens in all manner of foodstuffs.
Operation Opson in 2011 targeted ports, airports and retail outlets in 10 European countries, including the UK.
Among the products seized were 13,000 bottles of substandard olive oil, 30 tonnes of fake tomato sauce, about 77,000 kg of counterfeit cheese, 12,000 bottles of substandard wine, five tonnes of substandard fish and seafood; and nearly 30,000 counterfeit confectionery bars.
But it seems to be meat fraud that consumers find most unpalatable. It's a global phenomenon. A meat packing factory in China was recently found to be selling cheap duck meat as mutton and beef.
The Findus horsemeat episode has shown up how vulnerable meat in Europe is. In another recent case, Flexi Foods Ltd in Hull has been named in a statement by Irish firm McAdam Foods as the supplier of Polish meat found to contain horse DNA.
The supply chain for meat can be complex but varies widely. The animal may go straight from farm to abattoir or be traded at a livestock market.
Once at the abattoir it may go on somewhere or be sent to a cutting plant beside the abattoir. It might then go on to a food manufacturer that turns it into lasagne.
If the meat is imported it might have been slaughtered in one European country, sent to another plant, and then processed at a third plant before arriving at a manufacturing plant in the UK.
Supermarkets have different approaches to supply chains. Waitrose sources all its beef from one supplier, Dovecote Park in Yorkshire, which supplies only to Waitrose. All the beef used in the supermarket's ready meals is British.
"We know absolutely where it's coming from," a spokesman says.
Most of the ready meals are own brand. The ones that aren't are small UK producers, he says. It is a far shorter supply chain than one reaching Romania.
Rival British chain Morrisons is currently running an advertising campaign, fronted by television presenters Ant and Dec, that emphasises the provenance of their meat.
Dalton Philips, chief executive of Morrisons, has argued that the supply chain has become "far too complex". He said there need only be four parts - farmer, abattoir, meat manufacturing plant and retailer.
Supermarket group Aldi, one of those supplying the contaminated Findus products, refused to comment when asked for details on the supply chain for its own-brand meat.
"The more complexity in the supply chain, the more likely the products involved are likely to have issues of authenticity," says Chris Elliott, chairman of food safety and microbiology at Queen's University Belfast.
Some processed food products have ingredients sourced from 20 different countries. Each ingredient may have been through multiple countries.
It may come as a surprise to some people that European produce arriving at UK ports is not checked. Random checks are carried out on all foodstuffs further down the line by trading standards and environmental health officers, a spokeswoman for the Food Standards Agency says.
The agency insists food fraud is not a major problem in the UK but some believe the scale has been underestimated.
It's difficult to predict what effect the horsemeat scandal will have on consumers in the UK and elsewhere. Some, disgusted by the adulteration, will no doubt be put off cheap ready meals full of processed meat.
But much of the food fraud in Europe has revolved around the more expensive end of the market, says Vansteenkiste.
The rise in fraud makes high value products like organic and free range particularly vulnerable. About half of the goods seized in Operation Opson were counterfeit brands and the other half "sub-standard" products, such as "wild salmon" which was in fact farmed, "organic" soup cubes, fake coffee and caviar.
In one case an Italian gang were jailed for selling organic soya beans which were found to have been treated with pesticides.
"As a police officer or customs officer, if some ingredients are imported in bulk you cannot check them for authenticity," Vansteenkiste notes.
Stuart Shotton, of Food Chain Europe, which advises food manufacturers on compliance with safety laws, says: "It is one of those areas where if you do look too deep you might find something that you don't want to find out about.
"As long as there are premium prices to pay for certain products, there will always be people out there looking to make a fast buck."
Ed Bedington, editor of Meat Trades Journal, says the Findus horse meat case has brought into question the security of supply chains.
"Retailers make great play about the audits they do and the robustness of the supply chain. But as a long-term observer of the sector, it calls all that into question."
Proper audits should pick up on these things. But minced horse and minced beef look very similar, says Bedington. "Unless you're testing it for DNA, infra red then you don't know."
Consumer confidence is at stake, says Stephen Rossides, director of the British Meat Processors Association. The food industry will need to increase the amount of testing it does on products.
Up to now DNA testing has not been "terribly widespread", says Rossides. It is expensive and involves looking for specific things. One example of DNA testing is checking that a burger comes from Aberdeen Angus beef.
It's very hard to prove that organic or free range really is what it claims to be. There is a large element of trust in the process.
Even with simple, seemingly trustworthy supply chains, there can still be problems.
In Northern Ireland there is a system that allows you to trace back to the farm and even when the produce was harvested, Elliott says. Even there it was recently found that a firm was producing halal meat that contained pork.
No system is infallible, but customers may veer towards products with simpler supply chains in the immediate future.