First records, and where you bought them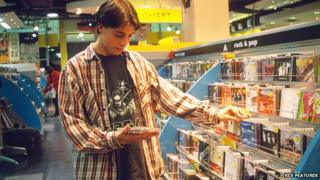 A recent article about the place where people bought their first record, prompted more than 1,800 readers to share their own stories about the music they bought, and the many different record shops they used to frequent.
The article recalled the thrill of making that first purchase. Browsing at the racks and deciding on the format - vinyl for the artwork, tape for convenience, CD if you were rich.
'Seems like old times' - your earliest memories
Patrick Friesner: My earliest record-buying memories: Avalon, by the Benny Goodman Quartet - bought in 1940, probably at HMV Oxford Street. At that time, records were very hard to obtain. I was 11 years of age, and I am now 83 years old.
Also, I bought a 12in light-blue label Columbia record of Sir Thomas Beecham conducting Chabrier's rhapsody, Espana, with the London Philharmonic Orchestra. I ordered it from the music shop in Marlborough High Street in 1943 - price 9s.11d! It took me a long time to save my pocket money in order to pay for it.
Di Searle: My first record, a 78rpm vinyl, was bought in our little local store, run by a little old lady in my home town in Kent. My first purchase was a Frank Sinatra single for 4s.6d in 1947. I bought one a fortnight for months to build up my collection - hard going out of my pocket money in those days.
Pamela Smith: My first record was a 45rpm record bought in 1950 at a corner shop to play on an acquired gramophone. It was Water Water Everywhere by Tommy Steele. For some reason, we had to hold the needle in the groove whilst my brother wound it up. That was about 62 years ago.
Philip Draycott: My first record was Roulette by Russ Conway, bought from the Corporation Street WH Smith in Birmingham. In the pre-Beatles days, the only pop on the BBC was Saturday Club with Brian Matthew.
I bought the NME ever week and devoured the charts, even drawing charts of each record's position - UK chart in blue, American chart in green and sheet music chart in red. Happy days!
Gina: My first single was World Without Love by Peter and Gordon, which cost 6s.8d (about 33p). The record store had booths with peg board walls where you could go to listen to stuff before committing to it. It also sold the disproportionately expensive stylus for your mono record player.
My best friend had a Dansette but mine had an automatic changer where the stylus arm would belt with attitude a stack of singles piled on the central spindle. With luck, the bottom one would plummet onto the turntable, where the stylus arm would attempt to land on the edge.
More often than not it missed and did itself harm on the turntable mat, before being flipped by hand onto the disc with a good prospect of doing appalling damage to the new single, sometimes causing the whole arm to skate across the surface, carving a scar that was both visible and ever after audible.
Philip Rae: My first record was the theme to Gerry Anderson's Captain Scarlet TV puppet show in 1967, by his musical genius friend Barry Gray. I'd have been 12 years old. I bought it at Brady's in Preston. What I remember most was the fact it had a full-colour sleeve of my hero at a time when the show itself was only broadcast in black and white.
Sadly, the record went the way of most things when you are a kid - played to death on my dad's old gramophone that had a nail for a stylus. I still have the sleeve though!
Carole Parkhouse: The first single I bought was The Onion Song by Marvin Gaye and Tammi Terrell. I thought it would cost 6s.8d but when I got to the shop they said prices had gone up and it was now 7s.1d. I had enough money if I didn't get the bus home, so I walked home with my record. That was Woolworths in Sutton.
The first album I bought was Abbey Road by the Beatles and I think it cost about £2.
'You're an embarrassment' - records you'd rather forget
Maria House: My first record was Let's Spend the Night Together by the Rolling Stones. I think it came from Virgin by post. I was too embarrassed to admit ownership of this title at the school dance and to this day it bears the name of a classmate.
Steve Hodgson: The first record I bought was Fandabidozi by the Krankies. I'll get my coat.
Sian: I embarrassingly admit my first music purchase was Celine Dion's My Heart Will Go On in 1997 in Woolworths. I was 12 and I wish I had known better, especially when I bought the song before I saw the film (Titanic). Is it still bad I have it?
David Lawrence: My first album was one of Gary Glitter's early releases. His thumping beats had me hypnotised. It was bought from an independent music shop in Croydon, on a day out.
My cousin who was with me at the time was mortified as she was trying to persuade me to buy something called Hunky Dory by some upstart called David Bowie. Suffice to say I am now an avid Bowie fan (the less said about Mr Glitter the better).
I still feel the shame even now and my cousin never spoke to me again.
Andy McCabe: The first record that I bought is a bit of an embarrassing one actually but I was young and blame that for it! It was Bryan Adams' Everything I Do.
I am now a professional musician and am devastated that I hadn't chosen something that I could be proud of as my first record, but apparently as a toddler I sang along to a Sex Pistols song, so I suppose that's a bit more acceptable!
'Daddy, daddy cool' - Trying to be hip
Oliver Charmley: As the definitive class nerd, I bought my first record whilst tagging along to town with the "cool" gang. Little did I know that years later, being able to use the fact my first record was Oliver's Army by Elvis Costello in chat up lines, portrayed me as something of a music god.
I bought it simply because it bore my name - I had never even heard it played before. Needless to say, it's my all-time favourite now, and every time I hear it, it transports me back to my carefree geeky youth. Love it.
Robert Bidwell: My first ever single was Aquarius/Let The Sunshine In by Fifth Dimension, bought from Woolies in Kingston Upon Thames in 1968. It cost 8s.6d (42p)! In my honest opinion, an even cooler tune today than it was back then. I still play it occasionally.
Carrie Smith: I always think it's much cooler to tell people that my first CD purchase was the eponymously entitled Blind Melon, a grunge band from the early 90s. It sounds much better than Jason Donovan's Ten Good Reasons which was my first ever album on cassette!
Alex Hannon: My first LP was Now That's What I Call Music 33 from a branch of Virgin in Truro, Cornwall. I was seven-years-old, and it introduced me to Oasis, Blur, Paul Weller and Supergrass. Suddenly I was cool! But I think the next album I bought was The Smurfs Go Pop.
Jane Dipple: I was 10-years-old when I bought my first single, from Earfriend, our local record shop in Teddington. It had a logo of a bat on a red background. The record was Oliver's Army by Elvis Costello. It had a paper cover without a picture on the front, and the B-side was a cover of My Funny Valentine.
I have to admit, though, that I also bought another record at the same time, feeling flush. It was I Was Made For Dancing By Leif Garrett. This was because I fancied him, and the cover had a picture of him on the front wearing leather trousers!
Carl Jorgensen: My first purchase in a record shop was 30 years ago at WH Smith. It was Ship Arriving Too Late to Save a Drowning Witch, by Frank Zappa. Armed with the vouchers and money I'd been given for Christmas, I went down during the first week of January to buy my first LP.
No matter how sure I was I was going to buy Frank Zappa, I still looked through the other choices available. Should I go for Jimi Hendrix or David Bowie instead? But no, I had set my mind on Uncle Frank and this is what I would get.
The LP got played everywhere (much to my friends and family's annoyance) but it didn't matter as this was my FIRST LP. Time hasn't treated the record with kindness. It's a bit silly in places, but imagine being 13 years old and playing a song called Teenage Prostitute and thinking you were really daring!
Kath: The first 45 single I bought was Ian Dury and the Blockheads' Hit Me With Your Rhythm Stick and I always feel quite proud that I bought such a cool record. I don't mention I also bought Captain Beaky at the same time.
'I'm in love with the girl on the Manchester Virgin megastore checkout' - Record store memories
James Evans: I can remember my dad driving me from Boston into Lincoln so I could get a copy of Soul Asylum's Runaway Train. I bought it on CD and the limited edition 12in on blue vinyl. I worked for HMV for five years after I finished at university. I remember my interview was five minutes talking about customer service and retail experience, then another half hour of the manager talking about Captain Beefheart and Gram Parsons.
Simon Hollis: My first album was The Kids From Fame, the remarkable spin-off from the gently moralising, musically uneven TV series. HMV was a mecca. I loved it when I was 12 and have never really left it. Even grown up, when I'm at a loss, feeling low or just drifting, I love to wander in and browse aimlessly. The racks of titles are always a balm and a comfort. You really do need a physical space to "see" music sometimes.
Dennis Perry: I opened the first ever box of CDs delivered to HMV in Broadmead, Bristol. I was the Scotch videotape rep for 3M and had just bought one of the first of four CD players - a Sony CDP 101 - costing £649. I bought Dire Straits' Love Over Gold and, yes, Ten Gold Bars by Status Quo. I still have the CDs.
I remember the amazing sound and realising I was going to need a better amp. Another £600 later and I thought I had the best set-up in the area. I invited the neighbours around for a demo just so I could turn it up.
'Far, far away' - a final story
Marek: The first CD I actually ever SAW was Enya's Watermark. It was in the Polish city of Lublin, around Christmas time in 1990 or 1991 - that peculiar period straddling Communism and Capitalism, and that record had been played on the radio.
But the price they wanted for the CD was silly - something like one month's salary, and although I vowed this would be my first CD, as a teenager I could never afford it. And what what would I have done with it anyway? The price of a CD player was astronomical.
I bought that CD but only years later, when I came to seek my fortune in London, and even then it was in one of those cramped second-hand outlets off Oxford Street - much more fun than the big retail stores.
And the first CD I really bought? Er, The Best of Ennio Morricone. Hell, it was all I could afford at that time, OK? I still had to wait a couple of years to buy a mini-tower to play it on anyway.