Tweets of the week: Manti Te'o, Lance Armstrong and gun control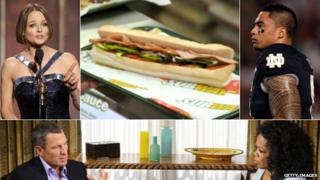 For the week ending 18 January, here is a look at the news in America - all in 140 characters or fewer.
1. Tonight, the part of drunk Meryl Streep will be played by drunk Jodie Foster.
Co-founder of Mule Design Erica Hall (@mulegirl). Streep was unable to attend the Golden Globes and missed out on an epic speech from Jodie Foster. While accepting a Lifetime Achievement Award, Foster addressed her sexuality, her mother's dementia, and the prospect of retiring from acting.
2. Enjoying imagining the Obamas and the Boehners sitting down for history's most uncomfortable game of Spades.
Atlantic writer Molly Ball (@mollyesque). In a press conference this week President Barack Obama said he had a friendly relationship with Republican House Speaker John Boehner. "I promise you, Michelle and I are very nice to them and we have a wonderful time," he said.
3. You know who else said the most-far reaching gun policy would have to pass muster with the opposing party? Not Hitler, actually.
Slate writer Dave Weigel (@daveweigel). Obama announced a comprehensive plan to curb gun violence this week, one its supporters said was far less extensive than critics had feared.
4. Guys, here's the "tell" of lady existence: if we say "yes, please attend my burial" or "nah, two interceptions and some roses'll be fine"
Vanity Fair editor Sarah Ball (@sarahballVF). College football star Manti Te'o earned sympathy after the death of his girlfriend. He said that before her death she asked him to skip her funeral so he sent roses and played well in his next game in her honour. But this week, it was revealed the girlfriend never existed.
5. Who had "white male" for Obama's chief of staff in their office pool? A real shocker.
Blogger Greg Pollowitz (@GPollowitz) after Obama appointed Denis McDonough to be his chief of staff. Obama's critics say his cabinet and advisory team lacks diversity.
6. I don't get this Algerian hostage thing. They sent in good guys with guns to stop bad guys with guns and a LOT of people got killed.
Comedy writer Ben Schwartz (@benschwartzy) challenged the National Rifle Association's assertion that good guys with guns stop bad guys with guns, after a raid to rescue hostages in Algeria went awry.
7. First you tell me the Subway foot long isn't actually a foot long. Then you'll tell me Thousand Island Dressing isn't made with 1000 islands
Writer Mark Campbell (@MrWordsWorth) after it was revealed that Subway sandwiches measure 11 inches instead of 12.
8. How disappointed can you be in a man who rides a bicycle for a job?
Comedian Jayson Green (@thisjaygreen) puts Lance Armstrong's confession into perspective.
9. Her medical credentials are "I married Don Imus"
Writer Brian Sack (@brian_sack) is incredulous that Deirdre Imus, wife of the controversial radio chat show host, was able to pen an article in the Daily Beast advising Americans to reject flu shots.
10. The United States of America really shouldn't have to refill every three months like a T-Mobile prepaid plan.
Twitter humourist "pourmecoffee" (@pourmecoffee) finds the constant negotiations over the debt ceiling undignified.