Australia: What the rest of the world gets wrong
By Nick Bryant
BBC News, Sydney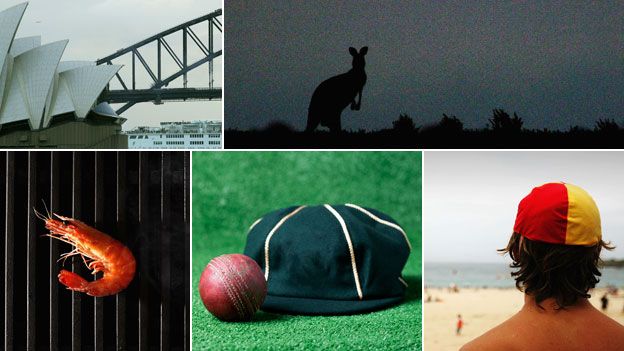 Familiar images spring to mind when one thinks of Australia, but how many of them accurately reflect what the country is really like?
The year 2013 is not yet three weeks old but already it has provided a barrage of images, broadcast globally, that have buttressed the standard preconceptions about Australia.
New Year's Eve saw the customary pyrotechnics on Sydney Harbour - this is a lifestyle superpower that enjoys a party.
New Year's Day witnessed an ocean-emptying shark warning at Bondi - hedonism comes with risks.
The New Year's test, played between Australia and Sri Lanka under immaculate blue skies at the Sydney Cricket Ground, revealed all at once the competitive, patriotic and playful sides of the national personality.
And the bushfires in Tasmania, Victoria and New South Wales have reminded us of the harshness of this sun-dried landscape and the toughness of the people who inhabit it.
Small wonder that "Assumed Australia" is a kingdom of the mind that has come to be rendered in high definition.
My sense, though, is that few countries in the world are so commonly misunderstood.
This is partly because we feel that we know and comprehend Australia already, hence there is little need for further inquiry; and partly because we misunderstood the country in the first place. The quest for understanding rarely gets past stereotypes and clichés, even though few of them withstand close scrutiny.
Australia itself is culpable. Efforts by Tourism Australia to persuade potential holidaymakers to take a fresh look at the country have proved commercially less successful than peddling images that are familiar and easily digested. The country has a tendency to typecast itself.
In shoring up stereotypes, soap operas are also serial offenders. Despite the massive demographic changes that have overtaken this country which have made it so richly multicultural, Neighbours has only recently introduced an Indian family, the Kapoors, into the mix.
Let us hope they last longer than other Asian characters, none of whom survived more than a year. In terms of understanding Australia, then, Ramsay Street should be seen less of a cul-de-sac as a blind alley.
No, this is a land of surprises and contradictions, some subtle, some glaring, in which I am often reminded of what the American economist JK Galbraith once said of India: "When you think of what is true in India, the opposite is also true."
The same could be said of the "Land Down Under," a phrase which itself highlights the problem of misrepresentation. It first appeared in the 1880s when Britain was the geographic point of reference, and thus seems redundant at the beginning of the Asian century, when Australia looks increasingly to Washington and Beijing.
Indeed, among the reasons why the UK Foreign Secretary William Hague is in Sydney and Perth this week, for talks with the Australian government that have now been put on an annual and thus more meaningful footing, is to preserve the umbilical link with the UK.
In demolishing British misconceptions especially, that special relationship seems a good place to start. Here the common mistake is to interpret rivalry as hostility, when contests such as the Ashes are as much a celebration of our shared cultural and sporting heritage.
Donald Bradman, the scourge of English bowlers, famously referred to England as "home." Modern-day tours still have the feel of a reunion of kindred spirits.
Certainly, the days when Australia viewed the Ashes as a moment of national self-realisation, with teams setting out to balance some imaginary historical ledger, are long gone. After being on the losing side of the last two series, most Australian cricket fans recognised, and were prepared to acknowledge, that England was the better team.
The London Olympics also demonstrated a magnanimity that most Brits would not normally associate with Aussies. For sure, Australia would have preferred to win more gold medals, but the coverage of Team GB's success was far from grudging.
Likewise, the Aussie press had few qualms in proclaiming the London Olympiad the best ever games, even though it meant surrendering Sydney's twelve-year bragging rights.
Then again, the role of sport in Australian society is often misunderstood. Banish from your minds the notion, for instance, that when an Australian sports team takes to the field the entire nation watches spellbound wearing green and gold shell-suits.
Soon after arriving here, when I remained oblivious to the regionalism of Aussie sport, I was astounded by the story of a rugby union fan overnighting in Melbourne.
Hoping to catch the Bledisloe Cup, the fixture between the Wallabies and All Blacks, he turned on Channel 7, the television rights-holder, but found it was instead broadcasting The Sound of Music. Though viewers in Sydney and Brisbane watched the haka, he was faced with Julie Andrews singing Do-Re-Mi.
In the winter months especially, sport is a great divider. Victoria and South Australia are bastions of Aussie Rules. New South Wales and Queensland prefer rugby league.
For sure, the boundaries are being blurred, as both codes seek to encroach on each other's territory. (Last year, for instance, the Sydney Swans won last year's AFL grand final, while the Melbourne Storm took the honours in rugby league, which would have been unthinkable twenty years ago). But in sporting terms this remains a surprisingly fragmented country.
Nor is there the kind of win-at-all-costs mentality that Brits often associate with Australians.
Aussie Rules players suspended during the season for disciplinary breaches are ineligible from the sport's top award, the Brownlow Medal. Ricky Ponting's Australian cricket team struggled in the popularity stakes because it was deemed to have taken on-field aggression and sledging too far, most notably during the controversial "Bollyline series" with India in 2008.
Sports grounds also offer a vantage point from which to view the country's surprisingly officious and authoritarian streak. At cricket matches, beach balls that transgress onto the playing area are confiscated and punctured. Fans who start Mexican waves face eviction. Those queuing up for beer have to remove their sunglasses to prove they are not half-cut.
That brings us to another false impression - that Australians are inebriates. For sure, binge drinking is a problem, but the country ranks 44th on the global alcohol consumption ladder, well behind Britain at 17, which again goes against the national stereotype.
And while we are on the subject of booze, or "grog" as it is often called here, let it be stated for the record that Fosters is not the Australian for beer. In beer drinking, as in sport, the country tends to divide along state lines.
But it is also a mistake to view Australia as the "Lycra Country", a land teeming with early morning fitness fanatics. Out of a population of 22.5 million people, 14 million are overweight or obese, and the prevalence of obesity has more than doubled over the past twenty years.
Its claim to be a laid back country, meanwhile, is belied by the bewildering array of rules and regulations, from strict border protections to the bylaws which stipulate that cars should be parked in the same direction as the flow of traffic.
In the face of this authoritarianism, the supposedly anti-authoritarian Australians are unexpectedly meek and acquiescent. Consider compulsory voting. Recently, when the Queensland government mooted the idea of ending this almost century old tradition, there was something of an outcry. Mandatory voting has widespread support.
Covering the bushfires these past couple of weeks, I have been reminded of the grit and resilience of folk who live in countryside, and what might be called the "bush spirit."
But it is worth remembering this Australia is one of the most urbanised countries in the world, with 89% of people here living in the cities and towns.
I could go on. We could talk about Australia's disjointed federalism, made even more awkward by intense inter-state rivalries (arguably, the sporting contest arousing the greatest passions is the State of Origin rugby league series between New South Wales and Queensland, though a Victorian would doubtless disagree).
We could talk about how a balkanised media landscape, based to a surprising extent on city mastheads and regional newsrooms, and how it militates against a truly national conversation.
Then there is the thorny issue of why such a welcoming country ties itself in such knots over asylum seekers trying to reach these shores by boats, a subject that requires lengthy explication.
Being British, I blather on about the weather, and how winters in the country's south-east are unexpectedly chilly. Or, more mischievously, mention the Queen of Australia, and the lack of urgency in replacing the monarchy with a "mate as the head of state."
One thing that William Hague can be sure of is a warm welcome. There are few countries in the world that make an Englishman feel more at home.