Why the fuss over Tony Harrison's poem V?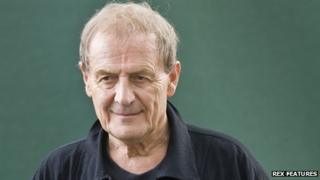 It was described by the Daily Mail as a "torrent of filth". MPs called for it to be banned from the airwaves. But does Tony Harrison's controversial poem V still have the power to shock?
BBC Radio 4 is braced for a backlash over its decision to broadcast in full Tony Harrison's poem about the desecration of his parents' grave.
V is an angry, rueful reflection on Leeds-born Harrison's estrangement from his working class roots and the divisions that scarred society in the mid-1980s, from the miners' strike to racism on the football terraces.
The last time it was broadcast, in a film for Channel 4 in 1987, it was described by the Daily Mail as a "torrent of filth" in which "the crudest, most offensive word is used 17 times".
The Observer said it was "the most sexually explicit language ever heard on television".
Conservative MP Sir Gerald Howarth attempted to get the broadcast banned, tabling an Early Day Motion entitled "Television Obscenity" and accusing Channel 4 of trying to "assault the public [with] more effing and blinding".
He described Harrison as "another probable Bolshie seeking to impose his frustrations".
Sir Gerald, until recently a defence minister, now confesses he had not read the poem in full when he made these comments - and had not realised it was about the desecration of Harrison's parents' grave.
"I had read enough to get a flavour of it," he says.
But he says he has no regrets about calling for it to be banned.
"I have every sympathy for Tony Harrison and what happened to his parents' grave. But the increase in the common currency of that sort of language is more likely to result in profanities on people's graves."
Art is never an excuse for broadcasting profanities, he argues, and he believes there is simply no place for the "c-word" and the "f-word" on television and radio.
"I do understand Harrison's deep sense of anger and frustration but I still do believe that it does not excuse the language. I do believe that it completely undermines his own objectives because it enhances the respectability - and acceptability - of that language."
Richard Eyre, who directed the Channel 4 film, says the first he knew about the original furore was when a make-up assistant handed him a copy of the Daily Mail on the set of V, in the Leeds graveyard mentioned in the poem.
"It guaranteed Tony's film a massive audience," he says.
Sir Gerald was heavily involved in a campaign to improve taste and decency in public service broadcasting - a battle he now concedes has been largely lost, resulting in what he sees as a "coarsening" of British culture.
But he believes broadcasters do not take their responsibilities seriously and he has not ruled out mounting a fresh campaign against V on Radio 4.
"The written word I don't think carries quite as much force as the broadcast word. Broadcasting and the power of broadcasters is massive. It does shape people's attitudes."
V will be broadcast in February, between 2300 GMT and midnight, with multiple warnings about the language, as part of a celebration of poetry on BBC Radio 4.
The new version of the poem, read by Harrison himself, now 75, will be preceded by a documentary about the reaction it provoked in the 1980s.
Radio 4 controller Gwyneth Williams told the Guardian the Radio 4 audience "does not like swearing" and neither does she but adds "you cannot tamper with the integrity of the piece. We would never do it gratuitously".
Poet Simon Armitage, who cites Harrison's work as a key early influence on his own work, believes the furore generated around Channel 4's film in the 1980s now appears "ludicrous".
But in an interview with BBC Radio 4, to be broadcast ahead of Harrison's reading, he also acknowledges its power to shock.
"I always think of the radio as being incredibly intimate and when you hear 'bad language' it has more impact. I think it would still be shocking. I don't imagine it will be seen as a political or social poem in the way that it was interpreted at the time.
"Now the dust has cleared some of those subtler themes might make themselves heard."
He recalls hiding away with a friend as a young man, to watch a video of the Channel 4 film - embarrassed at the prospect of being caught watching such a rude programme. "It is almost like we were watching porn."
Eyre believes the poem has lost little of its power or relevance in the past 25 years, despite its references to the miners' strike and skinheads.
"It is of its time. But you could say that the riots were a similar expression of the kind of second hand, unfocused anger Tony was writing about."
He argues that the profanities are "integral" to the poem's "incantatory" rhythm and the force of its language - and cannot be considered "gratuitous".
But he would be "surprised" if the Radio 4 broadcast caused a similar storm of protest.
"It seems to me that Tony, much to his fury, has entered the mainstream."