Can you still go from burger flipper to president?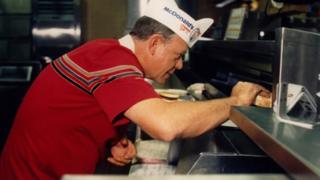 Former McDonald's president Fred Turner, who died this week, made it from burger flipper to the top. But is this still a realistic way to get to be boss?
When Jarrod Best was 16 his dad told him he was "not quite clever enough" to go to university.
It is not a piece of advice you will find in many parenting manuals, but it did the trick for Jarrod, who found a job as a tea boy with Leeds-based building firm GMI Construction and set about proving himself to his family.
Twenty years later, he is the part-owner and managing director of that firm, employing 80 people and with an annual turnover of £70m.
His father was a successful businessman and young Jarrod, captain of the school rugby team and a competitive cyclist, was always driven to succeed.
"You want to look at your dad across the table, being able to match him pound for pound, rather than asking to borrow money all the time," he says.
Best's story is increasingly unusual. In the corporate world, the ability to sweet talk City investors and plot global strategy can be valued more highly than the traditional virtues of hard work and common sense.
Matthew Gwyther, editor of Management Today, says working your way up from the shop floor, in the way Turner did at McDonald's, now largely belongs to the realms of corporate mythology.
"It is quite a folksy and backward-looking attitude. That is not meant to sound snotty but it would actually be a waste of time in many businesses."
Many large firms expect their executives to spend a week or two on the shop floor to learn how the business works - and that, argues Gwyther, is more than enough.
"You don't have to spend years working as a chimney sweep to know about chimneys."
There are plenty of examples of executives who have worked their way up from humble beginnings, particularly in industries such as retail and catering where having an instinctive feel for what customers want is prized above specialist knowledge.
But those who have made it to the very top, after starting at the very bottom, are rare.
Charismatic and forceful enough to have made a fortune in their own right, yet conformist enough to have stayed with the same firm for life, they have always been a somewhat exotic breed. They often speak about the vast organisations they head being like a "family". They speak of how anyone can make it to the boardroom if they are bright enough and put the hours in. It is not just empty corporate rhetoric.
In their case, it is true.
Michel Taride, president of car rental giant Hertz's international arm, says "people's eyes pop" when he tells them he has been with the same firm for nearly 40 years.
Taride spent his teenage years hanging around the beach and dreaming of being a musician.
He only applied for a job as a branch manager with Hertz to please his mother. To his great surprise, he loved the job and, after a break to travel the world, began his steady climb up the corporate ladder.
He acknowledges that the world has changed since he started out.
"People are becoming less loyal, more ambitious, more individualistic. There is less sense of commitment to a company."
But he sees himself as a role model and inspiration to young members of staff who might have more life experience than academic qualifications.
Sir Stuart Rose is also big on life experience.
The former Marks and Spencer chairman says he started out selling pyjamas at the retail giant. It was the only place he could find a job after his father, who had tried to push him into medical school, threatened to cut off his pocket money.
"People today try and go down a conventional route. More importantly, and more erroneously, they try and plan their careers to the nth degree," he says.
The result of this, he says, is that they can become "very bitter and twisted when they don't make it".
"We live in this instant society. Everybody needs to be at the top. Only one person can be chief executive. I worked in an organisation which employed 100,000 people. That means 99,999 are not going to be chief executive."
Not everyone has the leadership gene, he argues, and large companies need to find a way of making those who don't get to the top feel more valued.
He is also concerned about the apparent collapse in social mobility in the UK. It is a complaint that can be regularly heard in the US and around Europe. Young people have a "greater sense of entitlement" now and are less willing to make sacrifices, or move around the country, to further their career, he says.
"A lot of them are narrowing their own horizons. It is the more comfortable world we live in today."
Ian Payne is also frustrated by what he sees as the lack of ambition among some young people. The chairman of Stonegate, one of the UK's biggest pub groups, which counts Slug and Lettuce and Yates's among its brands, started out pulling pints in a Maidstone pub.
Payne cheerfully admits to being biased towards people who started at the bottom, like him. He has made sure there is a giant map on the break room wall at each of the 460 pubs in the group, showing how it is possible to climb the corporate ladder.
He speaks with pride of a 27-year-old he met recently at one of his pubs. She started out working part time behind a bar while studying English at Edinburgh University, and, like him, fell in love with the trade and is now an area manager.
On the other hand, he adds: "There is a guy who's been working for us for six years and is still in the same job. He has a double first in mathematics so he is obviously very bright. I told him he needed a bloody good kick up the arse."
Payne believes that far from being a dying breed, bosses who work their way up from the shop floor will become increasingly common as fewer people opt to go into higher education.
Successive governments have spoken of the need to improve the status of vocational qualifications and increase the number of apprenticeships.
But it is the attitude of individual companies, and their willingness to train and mentor their staff - rather than treating them as expendable commodities - that can make all the difference.