Newtown massacre: A reporter comes home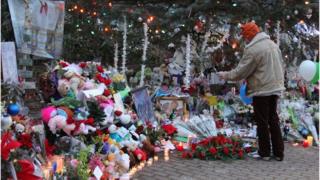 After covering tough stories all over the world, a reporter is called back home. Kaelyn Forde talks about covering her hometown of Newtown, Connecticut.
I became a journalist because I wanted to be the eyes of the world. I hoped to telegraph the suffering and pain of far-flung places in the hopes that my work would be compelling enough to make someone actually do something about it—even if it meant asking uncomfortable questions and bringing a camera to just about everything.
My work has taken me to the remote Mosquito Coast of Honduras to interview the survivors of an anti-drug trafficking operation that had killed four, among them two pregnant women and a child. It had taken me from jail in Georgia to the blasted out mountains of Appalachia and to death row in Mississippi.
But I never thought my work would take me home.
Sitting at a desk in Washington watching a dizzying amount of news wires pass by on Friday morning, one word caught my eye: "Newtown."
Since leaving Connecticut, I have grown accustomed to blank stares when I tell people where I grew up. "It's a sleepy little town, just over the border with New York," was my go-to response, expertly parsed in three languages.
For me, Newtown is a place marked in time by long hikes alongside my father, mornings splitting the Sunday New York Times with my mother on our sunny patio, fireside chats with my brother, and drinks with friends.
Newtown has always been a place that is almost impossibly peaceful—a place I had come to recover after tough assignments, a place I had come to feel safe, encircled by sturdy oaks and laughing cousins.
But Friday morning, Newtown leapt across the news wires for an unfathomable reason—shots fired at an elementary school. Suddenly, that far-flung place was my town.
I rushed to the phone and began dialling family, classmates and friends. A phone interview with someone at the scene, the logical next step for a journalist, also became a frantic exercise in finding out who was safe. A call to a friend revealed that his mother had been shot; the wail of the ambulance could be heard in the background.
A classmate described the scene from her kitchen window just yards from the school—helicopters overhead, police combing the woods, but very few survivors being carried out.
It is a testament to the tightly knit nature of this town that within minutes, I had much of the story.
It was horrifying.
I held out hope that the local television news had gotten it wrong—surely there couldn't be 27 dead children and adults in there. But when the red bar of the Associated Press flashed across my screen, I knew it was time to pack my camera and go.
Aching to be with my little town during its darkest hour and also determined to tell its stories, I went straight to Newtown. The inky darkness spread into the valley below and the lights of the church could be seen through the leafless trees. But something already felt wrong. The peace had been shattered.
Nothing could prepare me for the scenes that followed, unfolding over the week like a series of snapshots I never want to have taken.
The satellite trucks filling the parking lot of the community centre where I learned to swim.
The catatonic parents staggering up the stairs to meet with the priest who gave me my first communion.
The cameraman swivelling his lens to catch my mother crying at a makeshift shrine.
The Lincoln town cars with out-of-state plates idling on my friend's parents' lawn.
The rapping knuckles of a dolled-up TV reporter on the front door.
The thousands of flowers and teddy bears keeping vigil on every corner.
The President speaking on the stage where I had performed in so many out-of-tune school band concerts.
The hearse, stopping to unload a coffin far too small.
I watched my tiny town swell with thousands of journalists, all scrambling to get the tears on camera, the parents on tape, the front-page interview with the survivor.
I watched my little town withdraw, turn inward, and form a barrier between the people and the press. Suddenly, I felt I had to choose sides. The suffering was too great, the community too close, for me to be able to make those calls and walk up to those doors.
I began to reach out slowly and carefully, content with not getting the sound bite if what someone really needed was a shoulder. I took a backseat in the coverage and shed my tears at home.
I didn't push and I didn't try in the way I always had. I focused instead on connecting my colleagues with the good people, the ones who have proven that a single act of violence cannot consume a community like ours.
I am and forever will be from Newtown, and long after the satellite trucks pull out and the reporters leave, I will be here. Nothing I have ever covered could prepare me for this.
Newtown has been my toughest assignment—and probably, my most important.