2012: That was the year that was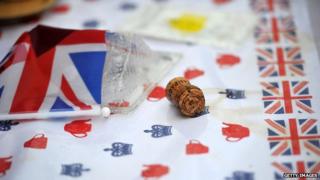 Was 2012 a bad, good or great year? On one hand, awful weather and the rising cost of food and fuel. On the other, a sporting bonanza and a rise in employment.
We anticipated disaster. Jubilympic scale disaster.
The expectation was that our divided, cynical, second-rate nation would somehow manage to really cock it up in full view of the rest of the world.
Come and watch us scrap over whether we even want a monarchy, as institutional trust nosedives and scandal crawls out from under every stone.
Witness transport chaos, security failure, sporting ignominy and financial disaster as we pretend we have the capacity to stage an Olympic games.
Indeed, the omens were not good. June was all about soggy bunting: a metaphor for sunny optimism being crushed by cold, wet reality. (Soggy Bunting, I suspect, is also an old school chum of Boris Johnson's.)
But far from dampening spirits, somehow the rain brought people together. In my street scores of people, many of whom I had never met before, came out in wellies to set up tables, hoist flags and provide food and drink for their neighbours. We all sat in the drizzle eating fairy cakes and making friends. It was absolutely wonderful.
And then there were the Olympics and Paralympics. The press was despatched to witness London's public transport network collapsing. But it didn't. In fact, it worked rather well. Fleet Street's finest stood at rail hubs and bus terminals wondering how they were going to make the facts fit the story. And in the end decided they just couldn't. They were witnessing a different and unexpected story.
When the normally melancholy mood music played by the national press is replaced by an upbeat number for a few weeks, suddenly we look like a different place. And that's what happened this summer.
The monarchy found itself enjoying extraordinary levels of popularity as a wave of community spirit washed over the nation. And the Olympics were so successful, the biggest legacy problem seemed to be that we had too many contenders for Sports Personality of the Year.
Oh, I know there are still differences of view about it all. For some the Queen is just an historical anachronism and an affront to modern democracy. There is a minority for whom London 2012 will always be a colossal waste of money, a costly distraction from reality.
But it is hard to argue that assumptions were overturned this year. And not just with the Jubilee and the Olympics.
This was the year in which this country saw more people in work than ever in history, 29.6 million adults. Yes, it is not what we expected, but UK employment is at record levels.
The proportion of 16-64 year-olds working is currently 71.2% - pretty much its highest level since the spring of 2009.
Much to people's surprise, unemployment has been falling in recent months. The jobless figures don't make happy reading, of course, but few would have predicted that statisticians would this month be recording the biggest quarterly fall in unemployment for over a decade.
Then there is crime. The former Home Office Minister Tony McNulty said in 2008 that it was "blindingly obvious" that crime would rise as the economy went down.
In fact, crime has been falling since 1995 and this year has been falling at a faster rate. Despite warnings of social unrest, there has been no hint of a repeat of the riots of 2011. Quite the reverse.
Violent crime is at historically low levels in Britain. Property crime is at historically low levels. The murder rate is at its lowest level for 30 years.
Young people in Britain, too often described as feral youth, appear to be behaving better than their parents, as I wrote about here. They smoke less, take fewer drugs and drink less than their parents.
Far fewer young people are entering the criminal justice system with Youth Justice Board data showing that the number held in custody in England and Wales is less than half what it was 10 years ago and 21% down on last year.
This has also been the year of food banks and soup kitchens, it is important to remember. Recession, rising fuel and food costs and service cuts have had a real impact on many people's lives.
The next 12 months will be tough for many. Cuts to public services already announced have a way to run yet and there will be more to come. Welfare reform and a flat economy pose great challenges for millions, particularly the poorest in our society.
But Britain was buoyed by the success of our Jubilympic summer.
Generally, people adapted to the financial crisis and found ways, if not to thrive, to somehow get by.
What this year has revealed, I think, is a national resilience and a confidence that may prove invaluable as we look to the challenges of 2013. And that, frankly, was unexpected.