Tweets of the week: Ikea monkey, Susan Rice and North Korea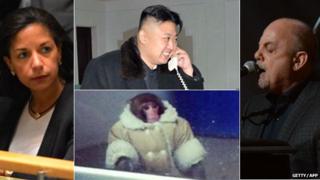 For the week ending 14 December, a look at the big news in America, presented in 140 characters or fewer.
1. The day they put down unions in Michigan will be the day that they elect Rush to the Rock and Roll Hall of Fame.
Philadelphia Daily News writer Will Bunch (@Will_Bunch). On Monday, Michigan passed union-limiting"right to work" legislation, while the divisive Canadian prog-rock band Rush was given one of music's highest honours.
2. Today Show to Replace Matt Lauer with IKEA Monkey.
Copywriter Mark Campbell (@MrWordsWorth). This week, Matt Lauer embarrassed himself by asking lewd questions to actress Ann Hathaway, while a monkey in a shearling coat was abandoned in an Ikea and won the hearts of North America.
3. Raise your hand if you can play the sitar half as well as Ravi Shankar. [Nobody raises his or her hand.]
New York Daily News editorial writer Josh Greenberg (@joshgreenman) remembers sitar great Shankar.
4. Billy Joel still has his voice. But he misplaced his neck.
ESPN.com baseball writer Jerry Crasnick (@jcrasnick). Joel performed with a bevy of classic rock artists at a concert to benefit the victims of hurricane Sandy. While members of the Who, the Rolling Stones, Joel and others sounded as good as ever, they looked every inch their age.
5. Check your calendar. It's 12/13/12. Won't happen again for a hundred years.
CBS White House correspondent Mark Knoller (@markknoller) points out that even if all of the all of the numbers in a date aren't completely identical, it doesn't make that date any less special.
6. Things that will hurt the middle class: Tax increase, rising health insurance costs, Jim Moran's son.
Humour columnist Frank Flemming (IMAO_). The son of Virginia congressman Jim Moran plead guilty to assaulting his girlfriend. Earlier this year, Pat Moran quit working on his father's campaign after being caught on tape discussing voter fraud.
7. Little known fact: Susan Rice's last name is also a food. Feel free to borrow this wit for your Twitter jokes.
Time magazine associate editor Adam Sorenson (@adamsorenson) offers tips to headline writers. This week, Susan Rice asked the president to no longer consider her as a candidate for secretary of state.
8. Now can we get on with serious debate like comparing BMI indexes of 2016 candidates?
National Review contributor Gregg Pollowitz (@GPollowitz). Just before Rice made her announcement, news leaked that ABC's Barbara Walters asked New Jersey governor Chris Christie if he was too fat to be president.
9. I'm no political expert, but sometimes I get the impression North Korea doesn't even care what the rest of us think.
Author known only as Sixth Form Poet (@sixthformpoet). This week North Korea launched a missile, despite international scorn.
10. Every time Wolf Blitzer says "Dr. Drew," there's a painting in an attic that absorbs the leaking credibility.
Marketing professor Amanda Bower (@heyprofbow) is unimpressed with the "experts" CNN uses to fills time while trying to cover the school shooting in Newtown, Connecticut.
Some tweets have been edited for clarity and style.