The super-shared stories of 2012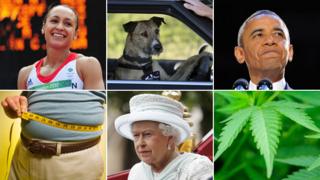 It was the year that the Queen celebrated 60 years on the throne, the UK basked in the reflected glory of its Olympic and Paralympic athletes and the US re-elected Barack Obama as president.
But 2012 also saw other issues capture the attention of BBC News website readers. From a toddler's encounter with a hungry lion to amateur attempts to restore a fresco of Christ, here are some of the most-shared stories of the past 12 months.
January
The year started with a three-year-old girl's victory over supermarket giant Sainsbury's.
In a letter, she wrote: "Why is tiger bread called tiger bread? It should be called giraffe bread. Love from Lily Robinson age 3 and 1/2."
After her missive went viral, Sainsbury's duly renamed its loaves and conceded its original decision may have been "a bit silly".
January was also the month when former Blockbusters host Bob Holness died at the age of 83, following a series of strokes.
In a broadcasting career spanning six decades, we learned, he had become the second actor to play James Bond when he starred in a 1956 adaptation of Moonraker.
And footage emerged of a young Australian woman plunging into the crocodile-infested Zambezi River, when her bungee rope snapped in two.
"I actually had to swim down and yank the bungee cord out of whatever it was caught in to," recalled a remarkably sanguine Erin Langworthy.
February
The death of singer Whitney Houston at a Los Angeles hotel shocked stars who had gathered there for a party ahead of the Grammy Awards.
"It's difficult not to be sad about it because it's a great loss. Her soul, her spirit, lives within all of us," said jazz legend Herbie Hancock.
One of the most celebrated female singers of all time, the latter part of her career had been overshadowed by substance abuse. A coroner later ruled that Ms Houston drowned after cocaine use.
Suggestions that the need for an need for an eight-hour sleep could be a myth captured the attention of readers.
Although many people worry about lying awake in the middle of the night, it could in fact be good to have two four-hour naps punctuated by wakefulness - and time to reflect on our dreams.
"Today we spend less time doing those things," said sleep psychologist Gregg Jacobs. "It's not a coincidence that, in modern life, the number of people who report anxiety, stress, depression, alcoholism and drug abuse has gone up."
March
Research suggesting chocolate 'may keep people slim' was widely considered as deserving of further investigation - and sharing.
American academics said that people who eat chocolate regularly tend to be thinner, possibly because it contains ingredients that favour weight loss.
Somewhat frustratingly, however, experts advised caution "in the absence of conclusive evidence".
In Kuwait, the Kazakh shooting team were stunned when a comedy national anthem from the film Borat was played at a medal ceremony.
Organisers had mistakenly downloaded the parody from the internet and, as Kazakhstan's coach pointed out, had also got the Serbian anthem wrong.
In the US it was Batman who was causing trouble, when police pulled over a Lamborghini driven by a man dressed as The Caped Crusader.
"You can send me Robin if you wish", said the officer responsible for investigating the car's invalid number plates.
The opportunity to investigate where you are on the global pay scale also generated great interest.
Based on figures for 72 countries, omitting some of the poorest, readers who entered their monthly salary were able to check whether they earned more or less than the world average.
April
Plans to allow the government to monitor the calls, emails, texts and website visits of everyone in the UK emerged at the start of April.
The proposals, which would require internet firms to give GCHQ access to communications in real time, were described by Tory MP David Davis as "an unnecessary extension of the ability of the state to snoop". The draft Communications Data Bill remains controversial.
Footage from an airport in Bilbao, Spain, showed planes struggling to remain stable as extremely high winds blew them across the runway. Some pilots had second thoughts and decided not to land.
May
As the Diamond Jubilee celebrations began readers of the BBC News website were asked "have you been where the Queen's been?"
The answer was almost certainly "no" - the monarch is probably the best-travelled in history and, by May, had been to 116 countries excluding the UK.
May also saw the epic journey of a stray dog who completed a thousand-mile (1,700km) journey across China.
Nicknamed Xiaosa, the dog joined cyclists on a 24-day trip from Sichuan province to Tibet after one of them gave him food.
In the US, a hungry lioness called Kya was filmed desperately trying to reach a toddler on the other side of safety glass. The youngster, Jack, remained entirely unfazed.
June
An investigation into why British people are, on average, nearly three stone (19kg) heavier than they were 50 years ago led to a closer look at one of the country's biggest fried breakfasts.
Called the Challenge Kidz Breakfast because, at 9lb (4kg), it weighs the same as a small child, the dish features eight eggs, 12 rashers of bacon, 12 sausages, potatoes, mushrooms, hash browns, black pudding, beans and 12 slices of bread.
"Obviously that's not something that you should eat every day. It is a challenge," the BBC was advised.
July
Continuing with weighty issues, July offered the chance to see where you are on the global fat scale.
The results included a calculation of how much heavier (or lighter) the world's population would be if everyone weighed the same as you.
As the Olympics approached, torrential rain gave way to clear skies and armchair athletes limbered up for a festival of sport.
Many chose to investigate their Olympic athlete body match, although no records were kept as to the number who found they were more shot putter than long-distance runner.
The tale of an 18-month tour of Africa that turned into a 23-year, 500,000-mile drive saw a former German airline executive recount his extraordinary journey around the world.
August
The remarkable work of an elderly parishioner who took it upon herself to repair a damaged but prized Jesus Christ fresco alarmed cultural officials near Zaragoza, Spain.
Cecilia Gimenez, who is in her 80s, was reportedly upset at the way the fresco had deteriorated and took it on herself to "restore" it.
She has since demanded royalties after the botched image became a hit with tourists.
More than 40 years after he became the first man to set foot on the Moon, US astronaut Neil Armstrong died at the age of 82.
He was remembered by US President Barack Obama as "among the greatest of American heroes - not just of his time, but of all time".
And in a field in Essex, a lion hunt involving armed police and helicopters began after a sighting near a caravan park.
"We believe we saw a large cat looking at a tree... it just sat there looking at us," said holidaymaker Bob Martin.
No lion was found.
September
The death of wildlife presenter Terry Nutkins at the age of 66 prompted tributes for his work on wildlife programmes including Animal Magic and The Really Wild Show.
Presenter Ben Fogle described Nutkins, a father of eight, as one of his "childhood inspirations", while comedian Ricky Gervais said he was a "thoroughly nice chap".
Meanwhile, the Britishisation of American English stirred debate about the spread in the US of terms like "spot on", "ginger", "will do" and "chattering classes".
"In the UK, the use of Americanisms is seen as a sign that culture is going to hell," said Jesse Sheidlower, American editor at large of the Oxford English Dictionary.
"But Americans think all British people are posh, so - aside from things that are fairly pretentious - no-one would mind."
October
As the US prepared to vote and pollsters struggled to separate Barack Obama and Mitt Romney, many of you took the chance to eliminate uncertainty and predict the president.
While some of the experts the BBC consulted suggested a narrow win for Obama, others opted for Romney, or even a dead heat. Obama went on to win 332 seats, against Romney's 206.
In the UK there was a victory of sorts for an elderly couple who, police said, had unwittingly grown "the biggest cannabis plant" they had ever seen.
The couple had carefully tended the plant since buying it at a car boot sale. Police said it would be destroyed.
November
The story of the world's poorest president provided a sharp contrast to the scenes in Washington.
Uruguayan leader Jose Mujica lives on a ramshackle farm owned by his wife and gives away 90% of his $12,000 (£7,500) monthly salary. His water comes from a well.
"If you don't have many possessions, then you don't need to work all your life like a slave to sustain them, and therefore you have more time for yourself," he said.
December
A giant schnauzer and his canine friends learning to drive cars in New Zealand grabbed the attention of many readers in December.
The driving school was set up by a charity keen to prove how intelligent its charges are.
After months of practising gear changes, controlling the brakes and using the steering wheel, graduates are rewarded with a spin round a field. It is hoped that many of them will also find new homes.