Faces of the year: The men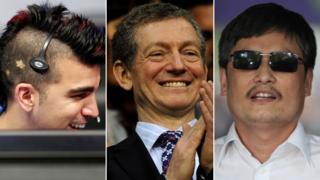 Every year the Magazine selects a group of men and women to be its Faces of the Year.
It's not an award. This is not a definitive list of the most important or influential people. It's not based on people's achievements, their popularity or their contribution to society.
It is not about people like Barack Obama, or the Pope, who make the news every year, but those whose fame is really something of the last 12 months.
Here are three men who made headlines in 2012: Nasa's "Mohawk Guy", Bobak Ferdowsi, cardiologist Andrew Deaner - who helped save Fabrice Muamba's life on the pitch - and blind, rights activist Chen Guangcheng.
Bobak Ferdowsi, flight director of Nasa's Mars landing mission, became an internet sensation thanks to his meme-worthy hairstyle. BBC science correspondent Jonathan Amos looks at how "Mohawk Guy" came to symbolise one of the biggest science stories of the year.
"You guys are a little cooler than you used to be." It was Barack Obama who said what everyone else was thinking. The Nasa team that landed the huge Curiosity robot rover on Mars in August didn't look anything like the archetypal space agency boffins.
Out with the white shirts, the black dark-rimmed glasses and the pocket protectors, and in with… the Mohawk. Bobak Ferdowsi and his star-spangled hairdo came to symbolise one of the biggest science stories of the year. On a hot night at Nasa's California mission control, as the world waited for news of Curiosity's touch-down, it was his face and that "brush" that caught the eye.
It wasn't just that the MIT-educated flight director was smart, he made it all look so hip as well. Celebrity-obsessed Planet Earth demanded Ferdowsi go viral and for a few days he was everywhere. Twitter and Tumblr and all the other social network sites loved him. Old media TV and radio couldn't get enough of him either. The hair was specially styled for the landing - coloured stripes across the top, stars etched into the side of the head.
"It's just something I like to do to celebrate the big moments in this project. I like different colours, shapes and patterns," he said. "If my Mohawk gets people excited in science, that's awesome."
People from an older generation will remember another Nasa flight director by the name of Gene Krantz, whose white waistcoats became synonymous with Apollo. So, in truth, there was nothing really new in what Ferdowsi was doing. It just happened to fit the moment for a new generation. But that was Curiosity all over. I am not suggesting this mission is today's Apollo. Far from it. But the rover mission does conform to the template we had come to expect from Nasa following its great exploits on the Moon.
This means doing something innovative and daring, pushing the limits and still succeeding. Curiosity landed on Mars thanks to its remarkable "skycrane". This rocket-powered, hovering cradle lowered the one-tonne vehicle to the red surface on nylon cables. The reaction of many when they first saw the animated artist's impression of how this would work was disbelief. It couldn't possibly succeed, they said. "Crazy" was the word many people used. And as touch down approached, even Nasa had to concede that the skycrane design looked a touch outrageous.
That this precarious piece of engineering eventually delivered precisely what was demanded of it couldn't have been written into a movie script any better. Mohawk Guy and his colleagues partied like a winning football team, and their celebrations were shared across America, including in Times Square, New York, where crowds had gathered at one in the morning to watch events unfold on the big screen. It is hard to overstate the importance of this moment for Nasa.
Failure would have left them with a stunted, underfunded planetary exploration programme with little prospect of getting a rover to the surface of Mars again for perhaps another decade. As it is, the success has been rewarded with the budget and the opportunity to do it all over again in 2021.
When cardiologist Andrew Deaner rushed to the aid of Fabrice Muamba at Tottenham Hotspur's White Hart Lane, his actions echoed those of the Good Samaritan, writes Pete Broadbent, Bishop of Willesden and a Spurs season ticket holder.
I've been going to football matches for the best part of 50 years. Spurs supporter virtually all my life. It's not often that something takes place that stills the whole crowd and unites them in common concern. This was an evening not to be forgotten - for the wrong and then, happily, the right reasons.
St Patrick's Day 2012. FA Cup. Spurs 1 Bolton 1. Half time approaching. A player face down on the pitch. Nobody anywhere near him. But you can tell from the urgent gesticulations of the players that something serious is going on. Medics rush onto the pitch. Fabrice Muamba receives urgent attention - and you know it's serious, because you can see them using the defibrillators. We're all puzzling, murmurous, mirroring the players' evident distress.
Supporters of both sides start chanting his name in unison as, after a lengthy stoppage, he's carried off the pitch. The referee abandons the match and the long walk down the Tottenham High Road is hushed, apprehensive, unsure of what has happened. It all felt surreal.
On Twitter, the hashtag #prayformuamba appears. Loads of football supporters are aware of what was going on, and the story begins to emerge.
Some of us had seen a bloke come out of the crowd and push his way to help. He did well to get past the stewards. Andrew Deaner, Spurs fan and cardiologist, was in the East Stand, diagnosed what had gone on, went with the paramedics, and got Muamba to the London Chest Hospital. Fabrice's heart had stopped for 78 minutes. But, being a footballer at the height of his powers, his body had enough within it to survive. And not only to survive, but to recover.
All of us who've seen Muamba since the cardiac arrest have been impressed by his humility, his bearing, his faith - and the way in which he's dealt with the adversity he faced. It was a moving moment when he appeared at the away game in May, to huge acclaim from fans. It was even more moving when he came back to White Hart Lane in November, came on the pitch, and stood on the spot where he'd collapsed just eight months earlier. The Spurs supporters cheered him as though he was one of ours.
And what of Dr Andrew Deaner? When he started out for the match that evening, he couldn't have anticipated how things would turn out. Sometimes the stranger, the person you never met, ends up being the lifesaver. His story that evening is a bit like the parable of the Good Samaritan - the person who lends help to the stranger, and thus becomes a friend. But, I guess he might modestly say, just a doctor doing his job.
So many good things out of this story - the good side of the football - fans united in their hope and prayer for the player and a footballer who, even though he won't ever play again, is alive and healthy - and an articulate spokesperson for cardiac care and health checks for his fellow players.
So good to see Fabrice on stage for Sports Personality of the Year, paying tribute to those who saved his life. And among them, Andrew Deaner, the face in the crowd who became one of the faces of 2012 - the specialist doctor in the right place at the right time. Some might call Fabrice's recovery miraculous - it's certainly one of the good news stories of 2012.
This year's most sensational escape story was not fashioned in Hollywood or Hong Kong's action-fuelled film studios, but in the real-life getaway of a blind, rights activist in north-eastern China, writes BBC News's Angus Foster.
For years, Chen Guangcheng, had infuriated local officials in his native Shandong province by highlighting their abuses of land laws and China's one-child policy.
Mr Chen, a self-educated legal rights expert, won international attention when he contested the punishments, forced abortions and sterilisations which some Chinese women still endure, even though the central government insists they should no longer happen.
Instead of being lauded for his courage, local officials responded by first having Mr Chen put in jail for four years, for "damaging property and organising a mob to disturb traffic". Then, after his release in 2010, he was kept under effective house arrest and 24-hour surveillance.
But on the night of 22 April, Mr Chen, 41, somehow scaled a high wall - breaking his foot upon landing - then felt his way out of the village, crossed a river via a guarded bridge, and limped to the house of a friend.
Driven 300 miles to Beijing then protected by supporters and fellow activists - and after a close shave with Chinese security agents - he finally reached the sanctuary of the US embassy in Beijing.
For days it was unclear if China would stomach the embarrassment of letting him go, or even if Mr Chen even wanted to.
But in the end, the pragmatism at the heart of the US-China relationship took hold, and Mr Chen was allowed to fly with his wife and two children to an almost-rock star welcome in New York, where he had been offered a fellowship as a visiting scholar at New York University's law school.
"For the past seven years I haven't had a day's rest," he said, "so I am here for a bit of recuperation".
Six months on, Mr Chen is studying hard and may be well rested, but he cannot be happy with the situation back in China.
After his escape, he issued a video appeal to China's Premier Wen Jiabao, making three requests - that officials who had beaten him and his family should be investigated, that corrupt local officials should be prosecuted and that his family's safety should be ensured.
No officials have been publicly investigated. In November, Mr Chen's nephew, Chen Kegui, was given a jail sentence of three and a half years for assault. He had allegedly used a knife to strike at officials after they beat up his parents.
Mr Chen was furious about the sentence, which he said was retaliation for his escape.
But he remains optimistic about longer-term trends inside China, and points to the emergence of a civil society and rising awareness of individual rights.
"This is an inevitable trend of history. There is nothing that can stand in its way. With the help of advanced technology, and the experience of Chinese people, this rise in rights-consciousness is something that must happen," he recently told The Atlantic.
The question is whether Mr Chen will be allowed back inside China to play his part.
There is no official reason to stop him returning home. But China's authoritarian rulers often feel that activists they regard as troublemakers, like Mr Chen, are easier to ignore while a few thousand miles away.