Viewpoint: Should Canadians skip university?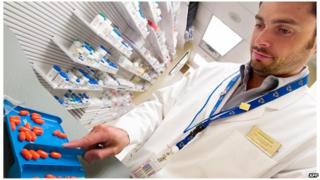 As some Canadian industries struggle to find skilled workers, others face a glut of qualified candidates and not enough jobs to go around. University professor Peter Fragiskatos says emphasising the importance of a university education only makes the problem worse.
Last week, Canadians were told what many of them already suspected, in a report filled with bad news and a very subtle silver lining.
According to its author, Canadian Imperial Bank of Commerce (CIBC) deputy chief economist Benjamin Tal, Canada's economy faces a major skills shortage. An estimated 30% of businesses have difficulty filling positions because they cannot find qualified individuals - a number that doubles the 2010 rate.
Most of the gaps are in mining, engineering (civil, chemical, electrical and mechanical) and health care (doctors, nurses, dentists, optometrists, pharmacists and dieticians are all mentioned).
The problem is most serious in Saskatchewan, Ontario, and Alberta, which is home to the world's third-largest deposit of oil but lacking workers who can help extract and process it. Those are the three provinces Canada will be relying on to drive future growth.
At the same time, Tal identifies various fields where there are too many qualified individuals, which means hiring demands and wages are extremely low. Manufacturing is one of these but would-be teachers, butchers, tailors, office managers, clerks and bakers are especially impacted too.
These candidates will remain jobless even if the economy improves - a fact that applies to another 15 professions on Tal's list. All together, this group accounts for 16% of Canada's total unemployment rate.
While suggested plans for immigration reform and investment in education and retraining will be crucial to solving this problem, it would be a mistake to stop there.
More than any other group, it is young people who have the best chance of addressing the skills shortage in a meaningful and lasting way.
Canada's youth unemployment rate - a measure that applies to those aged 15-24 - is currently 14%, almost doubling overall unemployment, which sits at 7.2%.
For some, reversing this will mean giving high school students greater opportunities to enter university by providing more scholarships or low-interest loans.
What this ignores is that the emphasis on a university education is actually hurting Canada's youth and, by extension, the Canadian economy now and in the future.
Notions of success in Canada have been, and remain, intimately connected to obtaining a university degree. Why? After all, Plato, Aristotle, Nietzsche and Heidegger can be discovered just as easily at a public library and for a much cheaper price.
All of this might sound strange coming from someone who teaches at a university. While the joy I feel when working with my students cannot be put into words, the experience has made me realise that a love for learning is not their leading motivation, if it ever was.
Most have been raised with the idea that a secure future will only be possible with a BA or a BSc, and they enrol in university for this reason. As they get older, today's students are likely to pass along the same message to their kids.
The reality is that Canadians are living in a new era, one where a technical education - usually obtained at a community college - has the prospect of delivering not only a steady job but better pay than what university graduates typically make.
Engineering, mining and many health-related professions - the three areas identified by Tal's report as most in need of qualified applicants - do not require a university degree.
And here is where that subtle silver lining comes in. The way forward is to view this challenge as an opportunity. Though the task might appear daunting, it does not have to be because the experiences of other countries provide lessons about possible solutions.
Any discussion of how to confront a skills shortage must focus on Germany. While recent reports suggest that the German economy is slowing down, it has been able to fend off the pressures of the wider European recession and remains relatively strong (growth is expected to resume in 2014). A major reason for this is the fact that skills development has been placed at the core of country's economic policy.
After graduating from high school, 60% of students apply to work as paid apprentices (the average is $1,500 [£943] per month) in a variety of trades. This includes training for electricians, plumbers, mechanics, carpenters, and welders, but also engineers, miners and health professionals.
Nobody forces companies to accept apprentice applicants - they are only brought on board if a need exists. Training lasts three years and is designed by employers, who best know what their businesses require.
This practical aspect is supplemented with classroom instruction that focuses on health and safety, directed by the unions. The state, for its part, provides funds for tuition costs and the school's upkeep.
This co-operation is the key to the entire process. All sides work together because each is better served when young people are given the time and guidance to develop their abilities.
Obviously, this model cannot simply be imposed but must be tailored to meet the specific needs of Canada. For instance, if apprentices are paid, as they are in Germany, then this money can be put towards tuition rather than having the state pay for it - something that is unlikely to occur during difficult economic times. This is what happens in the Netherlands where a variation of the German system is practiced.
It might take up to a decade to implement, perhaps longer, and will require co-operation among all levels of government, the private sector, unions and community colleges.
What is more certain is that failing to respond in a bold way will ensure that any potential economic recovery will fail to reach its maximum potential.
The consequences of that outcome for young people and the country as a whole could be dire.
Peter Fragiskatos teaches at Western University in London, Canada. Follow him on Twitter: @pfragiskatos