Christmas at the White House: What do you say to Obama?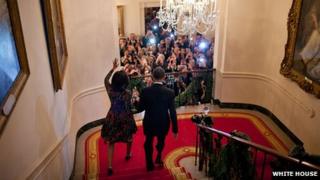 Congratulations, you're one of thousands of people invited to a Christmas party at the White House. If you're lucky you'll have 30 seconds on the receiving line with President Barack Obama and First Lady Michelle Obama. What do you say?
This is it - for many, the only time in their lives they'll be face to face with the president of the United States.
Should you push your pet cause? Thank him for reforming healthcare? Ask for a pardon for your brother-in-law? Tell him you wish Mitt Romney had won?
"I had plans to tell Michelle that I too went to Princeton and Harvard law. I figured we could then be friends, grab a coffee," quipped Millet Israeli, a general counsel of political website publisher TPM Media LLC.
"Instead, I was totally star-struck and tongue-tied. I think I squeaked out a 'nice to meet you'."
This season, the White House is expected to have as many as two dozen holiday parties, welcoming everyone from journalists and clergymen to big-money Democratic donors to stand in a long queue, shake the Obamas' hands and pose for a photograph.
About 14,000 people will attend White House receptions or parties this year, say officials.
Experienced White House visitors know to cut short the schmoozing, snacking and drinking and head early to the queue to get a good spot.
"Everybody who is on that line is thinking what's the one thing to say," says Rabbi David Saperstein, director of the Religious Action Center of Reform Judaism, who has been to more than a dozen White House receptions.
"Sometimes people have an issue that they want to bring up with the president and try to figure out how to reduce it to a phrase. Sometimes it's personal greetings, sometimes a word of encouragement.
"Part of it depends on how well you know the president and how much you know what's going on beyond the public life."
The line snakes forward, one couple at a time, until an aide - sometimes in military uniform - beckons the couple at the front forward and directs them to stand by the president and first lady.
The couple spend a matter of seconds in their presence, enough for a brief exchange of greetings, a handshake, smiles (genuine or forced) and a photograph.
Most visitors are awed by the experience, but one person's presidential handshake of a lifetime is Obama's 700th of the night.
"Think about the leader of our country going from tackling serious problems to suddenly turning on the charm with a mega-watt smile and being affable, couple after couple, for three hours," muses Sally Chadbourn, a Virginia teacher who attended a White House reception this month.
"That flexibility would be the hallmark of a very unique individual."
The seemingly tedious task also requires stamina - and facial muscles and a hand of iron.
In one marathon reception in December 1996, Bill Clinton and then-First Lady Hillary Clinton welcomed about 1,200 guests over three hours, with a 90-minute break upstairs in the middle, according to an archive of White House schedules kept by the William J Clinton Presidential Library.
That averages one handshake and photograph every 18 seconds.
The Clintons played host to at least 19 gatherings that year, spanning private parties in the White House living quarters to formal black-tie dinners with a sit-down meal and dancing.
"They were energised by seeing everybody," says Sarah Farnsworth, an executive with the San Diego Padres baseball team and a former aide to Hillary Clinton.
"It was the one time of year when so many friends or people they've met along the way or people they've heard of came through the house. The disappointment was they only had a few seconds."
With only a moment to chat, guests should avoid bending the president's ear on policy or political matters, says Daniel Post Senning, author and spokesman for storied US etiquette arbiter Emily Post Institute.
"I would say something to the effect of 'Mr President, it is an honour and a privilege to meet you, thank you so much for inviting us or me'," he says.
"I would save a critique or a difficult thought for a more appropriate or private time."
Chadbourn, the Virginia teacher, rehearsed a greeting ahead of time lest she bungle her lines and embarrass her daughter, a journalist who invited her along.
"'Mrs Obama, I'm the reading teacher at Hollin Meadows elementary, and the last time I saw you, you came to our school to help harvest lettuce from our school gardens, and when I saw you you were doling out oranges on the cafeteria trays.'
"And she said to me, 'Oh, I do that really well.'
"I just brought it up in the hopes that she might remember it, and I had nothing to lose. A blink of an eye, and it was done."