Boxing Day Family Puzzler 2012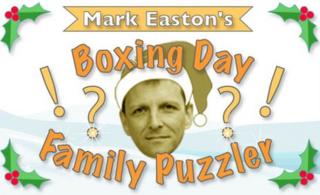 Regular readers will know that this is a festive quiz with a difference - no-one is expected to know any of the answers.
Now in its fifth year, my Boxing Day Puzzler is specifically designed to foil the resident clever-clogs and give hope to those struggling to focus after the indulgence of Christmas Day.
The way I play it with my family is to divide players into two or four teams depending on the size of the party. There are 20 questions and, to make it fair, each player/team should write their guesses down before revealing them. One mark for the closest answer and three if, by some fluke or genius, you get it spot on.
The questions are below; the answers are here and there is a version of both that is easier to print here.
Good luck and have a jolly Boxing Day!
1. The Queen has more than 400,000 followers on her British Monarchy Twitter site and has tweeted more than 13,000 times. How many people is she following?
2. Among the many charity stunts which helped raise a record-breaking sum for Children in Need this year was an attempt on the world record for people in a Mini Cooper. A group of women gymnasts from East Sussex achieved the feat. How many squeezed into the car?
3. When the 2011 Census revealed the population of England and Wales, officials discovered there were rather more women than they'd previously estimated. How many females had the stats people missed?
4. Nadine Dorries MP upset her Conservative party colleagues by appearing on the ITV show I'm a Celebrity... Get Me Out Of Here. While she was in the jungle, Tory grandee Lord Ashcroft conducted a poll in her Mid Bedfordshire constituency, asking voters to rate their MP on a scale of 0-10. What did Ms Dorries score?
5. When are you middle-aged? In 1911, the median age of the population in England and Wales was 25. What is it now?
6. Britain now has more working breweries than at any time since the 1930s. How many are there?
7. The police and crime commissioner elections in England and Wales were criticised for poor turnout. What proportion of registered electors in Essex voted for the eventual winner as their first choice for the job?
8. The Olympic opening ceremony attracted the biggest television audience of the year - in fact, the biggest for any UK programme in 14 years. At its peak, how many were watching?
9. In 1911 there were 13,000 people aged 90 and over in England and Wales. According to the Census 2011, what is the figure a century later?
10. How many UK adults have never been on the internet, according to the latest official figures?
11. A paper published by the Department of Clinical Veterinary Science at Bristol University this year estimated the number of pet dogs in Britain. How many did it suggest there are?
12. The most densely populated local authority in England is Islington in London. The least dense is Eden in the Lake District, with 25 people per sq km. What is the equivalent figure for Islington?
13. What proportion of UK adults identify themselves as gay, lesbian or bisexual, according to official survey data?
14. How many people in England and Wales had taken a class A drug in the previous month, according to Home Office data this year?
15. What proportion of the country is covered by woodland. according to the UK Environmental Accounts, ?
16. According to figures out last month, what proportion of British mothers-to-be continue to smoke throughout their pregnancy?
17. In 1998, 71% of 16-24 year-olds questioned said they'd had a drink that week. What is it today?
18. Crowds watching the Olympic rowing this summer took Hamadou Djibo Issaka of Niger to their hearts. Thanks to a wild-card and after only three months training, he found himself up against the world's elite in the 2,000m single sculls heat. He came last in a time of eight minutes and 25 seconds, earning the nickname the Sculling Sloth. But how much slower was he than the winner of that race?
19. School pupils created a montage portrait of the Queen as part of the Jubilee celebrations. The work was officially recognised by Guinness World Records as having the "most artists working on the same art installation". How many?
20. We now have old Etonians leading both church and state in England - Prime Minister David Cameron and Archbishop of Canterbury Justin Welby. In which year did this last happen?