Would you want Kevin Pietersen batting for your life?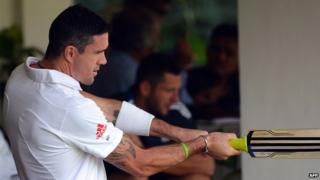 Kevin Pietersen is being talked about as one of the best English batsmen ever, after his 186 in the last Test against India. But critics deplore his occasional silly mistakes. Would he be the batsman to choose if your life depended on a player scoring 100?
Pietersen's batting average is often offered up as evidence that he is a vital part of the squad and at 49.83 it is a creditable score. But there are flaws in this measure.
"They give no sense of how inconsistent a batsman is. If you get nought, 100, nought, 100, that's the same as if you get 50 every time," says Rob Eastaway, a member of the Association of Cricket Statisticians, who helped devise the International Cricket Council's world rankings.
"They also take no account of who you score those runs against, or whether it was a low-scoring match, and they were more significant runs."
A batting average doesn't really reflect form either, because once you have played cricket for a while a few low-scoring innings won't change the average very much.
So what might be a better measure to assess Pietersen's value to the team, as the third test against India approaches?
Consistency is important, and there is a perception that Pietersen's batting is "feast or famine".
His 186 in the second Test against India was preceded by just 19 over the two innings of the first Test. Perceived inconsistency like this provides fuel for his detractors
"People get upset about Pietersen because he will often appear to throw his wicket away and get out in silly ways," says Eastaway.
But actually the numbers tell a different story.
"One way you would look at this is to look at the players' scores and the standard deviation of those scores, and look at how much they fluctuate from the average," Eastaway says.
"Once you make a correction for not-out innings, which can distort the results, the standard deviation of Pietersen's scores is fairly typical of players with his batting average."
Consistency is important, says Eastaway, but it's not the only factor to consider.
"It's nice to have someone you can rely on, a solid base for you to build your innings around, someone who scores 50 every time.
"Someone like Andrew Strauss was a good consistent batsman. But they're unlikely to be the ones who do the spectacular match winning performance."
Another factor to consider is whether a player scores runs when it matters. There is no point in scoring 100 when your team is already on 500. A simple way to measure this, says Eastaway, is to divide a batsman's personal total runs by the total scored by his team in the matches he has played.
If you do this for the England team you find that over his career, Pietersen has scored 14.82% of his team's Test runs, just above Cook on 14.77% and well ahead of other batsmen like Trott (13.71%) and Bell (12.68%). This suggests Pietersen does score runs when it matters and is certainly worth his place in the team.
But while Pietersen is an important part of the England line-up, what about this imaginary life-saving situation? It's the plot to the most ridiculous Bond film - the evil villain tells James Bond he must choose a cricketer to score a century, and if the batsman fails, Mr Bond dies.
One way to measure a cricketer's likelihood of scoring a century is to look at the percentage of innings in which they reach this score.
Pietersen's record shows that he scores 100 in 14.3% of his innings, just behind Alastair Cook at 14.7%. Ian Bell manages just 11.7% and Jonathan Trott 11.3%.
No great odds. Outside the England line-up you could do better.
"If I could choose a non-Englishman to score 100 in their next Test it would be Michael Clarke, captain of Australia, currently ranked number one Test batsman in the world (in the ICC rankings), and incidentally on his way to England to contest The Ashes next summer," says Eastaway.
Clarke has scored a 100 in 14.9% of his innings and his place in the ICC rankings also tells us his form is good.
You could also try Sachin Tendulkar, on 16.1%, though his recent form has been lousy - he hasn't scored a Test century since January 2011 and is only ranked 18th in the ICC rankings.
Finally, if you really wanted to take a punt you could try Indian batsman Cheteshwar Pujara, who has scored a century in 25% of his innings - but you have to remember this is based on a very small number of innings (just 12), so the figure may not be very meaningful.
But if you could choose any cricketer there's no contest - Australian Sir Donald Bradman, who scored a century in 36.3% of his innings. It's a phenomenal number, but even with him your chances of surviving this imaginary life-saving challenge are still only one in three.
NB. All figures are correct as of 30/11/12.
Listen to More or Less on BBC Radio 4 and the World Service, or download the free podcast.