Tweets of the week: Thanksgiving, Elmo and Prince Harry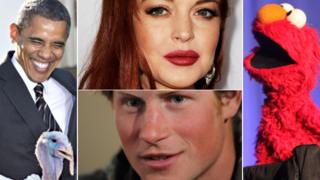 For the week ending 23 November, a look at the big news in America, presented in 140 characters or less.
1. Are you a Twinkie? The AP would like to speak with you for a story.
BuzzFeed deputy social media editor Samir Mezrahi (@samir) pokes fun at the AP's practice of crowdsourcing stories on Twitter.
2. Thank God this Elmo scandal happened after Halloween is all I'm saying
Slate writer David Weigel (@daveweigel) finds the silver lining in a sad story. Kevin Clash, the man who voiced Elmo for 20 years, resigned amid allegations of underage sex.
3. If PETA successfully gets Obama to skip DC turkey, I will ruthlessly murder two other turkeys and not even eat them. Your move PETA.
RedState editorial director Ben Howe (@benhowe). The animal-rights group upset Thanksgiving purists after it lobbied the president - unsuccessfully - to abandon the traditional pardoning of a turkey.
4. I encourage everyone to go shopping on Black Friday, all day, and stand in long lines, while I go to the movies.
LA Review of Books comic editor Ben Schwartz (@benschwartzy) sees an upside to the rampant consumerism that occurs the day after Thanksgiving.
5. Let's not talk about what the cease-fire means for the people of Gaza and Israel. Let's decide which politicians were big winners. #analysis
New York Times editorial writer Josh Greenman (@joshgreenman) is not impressed with the media's post-ceasefire coverage.
6. It's not a good sign that Lindsay Lohan didn't figure out a way to convincingly say the name "Richard Burton."
Linda Holmes (@nprmonkeysee) sees trouble for the Liz Taylor/Richard Burton biopic starring Lindsay Lohan.
7. Had to switch to the Acela after motorcade made me miss my train. 2nd term hasn't even started & Obama's already cost me $95.
Cato Institute fellow Julian Sanchez (@normative). President Obama and his family travelled to a DC homeless shelter to volunteer, causing travel disruption on Thanksgiving eve.
8. Nudity has been banned in San Francisco. So that's one place Prince Harry won't be going on holiday.
Her Majesty the Queen - or her parody Twitter account (@Queen_UK) - breathed a sigh of relief on Thursday as San Francisco's city authorities voted to ban public nudity. Her grandson, Prince Harry, was photographed nude in a Las Vegas hotel room in August.
9. I am proud to say that I am better than President Obama, in at least one way; I can pronounce Aung San Su Kyi without mumbling!
South East Asia-based tweeter Simon (@Bangkok_Simon) took a jab at President Obama during his historic visit to Burma, where he met opposition leader and fellow Nobel Peace laureate Aung San Su Kyi.
10. Today is Joe Biden's birthday. As a present, we should spend today pretending him running in 2016 is a good idea.
Joe Biden turned 70 on Tuesday and Comedy Central's @indecision was among those wishing the vice-president happy returns, with a tongue-in-cheek pop at his prospects for a White House run in four years' time.