France's craze for British and American weddings
By Maddy Savage
BBC News, Paris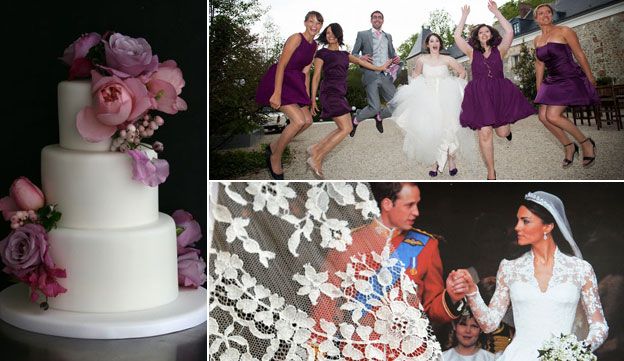 France is famed for its food and fashions, but young couples are increasingly choosing a British or American-style wedding. Demand for tiered wedding cakes is soaring, and the designer of the bridesmaids' dresses for the Duke and Duchess of Cambridge's wedding last year is now setting up shop in Paris.
Choux pastry profiteroles, filled with cream, covered in chocolate, bound together with threads of caramel and piled high into a cone. This is France's traditional wedding dessert, croquembouche. It means "crunch in the mouth" and it's delicious.
But Muriel Tepik-Thibault, 31, decided to swap it for a six-tier white and pink iced cake for her wedding day in May.
"I am such a fan of British and American culture, so I wanted something I had seen in my favourite movies, like Love Actually or Four Weddings and a Funeral," she says.
In a country where bridesmaids are rare, she walked down the aisle with four friends wearing shiny purple dresses.
"So many weddings look the same here and I wasn't after the same traditional French celebration as my parents or grandparents," she explains.
Her wedding is the latest chapter in a love story that could, in fact, be a plot for the next Richard Curtis film. She met her husband Regis Thibault at a casting for a game show, although they didn't swap numbers.
After discovering she was an assistant at a women's magazine, he spent days calling different publications until he tracked her down. Their first date lasted 18 hours as they strolled the streets of Paris until dawn.
"It was a unique way of meeting and getting to know each other, so I guess that is another reason we wanted a unique day," she says.
But in fact, they are not unique among French couples in choosing a British-style wedding.
"Sales of our stacked wedding cakes are going through the roof," says Krista Juracek, 33, who set up the Sugarplum Cake Shop in the French capital four years ago.
"The number of requests we get doubles every month," she says, as the smell of freshly whipped icing wafts in from the kitchen.
"I'd like to think we are helping to shape the mood, but it is also down to increasing numbers of blogs, magazine articles and window displays featuring Anglo-style weddings."
She is originally from the US and believes that most French customers don't appreciate the subtle differences between British and American celebrations.
"What we have also found is that while couples love the idea of how a tiered cake looks, most of them don't actually know what goes inside it," says chef Taylor McLoughlin, her Canadian business partner.
"So we have stuck to sponge for now but we are planning to try out the British fruit cake recipe soon."
Another North American in Paris, event organiser Kim Petyt from Chicago, used to cater mainly for the expat community, but two years ago she started getting more and more calls from French customers.
"The number of calls I receive from French brides who are searching for British or American elements has trebled since then," she says.
The concept of hiring someone else to organise your own wedding is itself an idea that has only recently crossed over to continental Europe, but last month a survey for French magazine Mariee found that a quarter of future brides now have a wedding planner on their wishlist.
Anne Clausse, who works on the publication's editorial team, says the move towards Anglo-American-style events has followed a more general shift in perceptions about marriage.
"It used to be a bit old-fashioned to get married in France, but now it is more popular and trendy," she explains.
"Sales of our magazine have gone up by 3.5% in the last year. With that rising popularity, you get readers looking for more varied celebrations. We feature 10 to 15 photos from UK and US weddings in every edition at the moment, compared with zero in, say, 2009."
The Duchess of Cambridge wore a floor-length lace gown by Sarah Burton to her wedding in London's Westminster Abbey, which was watched by a global television audience of two billion.
"Since everyone saw the royal wedding, a lot of girls are swapping French silk for English lace," says Clausse. (The dress had an English designer, though the lace itself originated in France.)
Parisian TV director Celia Riviere, 28, is one such bride. She chose a cream creation by British bridal designer Stephanie Allin for her nuptials in September.
"British style is seen here as fun and a little bit quirky, not so traditional," she says.
Her bridesmaids wore Nicki Macfarlane, the designer behind the dresses for the children in the royal bridal party.
Last month both designers unveiled their new collections in Paris, at a launch titled A Very British Affair. The showroom was decorated with traditional country cottage flowers and the guests sipped on Pimms.
"Lots of doors have opened, it's been very exciting. People are definitely looking to the UK much more now," says Macfarlane.
Her company already ships to France and she is now in the process of securing a boutique in Paris.
Petyt adds that British and American cultures are also influencing those unable to afford expensive labels.
"Things like favours are becoming more popular and personal. For example, couples are choosing different kinds of candy instead of sugared almonds. They are designing their own save-the-date cards or name plates, which didn't used to be that common [in France]."
At Mariee magazine, Clausse notes that veils and gloves are also proving popular, a year after British drama Downton Abbey hit French television screens.
"It is only available on cable and satellite so it is hard to know how much of an impact it has had, although brides are certainly opting for this kind of vintage detail at this moment," she says.
So is all of this part of a long-term trend that could see French celebrations taking on an increasingly British look and feel, or is it just a passing fad?
"In terms of food, I think this is about young people increasingly looking towards Anglo-American culture," says Pascale Brevet, client manager at the Sugarplum Cake Shop.
"It's not like I am seeing similar trends of couples copying traditions from Spain or Italy. There is a very dynamic food scene in the US and Britain. It is profoundly changing the way we see food, and, even though we in France have a long history of gastronomy, we need to be careful."
But Petyt believes French brides and grooms are unlikely to stray too far from their traditions in future.
"Let's be clear, this isn't about themed dinners or fancy dress. French women are just being savvy and looking for the best from both sides of the Channel and the Atlantic," she says.
"I think they are increasingly bringing in elements that are fun and light-hearted, but they will stay close to their classic elegance."
Newlywed Riviere says she is unsure how long the trend will continue.
"I guess British-inspired weddings are very much the style of my generation. I can see them remaining popular. But I don't know if our children will also choose these fashions."
In the meantime, many of those working in French wedding industry say there are also influences operating in the other direction.
"Paris is the most romantic city in the world. That's one of the reasons I came, and it continues to inspire me," says Juracek.
So does that mean she found love here? "I did meet a man but he is Canadian," she laughs. "And Taylor's boyfriend is Irish."
And what could better illustrate the Parisian spirit of romance than the story of Regis and Muriel, and their British-style wedding?