Andrew Marr: Can good design save the economy?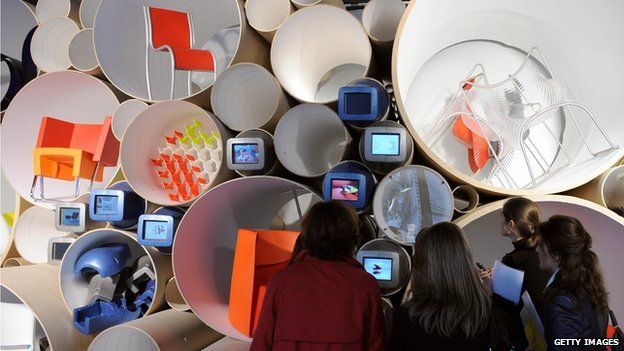 The value of art and design may be difficult to quantify but, as Andrew Marr discovers, there are those who believe it can help drive Britain's economic recovery.
Even Londoners mostly miss it. In the glorious sprawl of liver-coloured brick, fancy stonework and famous-named galleries that is South Kensington, quietly tucked to one side, is the Royal College of Art.
It is 175 years old. That is, it goes back to the year the young Queen Victoria was crowned and when Texas was allowed to join the United States.
The two events are connected because back in 1837, British politicians were starting to fret about economic decline. The rising power of the US was just becoming visible. Closer to home French and German design, in goods such as textiles and ceramics, was worryingly good.
They set up a Government School of Design as a response. It became the RCA and eventually moved to "Albertopolis", as the swathe of west London still haunted by the spirit of Prince Albert is sometimes called.
So much for history. Fast-forward to 2012 and we are still worried about economic decline. But the role of good design, running through to art itself, seems to be something politicians worry about rather less.
Design doesn't feature on new models of the core curriculum. Art colleges are under the financial cosh. You'd almost get the impression that Westminster, where the policy wonks wonk, and Albertopolis, where the arties mould and plonk, are now different planets.
The RCA can certainly be a disconcerting place. As a compulsive amateur drawer, I had poked around its drawing school, really just out of curiosity. It's full of the skeletons, easels and sketches you might expect. However, its senior tutor draws with bolts of electricity, encourages cartoonists and film-makers, and - in the classes - engineers and vehicle design students rub shoulders with conventional artists.
Yet it seems clearer and clearer that if Britain has any "making stuff" advantages left, they are still in the art and design worlds first identified as crucial by the early Victorians. From cars to hotel interiors, sculpture to mobile phones for older people, the add-on value of good design - sold globally - is unavoidable.
Design breakthroughs, high and low, now define the look of our lives. From toasters and juice-machines, through designer clothes, iPads, Ron Arad's chairs and spectacles, to the visual signposts of new buses or the sculptures of Anish Kapoor and Antony Gormley.
However loosely you define design, objects which make life a little easier - or which decorate our minds - are inseparable from current and future prosperity.
Nobody should understand this better than the British, surely. The story of the latter part of the 20th Century here is incomprehensible without the story of art colleges and design icons - the colleges giving us key players in almost every rock band worth listening to, and icons such as the Mini and Concorde. The clothes of Quant and Westwood. Issigonis. Conran. Dyson. What's Britain without all that?
Yet the lack of support today certainly frustrates people in the design world. The RCA's former rector Sir Christopher Frayling argues that the financial sector only contributes 1% more to our GDP than the creative industries but employs roughly half the creative sector's two million people.
Some people in government have certainly noticed because Frayling also points out that, according to the Treasury, by 2017 about half the new jobs in the UK will be coming out of the creative sector.
So it might be thought that art and design should be up there with electronics and engineering as national priorities. In fact, as artist Antony Gormley points out, all these once-separate disciplines are already converging. RCA students have produced 3D imaging used to observe foetal development, hospital beds and ambulances, vacuum cleaners and cutting edge sci-fi films.
Designer Ron Arad regards too much talk about commercial exploitation of design as mildly barbarous, and I understand his point. Arad, when he taught at the RCA, used to say rather cheerfully that he took in employable youngsters and made them unemployable. In fact, of course, he employs lots of people directly as designers and indirectly in factories making his products.
The more important point, though, is that it's actually dangerous to try to place dividing lines between creativity - ideas - and product. The apparently chaotic blurred lines and stroppiness of art colleges is where their value, including their huge economic value, is hidden.
And there's where I think the trouble lies. To invest in art and design means putting public money into areas whose value cannot be captured on a spreadsheet, where concepts like productivity, value-for-money, inputs and outputs - which so reassure the political world - simply collapse. That means faith. It means risk.
But, without it, hard times surely stretch out rather bleakly. Other countries understand this, including China where more than a thousand art and design colleges are operating and whose students greatly benefit from colleges here too.
If we don't do more to encourage our young people to art and design, Frayling tells me, the RCA will find itself simply "a Chinese finishing school". Canny Prince Albert would not have approved.