Can you shape your children's taste in music?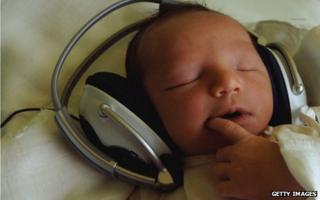 Many parents can't help but try to shape their children's taste in music. But is it an effort doomed to failure, or worse, will it make children hate the music their parents love, and love the music their parents hate?
It might be something like this. Great-grandparents like classical (Mahler), grandparents like jazz (Ellington), parents like rock (Queen), children may be ready to graduate from In the Night Garden to Gangnam Style.
Parents have an interest in finding some musical common ground with their children, if only for five-hour car journeys.
"Every father wants his son to follow his own football team," says Jeremy Summerly, a British conductor and lecturer at the Royal Academy of Music.
"And I imagine that every parent has some kind of innate desire to want their child to enjoy the same kind of music that they did."
But times change.
"The sort of music that was fashionable to the parent may have become distinctly unfashionable by the time the child is of the same age," says Summerly.
One parent who is navigating these reefs at the moment is Tom Hodgkinson, satirist and author of The Idle Parent. Hodgkinson is well aware of the risks in trying to shape a child's taste.
"There's an episode of The Simpsons in which Homer's in the car playing his 70s rock to the kids, and they just groan," says Hodgkinson.
But nonetheless he has tried, gently, to shape his children's' taste.
"For a while the four of us, my wife and I and the children, had piano lessons together. At the moment my son has got into the ukulele and he wanders around the house playing it. He's also in a band called Purple Inferno.
"Sometimes I'll be driving and I'll ask Arthur, my 12-year-old, if he knows the first two albums of The Red Hot Chili Peppers, and he'll download them and play them in the car," says Hodgkinson.
"The other day I heard him playing along to the bass line of God Save the Queen - the Sex Pistols version, not the national anthem - and I felt pleased. I thought, 'That's my boy,'" says Hodgkinson who played in a punk band at university.
The cellist Julian Lloyd Webber thinks that you can't impose your taste on your children but you can guide them, as he did with his own son David.
"You want to introduce your child to the things you believe are the best. When my son was eight years old I took him to see [the Russian cellist Mstislav] Rostropovich. That's a special thing to have seen and it will stay with David all his life," says Lloyd Webber.
In other homes, the musical influences are passed on less deliberately.
"I can't say that I ever tried to shape my children's taste in music or thought about doing so," says Jem Finer, artist and founder member of The Pogues.
He says his daughters, Ella and Kitty, had to live with whatever was being played in the house and deal with whatever musical instruments were lying around.
While Finer was playing Captain Beefheart, the blues, Greek, Irish, Spanish and Turkish music, Finer's wife, the artist Marcia Farquhar, was playing the girls Bernard Bresslaw's comic songs, Beethoven and - when their father wasn't around - the Pogues.
Clearly something rubbed off. Ella, 29, has just completed a doctorate in the voice in theatre and Kitty, 27, is an artist and songwriter.
But sometimes despite all the efforts of the parents there isn't much effect.
"Some children follow what their parents say and what their parents like. They enjoy living in the image of their parents, and other children do precisely the opposite," says Summerly.
"If the parent goes Mahler, the child will go Lady Gaga."
Employing a bit of "child psychology" might be an idea. Knowing the tendency of children to rebel, if you want them to like your music, perhaps you might consider banning it in the home, says Summerly.
"You might find that all of a sudden the child thirsts for the string quartets of Haydn and takes to listening to them in private."
It seems that the musical environment at home does not necessarily influence what a child grows up to enjoy.
"I grew up in a house where, predominantly, classical music was played. And I couldn't stand classical music," says Finer.
"I remember [Sergei Prokofiev's] Peter and the Wolf being bought for me as a child and having no interest in it whatsoever," says Finer.
"I could only respond to much more basic, primal music, like rock'n'roll, until my mind developed," says Finer.
But what happens when the effort to shape the child's taste actually works too well?
For those parents tempted to wean their children off the current playground hit in favour of late classical and early romantic music - Haydn, Mozart, Beethoven, Schubert, say - Summerly has a warning for you.
"You have to be very careful that if you introduce your child to that and they do follow you, they might alienate themselves from their friends at school.
"You could be stopping your children from growing up in a normal way with other children whose musical diet will be that of CBeebies," says Summerly.
Hodgkinson is well aware of the other problem that parents can find themselves in.
"I would kind of like to go see Metallica with my son but there's something terrible about dad and son being into the same band. It is my responsibility to hate it," says Hodgkinson.
Perhaps what Hodgkinson wants to guard against is a kind of arrested development.
"At the moment I am getting into medieval and baroque music. When I play it in the car my son just groans. Part of me feels that children ought to like different music from their parents," says Hodgkinson.
For most parents the desire to shape a child's taste is positive - emerging from the wish to share what they love.
Summerly believes that music can profoundly educate and guide our feelings.
"If a parent believes that music is first a mirror of the soul or secondly that it can actually encourage good behaviour or that it is a major part of educational development, then it stands to reason that the parent will try to foster the child's engagement with a particular kind of music," says Summerly.
Playing even the simplest musical instrument and playing together with other people is something that should be open to all.
"When I grew up... I was told I was tone deaf," says Finer, "so I wasn't even worth considering for any kind of music lessons."
Finer now plays the banjo, guitar, hurdy-gurdy, mandola, and saxophone.
Whatever parents do or don't do to shape their children's taste, they seem to find what they like. Perhaps all that parents need to do is to open the doors for children, introduce them, in Lloyd Webber's phrase, "to some of the greatest achievements of mankind" and let them explore at them their leisure.
"There are no mistakes, they will find their own taste anyway," says Lloyd Webber.