Tweets of the week: Election special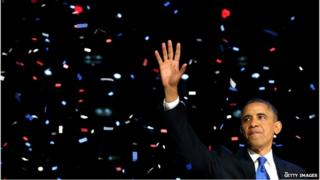 In the week ending 10 November, the US re-elected a president. Here is the reaction to that event, condensed into 10 tweets, some more serious than others.
1. Some call it Election Day. I call it Negative Ad Liberation Day.
Director of the University of Virginia Center for Politics Larry Sabato (@LarrySabato) celebrates a return to normality for TV viewers.
2. The US Election will get huge TV numbers in Canada. It's the single biggest source of our self-esteem.
Esquire writer and Ontario resident Chris Jones (@MySecondEmpire) looks forward to some political schadenfreude.
3. Exit polls indicating my carb intake is outperforming expectations.
Communications director for Democratic Governors Association Kate Hansen (@KateEHansen) points to a big loser in during a stress-filled election day - one's waistline.
4. Horrible possibility: if the geeks are right about Ohio, might they also be right about climate?
Daily Beast writer David Frum (@DavidFrum) examines the consequences of the 2012 election. Namely, if the statistical analysis so accurately predicted the winner of a tough swing state, might statistical analysis be correct on climate change predictions?
5. If it's any consolation, I hear the GOP comes off pretty well in LINCOLN.
After a rough Election Day, Slate editor John Swansburg (@swansburg) offers the Republicans something to look forward to - the weekend premiere of Steven Spielberg's biopic of the 16th president.
6. The flag in her hair is broadcasting all the Wi-Fi in the auditorium, so LAY OFF.
New York Times editor David Izkoff (@ditzkoff) defends the "hair flag lady," an enthusiastic Obama supporter seen in the background of Obama's acceptance speech. Her choice of accessories soon became a national conversation.
7. Sheldon Adelson: gambling magnate and also world's biggest mark
MSNBC host Chris Hayes (@chrislhayes). The Las Vegas billionaire spent more than $50m (£31.4) to defeat President Obama. It didn't work.
8. Riding the subway, telling strangers the day they will die. #DrunkNateSilver
A status update from the parody account Drunk Nate Silver (@nateDRUNKSilver). The statistics guru Nate Silver long claimed that Obama had a high probability of winning, but was fiercely criticised by those who thought the race was too close to call. Now that his methods have been validated, what would happen if Silver, drunk on victory and a good bit of alcohol, let loose his predictive powers?
9. In the state Mitt Romney governed, it's now legal to smoke medical marijuana at your same-sex wedding (so long as you buy health insurance).
New York Daily News editorial editor Josh Greenman (@joshgreenman) points out how very, very liberal Massachusetts is after the state approved a medical marijuana law.
10. I started to get very worried about Mitt's chances when I heard that A-Rod donated to his campaign. Everything A-Rod touches turns bad.
The last word, as always, goes to Donald Trump (@RealDonaldTrump), who manages to disavow Mitt Romney and slam Alex Rodriguez, the New York Yankees highly paid star in the space of one tweet. Trump, who offered a highly publicised endorsement of Romney, makes up in confidence what he lacks in self-awareness.
Some tweets have been edited for clarity and style.