Clive Dunn and the art of playing older people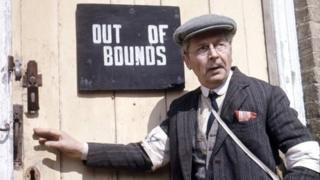 The late Clive Dunn specialised in playing much older characters than himself. It's an art perfected by a small group of actors. What are the secrets of appearing elderly on screen?
His doddering, bumbling L/Cpl Jones was the very epitome of comic decrepitude.
And occasionally, casual Dad's Army fans were surprised to learn that Clive Dunn, who has passed away at the age of 92, was considerably younger than his much-beloved character.
Though Jones was supposed to be in his 70s, Dunn was a mere stripling of 48 when the show began in 1968.
His bandy legs, rambling anecdotes, catchphrases - "Permission to speak!", "Don't panic!", "They don't like it up 'em!" - and general aura of agitated confusion were all intended to establish the butcher-cum-Home Guard NCO as a man in his twilight years.
It was an act he had perfected over decades. Even before Dad's Army brought him widespread fame, the music hall veteran had specialised in playing wizened figures much older than himself.
Nor did he seem eager to escape this typecasting after he found fame as Jones. When in 1971 he had a number one hit with Grandad, appearing on Top of the Pops in a rocking chair singing about how "my days are gone", he was barely 50.
But while Dunn occupied something of a niche, he was far from the only actor to make a living playing older characters.
Caroline Aherne created her Mrs Merton character while in her twenties. In the Kumars at Number 42, Meera Syal played the grandmother of her real-life husband Sajeev Bhaskar. Estelle Getty, best known as Sophia in the Golden Girls, was in fact a year younger than Bea Arthur, who was her screen daughter Dorothy.
David Jason - best known as Del Boy in Only Fools and Horses - was cast as elderly men from early in his career and was even considered for the part of L/Cpl Jones. It was a skill witnessed by television audiences when Jason played Blanco in the 1970s sitcom Porridge.
But why exactly do producers bother hiring a young actor when they could save a fortune in make-up and prosthetics by hiring a performer of a similar age to the character?
The cast of Dad's Army, after all, was generally made up of men whose birthdays roughly corresponded to those they portrayed (though Ian Lavender was five years older than his schoolboy Frank Pike).
According to the comedian and writer Charlie Higson - who himself played pensioners like Bob Fleming and Johnny Nice Painter in The Fast Show - Dunn's function on the programme was to provide physical humour of which his colleagues were not all capable.
"I'm not sure how realistic an old person Jones was meant to be," Higson says.
"What he could do was get more into the slapstick side of things that the others couldn't."
It was a common technique among casting directors at the time.
The actress Stephanie Cole was 39 when she played the wizened battleaxe Mrs Featherstone in Open All Hours.
For Cole, it was far from a new experience. Her first theatrical role, at the age of 17, was playing a 90-year-old woman. Working in repertory, she regularly found herself cast as much older women.
In Tenko, she played a woman 10 years her senior. And in 1990 she was cast as Diana in the sitcom Waiting For God. At the time, she was 48 - a good 20 to 30 years younger than her character.
Today, Cole considers herself hugely privileged to have played these roles. But looking back, she believes they should have gone to women whose ages matched the script.
"When I think back to Mrs Featherstone, I don't know how anybody could possibly believe I was that age," she says.
Partly to blame, she believes, were sexist attitudes about older women which Cole complains are all too prevalent in the entertainment industry. In Waiting For God, she says, her co-star Graham Crowden was, at 68, around the same age as his character.
Producers felt a woman in her 60s or 70s would have been unable to cope with the workload, she says.
"But they didn't think twice about casting Graham," says Cole.
Just as it would be unthinkable in the 21st Century for a white actor to black up to play Othello, she believes, no serious drama would cast a much younger actor in a part today.
"It would be ludicrous and it would be an insult," she says.
Comedy, which does not rely on naturalistic performances, may still have a place for the likes of Clive Dunn, however.
The Fast Show was enhanced not just by Higson's senior characters but also by Paul Whitehouse's Unlucky Alf and Rowley Birkin QC.
The trick, says Higson, is to prevent such portrayals from straying into parody by grounding them in experience.
"If you're playing an older person, it helps to base it on someone you've observed," he says, adding that he has used his father-in-law as a source of inspiration.
The days of the L/Cpl Jones-esque character may not be entirely over, it seems. Don't panic.