The new Archbishop of Canterbury: 10 lesser-known things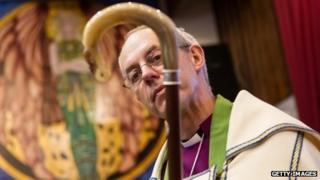 Justin Welby, the Bishop of Durham, will become Archbishop of Canterbury when Rowan Williams steps down at the end of the year. Here are 10 things about the new archbishop.
1. His father Gavin Welby was a bootlegger and moved in the same circles as the Kennedys for a time, reportedly introducing John F Kennedy to his first mistress. Welby Sr travelled to the US to make money trading whisky during prohibition. Eventually to get around the law, he imported communion wine.
2.The new archbishop's full name is Justin Portal Welby. His mother, Jane Portal, was Winston Churchill's private secretary. Welby's parents divorced when he was very young. His mother later married Charles Williams, and become Baroness Williams of Elvel.
3. He's a French speaker and Francophile, having lived and worked in France. An announcement about his appointment as Bishop of Durham listed his hobbies as most things French (and sailing).
4. He set up a special day for bereaved parents in Coventry Cathedral. There is now an annual service commemorating the lives of children who have died. A book with the names of lost children is always on display in the cathedral - anyone who has lost a child under any circumstances can ask for their child's name to be added to the book.
Bishop Welby's own eldest daughter, Johanna, died when she was just seven months old in a car crash in France in 1983. He has previously said her death brought him and his wife Caroline closer to God. The couple have five other children.
5. As dean of Liverpool Cathedral he controversially allowed John Lennon's Imagine to be played on the cathedral's bells as part of the Futuresonic 09 art project in May 2009 - despite the line "imagine there is no heaven".
"He could see things from a strategic point of view, that it would get a lot of marketing," said Cleo Evans, the artist behind the Cathedral Futuresonic project. "He could see that by using a popular song he could bring more people to his cathedral."
As dean of Liverpool, he effectively dealt with the day-to-day management of one of England's largest and most deprived cathedrals, embarking on a plan to double congregations within five years.
6. He has a frank Twitter presence, which reveals a dry sense of humour. In a tweet in February of this year, he confessed that he had been "very sleepy" during one debate at the General Synod. In reply to a delegate asking him why he had nodded throughout both sides of the debate, he said that he may have given the impression of being the "bishop of indecision".
7. He has negotiated with militants in war-torn parts of west Africa and acted as an arbitrator during religious conflicts across the globe with the Coventry Centre for Reconciliation.
"His life has been put at risk on a number of occasions, he's had to search under the car for bombs before," says Reverend Sally Hitchiner, who worked with him at the centre.
The Right Reverend Peter Price, Bishop of Bath and Wells, has said he believes that his experience of conflict negotiation has helped him in an increasingly divided Church.
"But it's rather more than that, he paints on a bigger canvas than simply the Church. He's somebody who understands conflict," he said.
8. He's an Etonian. Like the prime minister, Bishop Welby went to school at the famous elite boys school Eton. He then went on to study at Trinity College, Cambridge - when Lord Rab Butler, the former Conservative deputy prime minister and a relative of Welby, was head of the college.
Since becoming a priest in 1992, most of his work and ministry has been based in urban parishes in London, Coventry and Liverpool.
9. Welby says his time in business - 11 years as an oil executive - had helped him in his later work in the church.
"Markets don't allow you to hang about and vacillate. And treasury teaches you about teamwork and working collaboratively," he told the Association of Corporate Treasurers.
Welby joined Elf Aquitaine after graduating from Cambridge and worked for the company out of Paris. Elf Aquitaine had sites in West Africa and the North Sea. Welby quickly rose through the ranks to become group treasurer, overseeing the finances of the whole company.
He was recently appointed to the parliamentary committee looking into UK banking standards - especially the ethics which led to the recent Libor scandal.
10. He's only been a bishop for a year. He was enthroned as the Bishop of Durham in November 2011. Compared with his predecessor Rowan Williams, who was a bishop for 10 years, including two as Archbishop of Wales, he is considered inexperienced.
Reporting by Karen Millington and Jayne Lutwyche, BBC Religion and Ethics