Paedophile net: Did Operation Ore change British society?
By Jon Kelly & Tom de Castella
BBC News Magazine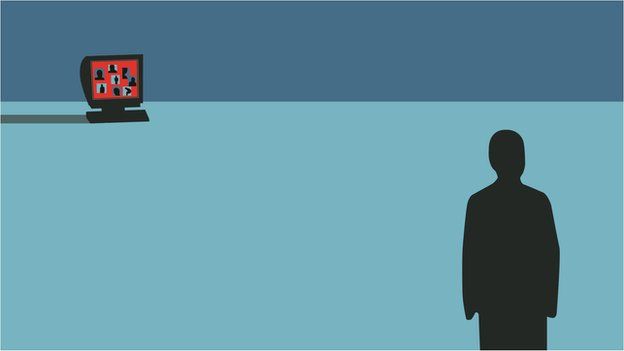 It was the UK's biggest ever computer crime investigation. Thousands of people were accused of downloading images of child abuse - some were found to be innocent. The legacy is controversial. Ten years after the raids began, has Operation Ore really changed the UK?
On a cold, cloudy December day in 2002, Jonathan was about to take his class of children to chapel. His life as he knew it was about to end.
His headmaster appeared at the door and asked him to go with him. "There are two policemen who want to talk to you," he said.
The school where Jonathan taught geography was an unlikely place for police officers to turn up. A private prep school set in extensive grounds, it offered education to boys and girls from nursery age to 13.
Jonathan had a secret life. Living alone, he didn't think he would be unmasked. "I'd been trying to be as private and quiet as possible. I had two separate lives."
His dark side was about to be exposed. The waiting police told him they had found online payment records linking him to child abuse websites.
"I admitted it straight away," he recalls. "Once the game was up there was no point trying to hide it."
He was stunned at being exposed. He had heard about paedophiles being arrested but thought he was different. "I thought everything was very personal, all kept in my own mind and computer. It was a devastating shock to see I had been found out."
That afternoon he watched as a team of officers searched his home, a prefabricated building in a secluded spot in the school grounds. They took away his computer and VHS cassettes to a police van. "I was blank. I remember feeling cold. The front door was open and they were moving stuff in and out."
He was taken to his local police station, where he was arrested and put in a cell. The news was beginning to sink in. "I thought, 'My life is at an end, what is the point?'"
Jonathan, 57, recalls being released on bail late that night and taken home by the headmaster: "He was tight-lipped. For him it must've been awful." Over the next few days, he wished he would die.
The teacher's capture was repeated in different ways thousands of times across the UK during the first decade of the 21st Century. This was Operation Ore.
Details of 7,272 Britons whose credit cards had apparently been used to purchase child abuse images were passed to officers by their counterparts in the US.
The seriousness of the allegations, the fear that children were at risk, and the sheer number of leads put huge pressure on the authorities to act quickly.
What followed was the largest investigation of its kind.
It put under scrutiny the intimate online browsing habits of individuals from all walks of life. The suspects included police officers, doctors, teachers and celebrities.
Household names like rock star Pete Townshend and actor Chris Langham were among those implicated.
Local newspapers, too, began to fill up with reports about normal-looking men who, in the privacy of their own home, were allegedly browsing obscene images of children. In the worst cases, children were shown being raped.
By the time the Ore prosecutions concluded, 1,837 convictions had been secured and 710 cautions handed out, according to the Child Exploitation and Online Protection Centre (Ceop).
The sheer scale of the operation had tested the police. "In the early days there was a feeling of being overwhelmed," admits Jim Gamble, former chief executive of Ceop.
The countless headlines these raids generated, experts believe, transformed popular perceptions of what a sex offender looked like and did.
As the reports of court cases proliferated, the public increasingly became familiar with hitherto obscure terms from the world of child protection. The Sentencing Advisory Panel scale, used to categorise indecent images for seriousness according to grades one to five, is now a regular part of newspaper court reports.
The raids coincided with mounting public concern about the amount of sexual material accessible to anyone with an internet connection.
For those behind it, the investigation was a success. It raised awareness of exploitation and led to 154 children being protected from abuse, according to Ceop.
"People thought they could go online and wouldn't be held to account," says Gamble. "They believed the internet was a labyrinth that was too difficult for the police."
Critics, however, raised questions about the police's handling of the inquiry. Some said potential credit card fraud had not been properly investigated and the reputations of innocent men had been destroyed as a result. Others feared the inquiry had contributed to an atmosphere of moral panic in which paedophiles, or potential paedophiles, lurked in every corner.
What is clear is that Ore helped define Britain's relationship with the internet at a time when its use in people's homes was exploding. As recently as March 2003 just 15.3% of people had broadband, according to the Office for National Statistics. By this year, Ofcom put the figure at 76%.
The raw material of Operation Ore came from the US.
In August 1999, dozens of US law enforcement agents raided an office and a house in Fort Worth, Texas. They belonged to Thomas and Janice Reedy.
Thomas Reedy, a nurse turned self-taught computer programmer, had set up an online pornography operation called Landslide Productions. His wife was his book-keeper.
The company provided a portal to about 3,000 sites as well as online payment services. Among those using its systems were a number of third-party sites, typically hosted outside the US, offering images of child abuse.
One site connected with Landslide was called Child Rape. A series of pictures linked to from the site showed fathers having sex with their own children.
A jury found Thomas Reedy guilty of trafficking indecent images of children in January 2000. He was sentenced to 1,335 years in prison - later reduced to 180 on appeal - and Janice Reedy to 14.
In the wake of the raids, US authorities set up an investigation called Operation Avalanche to examine the 35,000 names on Landslide's database. The Federal Bureau of Investigation then shared the details of subscribers from overseas with law enforcement agencies in the relevant countries.
There was Operation Snowball in Canada, Operation Pecunia in Germany, Operation Amethyst in Ireland and Operation Genesis in Switzerland.
When more than 7,000 names of British suspects were passed to UK authorities, it quickly became apparent that investigating them would be a huge undertaking.
With home internet use expanding, there had been warnings in the media that the internet could be a dangerous place.
There had been a few high-profile convictions for downloading indecent footage and pictures of children - such as that of Gary Glitter, jailed in 1999 after thousands of images were discovered on his laptop.
In the media and the popular imagination paedophiles were portrayed as outsiders, one of society's most frightening manifestations of the dangerous other.
Never before had there been a suggestion that so many ordinary individuals from across the country were regularly viewing this kind of material. Ordinary people like Jonathan.
Today he is filled with remorse. "Hardly a day goes by without me looking back and regretting what I did."
In the early stages of his teaching career he had rented adult pornographic videos. But with the internet his habit became more and more warped. "It got more and more addictive and developed into child pornography. It was mainly pre-teen girls. The longer it went on the worse it got," he says.
Looking back he says that he was extremely lonely. "My sexual feelings were completely bottled up and internalised. I never felt I could develop proper relationships among [people] my own age. My thoughts then became, 'What if they were sexually immature?' It was that kind of disastrous attitude that led to my downfall."
At his trial he admitted downloading more than 5,000 images and pleaded guilty to making and possessing indecent photographs. The judge described his activities as "evil and sordid".
He was sentenced to two years in jail and ordered to sign the sex offenders register for 10 years.
In August 2003 he was in prison, in a wing for sex offenders and drug addicts. He could hear the threats and insults from prisoners in other parts of the jail. "Any chance the other prisoners got to shout at us they would. I was crying most nights."
In November that year he was transferred to HMP Whatton, a prison dedicated to treating sex offenders. He found the atmosphere less threatening and attempted to change his life. "I joined the choir and got involved in the Bible study group. I was trying to identify what I felt before and how the victims would have felt."
Previously, the largest UK investigation of online child abuse material had been Operation Cathedral, an inquiry into a paedophile ring called the Wonderland Club which resulted in the convictions of seven British-based men.
Dealing with cases such as Jonathan's and the sheer volume of Operation Ore was a task of an altogether different magnitude.
"It's an irony that this was called Landslide because it provided the police with an avalanche of data," says David Wall, professor of criminology at the University of Durham.
"Very suddenly the British police were given a whole lot of data which looked like quite conclusive evidence of wrongdoing. They had to respond, but I'm not sure they had the full response capability."
Realising quickly they would have to prioritise suspects, the National Crime Squad began by dividing them into three categories. The top priority group - of about 1,200 names - included convicted paedophiles and those with access to children.
The second category was made up of those in positions of authority, such as police officers, and the third was those neither in authority nor involved with children.
Once identified, details of the "phase ones" were sent out first to local constabularies who took on responsibility for conducting the investigations. The Fraud Squad assumed the task in some forces where it was judged to have the greatest online expertise.
After months of preparation, the raids began in May 2002. Some 36 people were arrested in the initial swoop. At first it attracted little attention.
Operation Ore began to generate national headlines the following September when it led to the arrest of Det Con Brian Stevens, who had been a family liaison officer to the parents of Jessica Chapman, a 10-year-old murdered along with friend Holly Wells by Soham killer Ian Huntley.
Stevens was acquitted of possessing and distributing indecent images, although he was later jailed for providing a false alibi.
Subsequent raids attracted huge publicity. The arrests of professionals such as teachers, police officers and doctors were splashed across the national press. Newspapers began to speculate about how high up in society the inquiry would reach.
And then in January 2003 came the arrest of Pete Townshend. The Who guitarist said he had given his credit card details to a paedophile website because he was researching a book and insisted he had not downloaded any images. He accepted a police caution, and Ore claimed its first celebrity.
Others followed. In 2007, actor Chris Langham was jailed after the Ore investigation led officers to search his computer, where they found images of child abuse. Actor Adam Barker, son of comedian Ronnie Barker, was jailed for 12 months in October 2012. He had spent eight years on the run after his initial arrest.
By and large these men did not fit the profile of sex offenders hitherto portrayed in the media. Those who attracted the most attention tended to be successful and socially secure. A majority lived with a partner or were in a relationship.
"You can't look at someone and say they are a paedophile," says computer forensics expert Peter Sommer, visiting professor at De Montfort University's Cyber Security Centre and a witness in numerous Operation Ore trials. "They really do come from every section of society.
"But one of the effects of the internet is that it's far easier for paedophiles to meet in hidden places. Whereas before the paedophile might have been socially isolated, they are able to meet people like them so they think it's more normal."
Despite the high profile the investigation was attracting, there was evidence that the huge weight of cases was a problem for the authorities.
"Police have accepted they were premature in publicising the existence of the Landslide database," Sommer says. "They were finding people were deleting stuff. In subsequent cases they have been much more careful."
Ministers provided extra funding. In April 2006, Ceop was launched and given responsibility for co-ordinating the inquiry. Under the leadership of Gamble, Ceop agreed a system whereby forces could share the burden of investigating cases with each other.
But for those working on it, the toll taken by the investigation was not purely about workload.
For many, the disturbing nature of the material they were investigating left deep scars.
Every time a child cried out in the street, one detective would be reminded of the screams of victims in footage seized from offenders' computers. Civilian experts were also affected.
"There were times when I had to stop and go for a walk and clear my head because the material was fairly distressing," says Sommer.
"I became inured to the fact that there are people who look at this stuff. If I had got emotionally involved I would have ended up in a loony bin."
For some of those arrested, the shame of being labelled a paedophile, a sex offender - society's most reviled groups - was too much to bear.
There was much coverage of Commodore David White, who was stripped of his command of British forces in Gibraltar in January 2005 after he came under investigation. The following day he was found drowned in a swimming pool at his home. A coroner recorded an open verdict.
Many would have little sympathy for those accused of viewing images of children being abused. But it became clear that not all those caught up in the initial sweep were guilty.
On 25 February 2003, Robert Del Naja of the band Massive Attack was arrested. His home in Bristol was searched and his computer seized. The story was covered extensively in the British press. Exactly one month later, the charges against him were dropped.
Del Naja's details were on the Landslide database, but the musician was innocent. He had been the victim of credit card fraud. The issue of identity theft became the biggest controversy to dog Operation Ore.
It was 06:40 on 30 October 2003 when Jeremy Clifford was woken by a knock on the door.
On his front step in Watford were three police officers. They had a warrant to search the house. They wanted to know where his computers were kept.
Shaken, he led them inside. The search team quickly began to open every drawer, cupboard and box. They rifled through all his photographs. The house was turned upside down.
The detectives did not say why he was being raided. But his wife spotted a sheet of paper carried by one of the officers. It said they were looking for indecent images of children.
She recalls her shock at seeing the phrase. "I just wanted to score right through it," she says.
There were no computers in the house. But at Clifford's wedding photography and camera equipment firm, computers, photographs and videotapes were seized.
Eventually he was taken to the police station and told he was accused of purchasing child abuse images. At first he felt indignant. But then the enormity of the charges facing him began to sink in.
"The shock hit me after they'd finished with me," Clifford, now 52, says. "I was in a very bad state by the time I got home. But it got worse and worse over the next few months."
His credit card had been used five times to pay Landslide. But Clifford claimed he was a victim of identity theft.
The case against him would be dropped before it came to trial, but not for another 18 months.
Detectives had found 10 thumbnail images of children - classed as category one, the lowest level on the scale - in the temporary internet files folder of a computer he had sold to a former business associate. A forensic expert later concluded these images had probably appeared as pop-up adverts without Clifford requesting them or even being aware they were stored on the machine.
In the time it took for the prosecution to come to a halt, however, Clifford spiralled into depression. He would lie in bed all day with the curtains closed. Eventually, his business failed.
Throughout, his greatest terror was that the allegations against him would be reported in the media. After each pre-trial court appearance, he and his wife - who never doubted his innocence - would scour the local papers to make sure nothing had been written about the case.
"That would have been the final straw," he says. "It's the worst thing a man can be accused of. It's worse than murder."
"With regards to the matter of the constabulary being sued by Mr Clifford for malicious prosecution, we took legal advice to defend the action and went to court," a spokeswoman for Hertfordshire Constabulary says. "We were successful at the first trial - however the Court of Appeal ordered a retrial which we lost."
Since then Clifford has built up a new business and left his ordeal behind. His wife has written a book about the couple's brush with Operation Ore.
The issue of credit card fraud was the subject of a series of articles by the investigative journalist Duncan Campbell.
Campbell found evidence that the hosts of third-party webpages linked to from Landslide had used the portal to process payments to themselves from stolen cards.
When someone signed up to one of these sites via Landslide, the owners were passed 65% of the fee. But crucially, in the event of fraudulent credit card use being detected, Thomas Reedy was liable for any penalties.
In other words, if a credit card company tried to recoup funds from a fraudulent transaction, Reedy would have to pay rather than the fraudsters operating the third-party sites. Landslide became a magnet for fraud.
Indeed, Reedy's company had gone out of business in the weeks prior to the initial US raid because of the extent of suspicious payments.
Critics of Operation Ore argued that police had been too gung-ho in raiding so many properties without checking first whether images of abuse had actually been purchased. In contrast to Ore, the US Operation Avalanche resulted in around 100 arrests following 144 searches from a database of 35,000 transactions.
It is a charge vigorously contested by Ceop. Gamble calls the operation a "huge success" and blames a "nonsense conspiracy" theory for tarnishing its reputation. "I'm proud of Operation Ore today. And I'll be proud of it on the day I die."
Colleagues in the US point to the UK arrest figures with admiration, he argues. "They are puzzled why we were not applauded for what we did."
In a 2007 statement to the House of Lords Science and Technology Select Committee, Gamble said that of more than 2,450 people "successfully held to account", 93% had admitted their guilt.
Where an individual's credit card details were found on the Landslide database but no child abuse pictures could be found on a suspect's computer, they were prosecuted on the lesser charge of inciting the Reedys to distribute indecent images.
There have been only 161 such cases, Gamble notes, and in 68% of these guilt had been admitted. He said that to the best of his knowledge, in all incitement cases "additional evidence beyond simple single credit card details have supported the prosecution".
Additionally, according to Sommer, the legal barriers to an unfair conviction were high.
"There could have been miscarriages," he says. "But essentially every case had to be put together by a police officer, it had to be agreed by the CPS."
Those critical of the inquiry questioned how many innocent men may have accepted cautions to avoid the trauma and publicity of a trial. It's a proposition that's impossible to quantify.
It could be said that Operation Ore's most significant achievement was drawing unprecedented attention to the variety of people who downloaded abuse images.
Certainly, claims about a wave of abuse perpetrated by Jimmy Savile have brought back memories of an earlier era - the 1960s and the 1970s - in which child abuse could flourish because it was so little discussed.
By the time Operation Ore was launched, paedophiles were arguably the UK's most feared and reviled group. In 2000, the News of the World's decision to name and shame convicted child sex abusers had been a landmark.
"Before Ore, we knew about child abuse," says Julia Davidson, professor of criminology at Kingston University and co-director of the Centre for Abuse and Trauma Studies.
"But we had these ideas about what perpetrators were like. The media had tended to focus on cases like Sarah Payne or Brady and Hindley."
As the Ore arrests mounted, the country began to confront the idea that vast numbers of paedophiles were not fringe outsiders like Roy Whiting and Sidney Cooke - child killers who conformed to the pre-Ore media template of the paedophile as a shabbily dressed oddball.
Instead, many of the Ore cases which attracted the most publicity involved outwardly respectable, ordinary-looking men with families, jobs and friends.
If anything, the notion that those with an unhealthy interest in children could not be pigeonholed and identified by sight was a more terrifying notion.
In the early 2000s, the very phrase "child pornography" was increasingly shunned by experts in the fields of social work and child protection.
Instead, professionals preferred blunter terms - "child abuse images" or "images of child abuse" - to deny it the legitimacy of association with adult material which, like it or not, was being consumed by millions every day.
"There's been a shift in language," Davidson adds. "Previously, there was the attitude that it's just a photograph.
"Now there's a recognition that these pictures involve a child being brutalised, raped, exploited - and I think Ore was a catalyst for that."
Within the space of a few years, thousands of case studies have emerged of individuals who were inclined to look at indecent images of children.
"You have several categories of offender," Sommer says. "There are those also involved in physical offending, who might have thousands of these images on their computer.
"Then you have those people who are curious about it. These are the people who might also look for pictures of Princess Diana in Paris after the accident. But at the end of the day, every image is a child being abused and creates a market for further abuse."
Nonetheless, it is not only the authorities who have learned lessons.
Those with an interest in viewing the kind of material targeted by Ore began to adapt their behaviour too.
The investigation made paedophiles more circumspect about their behaviour, Davidson says.
"Instead of pay-per-view sites as with Ore, what you are seeing is a lot more informal networks," she adds.
"They are producing home-made images, sometimes of their own children. They're conscious that if they use credit cards it's far more traceable."
Then there are the paedophiles like Jonathan who got caught in Operation Ore. "It cost me my life, really. Everything I held dear was utterly devastated."
When he got out of prison he was not allowed to work with children, a role that he enjoyed and valued. Today he teaches English as a foreign language to adults. He says his colleagues know about his past and have given him a second chance.
The condition of his licence means he is still not allowed to download anything from a computer that is not directly connected with his job.
He is glad he got caught. He had tried to stop looking at images of children many times and always gone back to the sites. They were addictive, he says.
"In that sense I was quite grateful the arrest happened. I would have stayed like that. I wouldn't have been able to break free."
He says he hasn't been seriously tempted to look at images of children since his release. "I've been in the clear for 10 years."
The odd temptation comes up when watching a film, but he says he prays and can control it.
He sometimes wonders what his life would have been like if he'd been able to continue in his old job. But the rupture in his life has led to healing. He says he will always feel regret and remorse for what he did. But the shame has mostly gone.
"I know I'm in a better place. I'm not earning nearly as much money but I don't have all that guilt."
He is thankful for the support people have given him. His parents have stuck by him.
Jonathan puts his ability to turn things around down to his religious faith. "Without Christ in my life I would've probably ended up like many men in my situation and taken my life."
Operation Ore was a unique event. The chain of circumstances that caused the Landslide data to fall into the hands of the British police will almost certainly never be repeated.
It was a product of an earlier internet age, one whose frontier spirit was liberating for its early adopters and yet in which child abusers and their enablers assumed they were untouchable.
While it made British parents more aware of the web's dangers, it also fuelled a widespread cultural paranoia about the supposed dark side of the new digital age.
Operation Ore may be over. But its legacy persists. It was the event above all others that robbed British society of its innocence about the internet.
Illustrations by Nick Lowndes