Has Halloween now dampened Bonfire Night?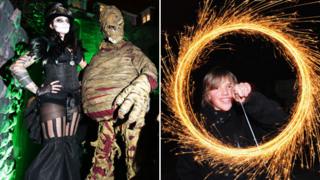 For years now, Halloween has been ballooning as an event in the UK, influenced heavily by the US. But is it squashing the indigenous Bonfire Night?
The dust has now settled on the Halloween-Bonfire Night period.
Many people will have noticed the crowds of twenty and thirty-somethings staggering through British city centres as zombies, vampires or in less ghoulish fancy dress.
Trick or treating children are legion, but the occasion has become a significant date in the social calendar for adults as well. It's now viewed by many chains as the third biggest retail event of the year in the UK after Christmas and Easter.
Supermarkets devote aisles to spiders, skeletons, witches and vampires. Tesco sold 28 different types of Halloween cakes this year and two million pumpkins.
It's big business, says Tim Angel, chairman of fancy dress firm Angels. The total retail market for Halloween has grown from £12m in 2001 to £300m in 2011, he estimates. When it comes to fancy dress, the costume market has grown by a factor of 30, he adds.
The Halloween-flation seems to emanate from the US.
But is this a zero sum game? With Halloween and Bonfire Night so close, is the latter in decline?
One aspect, the traditional Penny for the Guy seems to have largely fallen out of favour a while ago, a trend bemoaned by traditionalists.
"When I had kids we'd never heard of Halloween," Angel says. "But it's replaced Bonfire Night up to a point. Most kids don't know the history of it (Guy Fawkes)."
But judged by another measurement, sale of fireworks, Bonfire Night is healthy.
Firework sales have grown for the last three years, says Phil Murray, chairman of the British Fireworks Association. That said, they are dwarfed by the money going on Halloween, he admits. Retailers' preference for Halloween paraphernalia - and safety restrictions - create problems, Murray says.
Fireworks have been shunted to the back of supermarkets. Shops now have strict age restrictions. Children under the age of 18 are banned from buying them and many supermarkets ask people who look under 25 to show ID.
Waitrose and Tesco figures suggest sales of sausages, toffee apples and fireworks are all up. A YouGov survey suggests people actually prefer Bonfire Night to Halloween. The same YouGov survey suggests that despite Halloween's growth more money is still spent on Bonfire Night.
And it's still easy to find a bonfire or a fireworks display. In Lewes, the celebrations are still organised by a slew of societies. Elsewhere, the associations with Guy Fawkes and anti-Catholicism may have faded, but fires continue.
Firework sales perhaps don't tell the full story.
The pressure on parents is shifting from Bonfire Night to Halloween. "The pressure to spend on Halloween is increasing each year," says Siobhan Freegard, founder of Netmums.
"Where once families would make basic outfits for kids such as a sheet over the head for a ghost, now children are clamouring for professional costumes and asking adults to dress up plus host a party too."
It's not just costumes. Part of Halloween's thrill for children is it gives them permission to demand sweets from total strangers. "They've grown more aware of trick or treating as confectionery firms now bring out ranges weeks in advance, ramping up the pester power factor," Freegard says.
It's probably not a case of Bonfire Night decline, but rather a shift in priorities.
It may be that both festivals can spur each other on. Some firework manufacturers are already embracing Halloween by creating new products like the ghost fountain and the pumpkin fountain, says Murray.
There are new trends in the bonfire ritual. Guy Fawkes masks have proved popular and some of the more quirky bonfire societies have replaced the Guy with effigies of celebrities in the news - including Lance Armstrong and Mario Balotelli - and even politicians.
The emphasis has moved. The bonfire with a Guy on top - indeed the whole story of the Gunpowder Plot - has been marginalised. But the spectacle remains.