Tweets of the week: Is Frankenstorm the real October Surprise?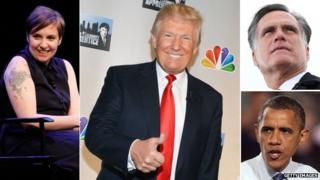 For the week ending 26 October, here is the news making waves in the US - condensed into 10 topical tweets, some more serious than others.
1. Hey girl, fun fact: "Horses and bayonets" is also the nickname I've given my pecs. (Bayonets is slightly bigger.)
The parody account Paul Ryan Gosling (@PaulRyanGossing) which pokes fun at the Republican vice-presidential nominee, uses Obama's most memorable line from the final debate to draw attention to Ryan's impressive physique.
2. Gallup is trying to teach a valuable lesson. The power to freak out every day was in YOU, all along.
Slate's Dave Weigel (@daveweigel) after the daily Gallup polls, usually released online at 1pm EST, were late, resulting in what could only be described as a group meltdown on Twitter.
3. I literally pose half naked for a living and you are still the biggest attention whore I know
Swimsuit model Chrissy Teigen (@chrissyteigen) to real estate mogul Donald Trump. Trump promised to announce a big "October Surprise" via Twitter, but it turned out instead to be a request for Obama to release his educational records and passport applications. In exchange, Trump would give the charity of Obama's choice $5m.
4. The iPad Mini will totally change the way you think about completely unnecessary devices.
New Yorker humorist Andy Borowitz (@BorowitzReport) after Apple announced a new, smaller iPad.
5.Gallup made 5 point swing toward POTUS post debate. If people are this fickle, I don't want them picking my ice cream, let alone president.
Twitter user Solomon Alexander (@RealBigSol) has whiplash from all the back and forth in the presidential opinion polls.
6. Caring about Ohio is exhausting, I don't see how Ohioans do it.
Twitter humorist (@pourmecoffee). All eyes are on the Buckeye state as a potential lynchpin for securing the presidency.
7. Should We Be Worried About Women Attracting Bears to Polling Stations?
Atlantic Wire writer Richard Lawson (@rilaws), after CNN reported on a study indicating that women's votes may be influenced by hormonal changes in the menstrual cycle.
8. Voting for Barack Obama is a lot like having sex. I try not to think about Joe Biden when I do it.
Gawker writer Adrian Chen (@adrianchen). The Obama campaign released a much-ridiculed ad featuring actress Lena Dunham, who spoke about "her first time" in a voting booth.
9. For one deer in Iowa tonight, there was an October surprise. A terrible October surprise. The last October surprise.
Twitter user last Badasstion(@lastbadasstion) Earlier that night, Senator Chuck Grassley tweeted about striking and killing a deer while driving through Iowa.
10. To sum up, the election is consumed w/ racism and sexual panic, horrific crimes are sweeping the city, and a storm is coming to kill us all.
Lawyer "Southpaw" (@nycsouthpaw) reacts to the week's news, which aside from the election included a New York City police officer arrested for planning to cook and eat women, a nanny arrested for stabbing two of her charges to death, and the emergence of "Frankenstorm", a potentially billion-dollar weather event set to hit the east coast. Happy weekend, America!
Some tweets have been edited for clarity