The US election and your country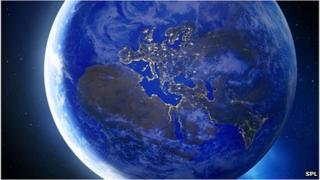 Barack Obama and Mitt Romney will tackle foreign policy on Monday night in the last of their three presidential debates - but how much has the wider world featured in their campaigns?
As the incumbent president, Mr Obama has had more opportunities to speak out on the world stage. But Mr Romney has been able to be more frank in his views.
Here's a rundown of how some countries have figured in this campaign.
Poland
Mr Romney visited Poland over the summer and met Cold War hero Lech Walesa, whom he says he admires.
This is a nation with an extraordinary heritage that is crafting a remarkable future. At a time of widespread economic slowdown and stagnation, your economy last year outperformed all other nations in Europe.... In a turbulent world, Poland stands as an example and defender of freedom. - 31 July
Mr Obama, too, says Poland's transition from Soviet domination to democracy is inspiring.
Your actions charted a course for freedom that inspired many on this continent and beyond. And it has many relevant lessons, so we want to encourage all states undergoing similar experiences to learn from Poland. - 28 May 2011
UK
Mr Obama in March warmly greeted Prime Minister David Cameron, joked with him in front of the media and talked college basketball with him during a White House visit.
Today we carry on another tradition, an official visit for one of our closest friends and our dearest allies... Our world has been transformed over and over, and it will be again. Yet, through the grand sweep of history, through all its twists and turns, there is one constant: the rock-solid alliance between the US and the UK. - 14 March
Mr Romney, whose great-great grandparents hailed from England and whose father-in-law was Welsh, was generous in his praise for the UK when he visited in the summer. But the trip will probably be remembered for him questioning the UK's preparations for the Olympics, comments that caused a storm.
It's hard to know just how well it will turn out. There are a few things that were disconcerting, the stories about the private security firm not having enough people, the supposed strike of the immigration and customs officials, that obviously is not something which is encouraging - 25 July
Greece
Mr Romney uses Greece when highlighting Mr Obama's record on the US budget deficit and national debt.
If this president keeps spending a trillion dollars or more... you're going to see us on the road to Greece and you're going to see a financial crisis down the road. I will not let that happen. - 6 October
The president has also used Greece as a fiscal policy teaching point, saying America's deficit and debt worries are not nearly as severe. But at a White House Greek independence day celebration, he was more effusive.
Our Founding Fathers were students of Greek philosophy and Greek history, drawing on Greek principles to guide our own nation in its earliest days... And to this day the United States and Greece shares a bond rooted in common values and common ideals. - 25 March 2011
Europe
Mr Romney spent time in France as a Mormon missionary, but Europe - a dirty word in the Republican primaries - has become a by-word for dysfunction in his election campaign.
The president seems to be changing America in ways that many of us don't recognise, making us more and more like Europe. I don't want to become like Europe. Europe doesn't work there. - 10 October
For the president, Europe is one of several "headwinds" threatening the US economy.
The situation in Europe is slowing things down. - 4 June
Israel
Professions of friendship with Israel are routine in American politics. Mr Romney has accused the president of not being firm enough in support of America's principal Middle Eastern ally.
To step foot into Israel is to step foot into a nation that began with an ancient promise made in this land. The Jewish people persisted through one of the most monstrous crimes in human history, and now this nation has come to take its place among the most impressive democracies on Earth. Israel's achievements are a wonder of the modern world. - 29 July
The president has a chilly relationship with Israeli Prime Minister Benjamin Netanyahu but has called Israeli President Shimon Peres "extraordinary".
The United States is fortunate to have many allies and partners around the world. Of course, one of our strongest allies, and one of our closest friends, is the State of Israel. - 13 June
India
India's business sector was outraged by comments the president made in a July interview in which he said it was "still too hard" to invest in that country.
In too many sectors, such as retail, India limits or prohibits the foreign investment that is necessary to create jobs in both our countries, and which is necessary for India to continue to grow. - 16 July
Canada
Mr Romney loves Canadian oil and says the US should buy more of it.
You know, the president doesn't face a lot of no-brainer decisions. But one of them was the decision of whether or not to have Canada's oil come here or go to Canada, and he failed. The answer is I'll build that Keystone pipeline if I have to build it myself, bring that oil here. - 18 July
Obama has called Conservative Prime Minister Stephen Harper "a trusted partner", and noted Canada is the number one trading partner.
Perhaps no two nations match up more closely together or are woven together more deeply economically, culturally than the United States and Canada. - 7 December 2011
Iran
President Obama routinely says a nuclear-armed Iran is unacceptable, and at the UN recently he blasted its leaders' "violent and unaccountable ideology". But he also praises the people of Iran.
The Iranian people are the heirs to a great and ancient civilisation. And like people everywhere they have the right to think and speak for themselves. - 20 March
On the campaign trail, Mr Romney raises Iran's quest for nuclear weapons - which the nation denies - as evidence of President Obama's lack of leadership.
The same ayatollahs who each year mark a holiday by leading chants of "death to America" are not going to be talked out of their pursuit of nuclear weapons. - 24 July
China
Mr Romney says China cheats by manipulating the value of its currency against the US dollar - and he'll crack down.
It's time for us to stand up to China for their cheating. It's got to stop. - 13 October
The president sees China as a competitor on the global market.
I will not let China or anybody else win the race for clean energy technology. - 11 October
Latin America
Mr Romney favours more trade with America's Spanish and Portuguese-speaking neighbours, but he takes issue with Venezuelan President Hugo Chavez and Cuban leader Fidel Castro.
What Hugo Chavez is doing, what Castro is doing, these things are of great danger to us and to people around the world. We should be actively involved in communicating and promoting our values - free enterprise, human rights, democracy - throughout Latin America. - 23 May
President Obama has said he seeks "partnerships of equality that are based on mutual interest and mutual respect" in the Americas.
Libya
The 11 September attack on a US consulate in Libya that killed four Americans has become one of the top foreign policy issues in the election, as the dispute over how the White House responded continues to rage. But both candidates have also spoken in warm terms about the Libyan people.
Obama: The world must stand together to unequivocally reject these brutal acts. Already, many Libyans have joined us in doing so, and this attack will not break the bonds between the United States and Libya. Libyan security personnel fought back against the attackers alongside Americans. Libyans helped some of our diplomats find safety, and they carried Ambassador Stevens' body to the hospital, where we tragically learned that he had died. - 12 September
Romney: After the attack on our consulate, tens of thousands of Libyans, most of them young people, held a massive protest in Benghazi against the very extremists who had murdered our people. They waved signs that read, "The ambassador was Libya's friend" and "Libya is sorry... I'll support the Libyan people's efforts to forge a lasting government that represents all of them, and I'll vigorously pursue the terrorists who attacked our consulate in Benghazi and killed our fellow Americans. - 8 October
Reporting by Daniel Nasaw