Tweets of the week: Lance Armstrong and the presidential debates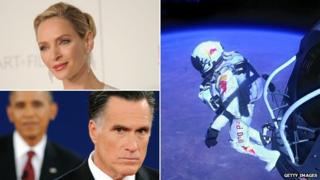 For the week ending 19 October, here is the news making waves in the US - condensed into 10 topical tweets, some more serious than others.
1. That guy who jumped from outer space is going to be so insufferable at the office Monday when people ask him what he did this weekend.
Wall Street Journal sports writer Jason Gay (@JasonWSJ) feels for Felix Baumgartner's colleagues. Over the weekend, Baumgartner skydived from 24 miles above the earth, setting a world record.
2. Jim Lehrer is a much stronger moderator with the wig on
Comedian Sarah Silverman (@SarahKSilverman). Candy Crowley, who has considerably more hair than Lehrer, received better marks than him - at least from liberals - after moderating the second presidential debate.
3. Pretty sure "Binder Full of Women" was the name Mark Zuckerberg originally called Facebook.
Photographer Margot Wood (@margotwood) after presidential candidate Mitt Romney said he was presented with "whole binders full of women" seeking qualified positions for his Massachusetts cabinet.
4. The Lance Armstrong saga proves that cheaters never win. Or at least, not more than seven times.
Comedy writer David Javerbaum (@TheTweetofGod) finds the moral lesson in cyclist Armstrong's decline. This week Nike dropped his advertising contract.
5.So why is Tagg so violent? I thought only the children of single mothers were violent like that.
Blogger "Marcy," who goes by the Twitter handle Empty Wheel (@emptywheel). Tagg Romney jokingly said he'd like to punch Obama after his performance in the debate. At that same debate, Romney said gun violence could be solved, in part, by married parents.
6. The Google Doodle tomorrow is going to be so, so sad.
Vanessa Parris (@ParraV), media relations officer at the International Rescue Committee. On Thursday, Google announced a 9% drop in earnings.
7. Breaking: Nate Silver has adjusted his prediction model; Obama now favoured by Dear-God-I-Don't-Know percent
New York Post editor Josh Greenman (@joshgreenman) after the Gallup poll showed Romney up by 7% nationally.
8. Newsweek ending its print edition. Soon, the table in my dentist's waiting room will just have a sign that says "Look at your phones."
Graceland writer Aaron Fullerton (@aaronfullerton). Newsweek announced that the magazine would only publish digitally starting 2013.
9. Let Uma Thurman be a cautionary tale to you not to give your baby a name that has to be cut and pasted.
Writer Mark Campbell (@MrWordsWorth) after the actress Uma Thurman named her baby Rosalind Arusha Arkadina Altalune Florence Thurman-Busson.
10. Being an Ambassador when Obama is your President#NotOptimal
Romney supporter Adrienne Jenson (@adrienne_jenson) takes aim at President Obama's comments on the Daily Show, where he said the death of four Americans was "not optimal" in response to a question using similar language.
Some tweets have been edited for clarity