Suffolk: The curious case of a rebranded county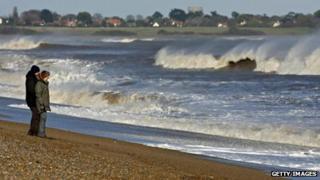 Plans are afoot to promote Suffolk as the "curious county". But while counties clearly have their own identities, is it right to treat them like a brand?
It's synonymous with respectable market towns, Benjamin Britten's music, and bracing swims on shingle beaches. But the bucolic county of Suffolk is divided over how it should present itself to the outside world.
A proposal by local tourism leaders to brand it "the curious county" met with a fierce reaction from some locals, including the area's Conservative MPs.
"Idiotic and meaningless, if not positively dangerous," Bury St Edmunds MP David Ruffley railed in the East Anglian Daily Times. Dr Dan Poulter, a minister and Central Suffolk MP, said "It has got to be stopped." And Dr Therese Coffey, MP for Suffolk Coastal, told the paper that "curious" was a euphemism for something "not quite right".
Condiment, the Ipswich-based communications agency behind the idea, says the campaign will show that Suffolk has more than fish and chips by the seaside.
The campaign hopes to tap into the arts and music scene from local popstar Ed Sheeran, to the Latitude Festival at Southwold and the Aldeburgh Festival.
Tim Rowan-Robinson, a Suffolk hotelier supporting the proposal, says it's about differentiating the county from other destinations.
If the plan is adopted, there will be no road signs proclaiming "Suffolk: the curious county", Rowan-Robinson insists. Instead there would be a "micro-website" to back up the main Visit Suffolk site, and Twitter users will be encouraged to use hashtags like #proudtobecurious and #curiouscoast.
The word has baggage.
"'Curiouser and curiouser!' cried Alice (she was so much surprised, that for the moment she quite forgot how to speak good English)" is Lewis Carroll's memorable phrase in Alice in Wonderland. The Oxford English Dictionary gives this sense of peculiarity as "the ordinary current objective sense". Is that the right message for a county to be selling?
"The word curious is very appropriate in both its meanings," Rowan-Robinson argues. "It's about enquiring and finding out more. And it means something that's slightly different, but not oddly different."
Social commentator Peter York wonders whether part of the outcry might stem from old sensitivities over the old joke about people in East Anglia being "incestuous".
Branding a place is harder than an object, he says. But the campaign is right to go down this "rather unusual" approach. "Curious" will appeal to the Suffolk type of visitor - "well heeled and low-key" people who are part of the knowledge economy, he says.
The slogan also has "cut through", he believes. "In a crowded advertising market you've got to say something unusual, uncliched and controversial in order to get noticed. It makes complete sense as far as it goes."
Until now Suffolk hasn't had a slogan. Neighbouring Essex survives without one, perhaps sustained by its cheeky, brash reputation of which The Only Way Is Essex is the latest manifestation. Other counties, however, do feel the need to brand themselves.
Warwickshire is Shakespeare's county, Nottinghamshire Robin Hood country, Kent the Garden of England. Buckinghamshire is "the birthplace of the Paralympics", Hertfordshire "county of opportunity" and Northumberland "officially England's most tranquil county". Carmarthernshire has called itself "the garden of Wales" and West Lothian is "a jewel in Scotland's crown".
The author Stuart Prebble in Grumpy Old Drivers wishes these signs would adopt the self-mocking tone of US bumper stickers. "Ohio: At Least We're Not Michigan" is his favourite.
In fact all US states have their own official slogans. Tennessee is The Volunteer State, New Mexico styles itself the Land of Enchantment, Texas is the Lone Star State and Oklahoma the Sooner State.
Cities have done this for decades. The "I love NY" campaign from the mid-1970s featuring a big red heart, was one of the trendsetters. Ken Livingstone opted for "Totally LondON", which Boris Johnson vowed to scrap in his mayoral campaign. Birmingham has had a few - "B in Birmingham", "Europe's youngest city" and "the global city with a local heart".
It doesn't always work out. Leeds was embarrassed when it turned out its slogan - "Live it. Love it" - echoed Hong Kong's word for word.
Slogan Britain is about changing perceptions, boosting tourism and luring inward investment. "The idea of branding places isn't silly. It's serious stuff," says York.
Clarissa Dickson Wright, author of Clarissa's England: A Gamely Gallop Through the English Counties, says counties still matter. "It's only when I came to write the book that I realised how clearly each county has its own identity. Even Bedfordshire."
But the idea that you need to brand them is absurd. "You can hire all the advertising men in the world but they'll all get it wrong."
There is something curious about Suffolk, she says. It's out on a limb, a fusion of bucolic farmland, the Aldeburgh Festival, Maggie Hambling's scallop sculpture, and the Sizewell A and B nuclear power stations.
It's the sum of many parts. And it's not for marketing people to decide how a county is seen. "You need to build the edifice and let someone else put the label on," she says.
But perhaps the tourism chiefs don't care. Whether the slogan sticks, this out of the way county is suddenly provoking outsiders' curiosity.