News tweets: Vice-presidential debate edition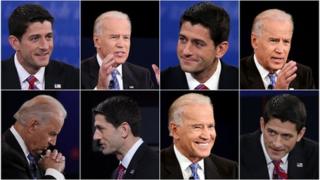 This week, we bring you 10 tweets about the first and only vice-presidential debate between Joe Biden and Paul Ryan, which took place on 11 October in Kentucky.
1. MSNBC: Biden gets tough! FoxNews: Ryan tells it straight! CNN: Do millipedes really have 1000 legs? Our experts reveal the shocking truth!
Brian Essbe (@SortaBadass) summarises his take on the US cable nets' biases.
2. Look, a debate is a high-pressure situation. You cannot expect Joe to remember which wars he voted for.
Just Karl (@JustKarl) remarks on Biden's pronouncement that Ryan had voted for the 2003 Iraq war resolution, George W Bush's tax cuts and an unfunded prescription drug programme, while "I voted against them". Biden also voted for the resolution.
3. Joe Biden's having a scotch right now while Paul Ryan's mom is putting his "debate participation" certificate on the refrigerator
Humorist Buck (@buck4itt) quips about the age difference between the two candidates.
4. Is there anything more tedious than media outlets hitting the fainting couch over someone's demeanor? "My heavens! How uncouth!"
Ben Dimiero (@bendimiero) of Media Matters wishes the media would find something else to talk about than Vice-president Joe Biden's aggressive manner on Thursday night.
5. Joe Biden was rude, but Mitt Romney comparing the president to one of his five lying "boys" wasn't? Crazy.
Salon editor-at-large Joan Walsh (@JoanWalsh) flags a double standard from conservative debate watchers, by pointing to Romney's remark last week at the presidential debate.
6. Another way to say it is the old man tried to patronize the kid and the kid stood his ground. The old man pushed, and the kid pushed back.
Wall Street Journal columnist and former Reagan speech writer Peggy Noonan (@PeggyNoonanNYC) characterises the rapport between the two contenders.
7. Biden did what he had to do last night: audition for a 5pm slot at MSNBC in January.
Conservative blogger David Burge (@IowaHawkblog) on the vice-president's career aspirations.
8. I have a long list of things I dislike about Joe Biden. Being mean to Paul Ryan is not on that list. #civility
Glenn Greenwald of the Guardian (@GGreenwald) on complaints Biden was too aggressive.
9. Paul Ryan's glare-to-camera closing statement last night impregnated me.
Saturday Night Live writer, Paula Pell (@perlapell), was very impressed by the Republican congressman.
10. Clearest signs the Ryan camp thinks he lost: They're talking a lot about Biden's laugh and going after @MarthaRaddatz
Washington Post columnist EJ Dionne (@EJDionne) reads into the conservative reaction.
Some tweets have been edited for clarity