Why a feeling of 'no change' in Egypt may be ominous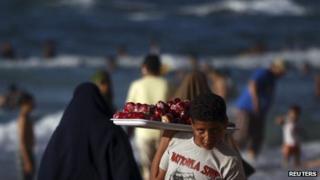 A near continuous belt of real estate developments, resorts and marinas stretches along the Mediterranean coast for at least one hundred miles to the west of the Egyptian port city of Alexandria.
The scale of it is staggering: tens of thousands of apartments were bought here during the better economic times of the late Nineties and early 2000s, tens of thousands remain unsold, and in other places as you drive further along this Riviera, the outlines of new gated developments have been laid out but the ground remained unbroken as money and consumer confidence dried up.
These stalled developments - and many other similar property developments from the Red Sea coast to Cairo - tell of a country that has yet to recover momentum after the tumult of the 2011 revolution and this year's election of Mohammed Mursi as Egypt's new president. As Dr Mursi reaches the end of his first 100 days in office, how confident do people feel that better times may be here?
Over the past few days I've been driving about this coastal area with a team making a BBC historical documentary. Our business has concerned Alamein, Monty and Rommel, but since I've been chatting with people all along the way who were speaking off camera and candidly, I shall refer to them only by first name.
"Morsi promised us milk and honey," Amer told me, "but where is it?" A portly import-export man, Amer does not like the Muslim Brotherhood, which backed Dr Mursi's presidential bid and now provides most of his ministers and advisers. He believes that Egypt will not make serious progress until the country has a centrist alternative that is neither military nor Islamist.
Political paralysis
Supporters of the new president argue that he will not gain serious traction until after a new constitution has been written, the people ratified it by referendum, and then a fresh parliament has been elected. He does not intend to usurp the powers of others, particularly parliament, they say. Critics say this means there will be another 18 months of political paralysis that the country, and its economy in particular can ill afford.
There is a new freshwater canal that stretches along a few miles inland from this Mediterranean coast, bringing water from the Nile. A short stretch of it, closest to Alexandria, is not operating but for much of its length it is dry.
Magdi, a local lorry driver, tells me it is a scandal that much of the canal is not operating when it could be making the desert bloom. He claimed the reason it has not happened is that "the army wants to sell us water". He told me where the army has some mineral water bottling plants nearby - a part of the large industrial complex that the defence ministry operates here.
Whether or not Magdi's explanation holds more water than the canal isn't clear but what it testifies to is the average Egyptian's fondness for conspiracies as well as resignation to the self-interested workings of officialdom. Certainly there are many movers and shakers in Cairo who would endorse his assessment that the revolution has not yet really challenged the vested interests of the "deep state" including the army.
This "no change" verdict can be applied to other areas too following the Brotherhood's apparent victory in its long march to power. The vibe in these coastal resorts, and indeed the bars or clubs of downtown Alexandria, remains unchanged from the Mubarak days.
No change
It is true that there has been a gradual increase in piety in Egypt over the past couple of decades, for example with more women wearing the hijab, but the alcohol is still flowing along this coast, devout and westernised still mingle happily and for the time being there appears to be no danger of Saudi-style morality police breaking up the party.
Goma, a bar owner, told me that there has been "no change whatsoever", since President Mursi's victory. When he added that the only thing he could see hitting business was a rise in taxes on alcohol, I imagined a British publican saying much the same thing.
So if the verdict of so many is that there has been no real change yet, how long can this situation persist without there being riots in the streets ? Well, of course there are still plenty of disturbances in central Cairo caused by everyone from striking workers to those offended by perceived insults to Islam - and perhaps the new authorities regard these as a kind of safety valve. But inevitably these continuing signs of unrest damage the tourist business and inward investment.
While the economy was growing, and so many middle-class families were acquiring a place by the sea, former president Hosni Mubarak was tolerated. It was issues such as unemployment, commodity price rises, and a feeling that a clique of loyalists around him controlled economic opportunities that did for the old man.
A clear warning to the country's new rulers lies in the unfinished real estate developments along this coast. Even high growth rates and rising living standards could not save the old regime once bad times hit. Unless Egypt recovers a sense of forward momentum, it could jeopardise the revolution too.