Been and Gone: Sven Hassel, Edouard Leclerc and others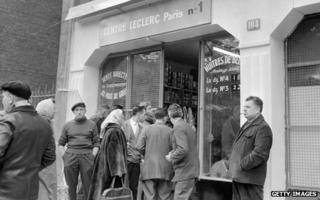 Our regular column covering the passing of significant - but lesser-reported - people of the past month.
British tourists heading through France often pause to stock up at one of the giant hypermarkets bearing the name E Leclerc, which have sprung up on the edge of almost every French town. Edouard Leclerc gave up his ambitions to become a priest and opened his first grocery shop in Brittany in 1949. At the time most grocers bought from wholesalers but Leclerc was quick to realise he could get better prices by buying in bulk direct from the manufacturers. His ability to undercut their prices did not endear him to his competitors but he became seen as the champion of the French consumer. He grew the business by persuading other retailers to put his name on their own stores as long as they joined his buying group and also pursued a ruthless policy of suing manufacturers who refused to supply him. He was a strong supporter of Charles de Gaulle and once toyed with running for the French presidency himself.
When Abba won the 1974 Eurovision Song Contest with Waterloo, the BBC-hosted programme was directed by Michael Hurll. Already a veteran of BBC light entertainment, Hurll had worked with a host of stars including Roy Hudd, Cilla Black and Ronnie Corbett.
Hurll joined the BBC in the 1950s where his job was to meet and greet guests on The Billy Cotton Band Show, which he later went on to direct. In 1980 he was approached to breathe new life into a flagging Top of the Pops and he stayed with the programme for the next seven years. At the same time he was executive producer on The Two Ronnies. He also worked on The Late, Late Breakfast Show which ended in 1986 when a volunteer died after falling from a crane during a rehearsal for the show. Hurll later moved to ITV where he created the British Comedy Awards.
The Danish-born author Sven Hassel's brutal descriptions of life in a German wartime penal regiment sold millions of copies worldwide. While never claiming that his books were autobiographical, the series starting with Legion of the Damned in 1953 was said to have been based on Hassel's own service in the German army during World War II. His books graphically describe the brutal realities of war faced by the ordinary soldier with some people claiming they contain an anti-war message. However, some historians pointed out inaccuracies in Hassel's novels, with one critic claiming Hassel never served in the front line but was actually a pro-Nazi police officer in occupied Denmark. Despite the controversies, Hassel's books have remained in print for 60 years and, judging by the comments on the Amazon website, are now being reread by men who first discovered them in their teenage years.
As Franco's fascist forces fought to overthrow the Spanish Government in the 1930s, Lou Kenton became one of thousands of British volunteers who joined the International Brigades that fought with Spain's Republican army. A dedicated communist, Kenton rode from London to Spain on his motorcycle and became an ambulance driver on the front line. By 1938 the Republican cause was lost and, following his return to London, he was very badly injured in the Blitz. After the war he and his second wife set up a travel company organising tours to socialist countries. However his opposition to the Soviet invasion of Czechoslovakia in 1968 saw him quit the Communist Party and join Labour. He later became a potter making commemorative pieces for trade unions and other left-leaning organisations. In 2009 he, together with other British veterans of the International Brigades, was awarded Spanish citizenship in recognition of his part in the struggle.
The Marlborough racing column in the Daily Telegraph in the 1950s came not so much from the horse's mouth as from its back, penned as it was by a successful amateur jockey who later became the racing pundit Lord Oaksey. As John Lawrence he rode more than 200 winners on the flat and over the sticks and competed in the Grand National 11 times, almost winning in 1963 on Carrickbeg - a feat he graphically described in a newspaper piece written minutes after the race (reproduced in the Daily Telegraph). He successfully combined journalism with his role as a jockey until a fall ended his riding career. By this time he had inherited his father's title and went on to become one of racing's best loved TV pundits, first on ITV's World of Sport and then on Channel 4. He was also instrumental in helping set up what became the Injured Jockeys Fund which helps riders who fall on hard times through injury.
When the book Women's Barracks was published in 1950 it caused a storm, both for the lurid cover and what were seen as graphic descriptions of lesbian love. The author Tereska Torres had intended it as a serious novel based on her own experiences as a soldier in wartime London. Instead her publishers gave it a cover showing semi-naked women in a changing room, being leered at by a female soldier. While the sex scenes would not raise an eyebrow today, the advance publicity was enough to get it banned in some US states. Despite, or perhaps because of the publicity, it went on to sell millions but Torres was horrified and protested that only "one and a half" of the characters were actually lesbian. Born in Paris into a Jewish family she came to London as part of General de Gaulle's Free French Forces to escape the Nazis. She went on to write another 14 novels.
Among others who died in September were: