MasterChef to Michelin: How hard is it to be a chef?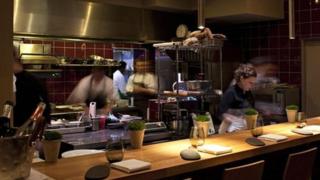 A restaurant has been awarded a Michelin star, just over a year after the chef behind it opened his first professional kitchen. Just how difficult is it to go from enthusiastic amateur to Michelin-starred chef?
Slaving over a hot stove is challenging and gruelling, so chefs say. It is a career known for low pay, long hours and not giving anyone an easy ride.
But waves of career-changers and young cooks are hell-bent on becoming chefs.
Swedish-born head chef Mikael Jonsson has just been awarded a Michelin star for his restaurant Hedone, in Chiswick, London, which he set up 14 months ago.
He is a self-taught chef who spent more than 20 years dining in Michelin-starred restaurants around the world and blogging about food, before taking the reins himself.
"The difference between failure and success can be hair-thin," says Mikael Jonsson.
"I thought you could open a restaurant, serve good food and people would come. It could have gone really wrong."
There are 15,000 restaurants in London alone, and more than 60 have Michelin stars.
Jonsson faced staffing difficulties. "When you open a restaurant as an amateur chef... no-one wants to work with you."
Basic logistics - how to organise a kitchen and get all the equipment - proved obstacles.
The BBC TV programme MasterChef highlights a steady stream of amateurs thinking of changing career. More than 40 competitors have gone on to careers in the food industry, the programme-makers Shine estimate.
But while a number of finalists have set up their own restaurants, only two winners have done so. Mat Follas won the show in 2009, and has a restaurant in Dorset called The Wild Garlic, which focuses on foraged ingredients.
He says going from amateur to professional is a difficult transition to make and it's down to the level of determination a chef has.
"As an amateur you design plates of food, cooking in a completely different way to a professional kitchen - which is a production line, and where the cooking time in service can be just one minute," he says.
"There's a reason most people who win talent shows kind of disappear, it's because the gap is too big. It really is not that achievable for the average person."
He advises amateurs who want to cook their way to the top to "go and knock on the back door of a restaurant and get on with it".
Will they want to when they find out what they'll get paid?
Excluding overtime, wages start at just £6,000 in a very junior position. Wages rise to more than £25,000 but "talented chefs in Michelin-starred restaurants will be earning more, and head chefs much more", says Miles Quest, from the British Hospitality Association.
"Typically, a young person enters as an apprentice and works up to a commis position working in the various kitchen 'corners' - larder, vegetable, roast, sauce, pastry - before becoming a junior chef de partie, and then a chef de partie (in charge of one of the corners), sous chef, chef and finally head chef," says Quest.
Restaurant critic Andy Hayler had eaten in every three Michelin star restaurant in the world, up until the latest guide was released.
He says anyone can learn to be a chef, but every chef "needs to master the rules to be able to bend them".
Quest says the most common way into the industry is via a full-time two-year course, but many are increasingly joining as apprentices, and going to college on day release or part-time.
"A talented few will become fully professional inside three to five years but generally it will take longer," says Quest. "For a youngster entering at 16, he will probably be nearer 26 or so before he could claim to be a fully-fledged professional," he explains.
What is it then that sets Mikael Jonsson apart from other amateur chefs?
"For me, it's a passion, almost a borderline obsession I've had with food since I was a child, and I am driven by that passion," he explains.
He had always wanted to cook professionally, but couldn't because he had severe allergies, including eczema. He says it wasn't until he adopted a Palaeolithic diet, cutting out dairy, wheat and man-made oils, that he became well enough to do so.
Jonsson puts an emphasis on sourcing ingredients.
"I want fish to come in in rigor mortis, so I can take it through rigor mortis in certain ways, like in Japan, that no-one else is doing in the UK," Jonsson explains.
"A lot of my meat is selected by myself and after that aged to my specification. Now my suppliers don't send me anything if they don't think I'll be happy."
Michelin inspectors do anonymous inspections, and visit each restaurant several times a year before the guide is announced.
Only four restaurants in the UK have three stars. "To reach that kind of level requires tremendous amounts of dedication: it's the pinnacle of cooking," Hayler says.
"I always look for the same four things in any restaurant for the food - the quality of ingredients used, presentation of the dish and how attractive it is, how it is cooked and the harmony of the dish. Do the flavours work together or not?"
Follas says one of the key requirements chefs must meet for "Michelin standard" is consistency.
"There's a perceived level of service and over-formality that comes with Michelin and it's not something that I'd aspire to," he says. "There's also a huge amount of consistency that I don't particularly want to do, as when you're cooking with wild foods, you can't have every dish looking exactly like the one that was done a week ago."
Jonsson says to be a professional, a cook has to at least "feel that quality - and be prepared every day to turn out that quality".
And could anyone go from amateur to top chef in 14 months? He doesn't see why not.
"Anyone can do anything they want, and that's what I proved. You just need a lot of passion."