Should there be child-free zones on planes and trains?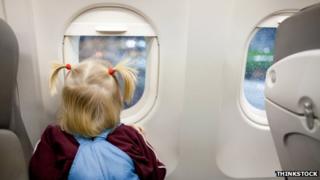 An airline says it will offer baby-free "quiet zones" on its flights. Should all planes and trains follow suit, or do adults need to learn to live with child passengers?
At 35,000ft, the klaxon-like howl of a distressed toddler screeches through a pressurised cabin.
For travellers already stressed by lengthy security checks, crammed into cramped seating and unnerved by the very fact of being so high above ground, it's almost enough to make them shatter the Plexiglas windows and jump.
And it's a source of anxiety for the embarrassed parents, too, desperately trying to pacify their wailing offspring while facing disapproving stares from fellow adults.
One airline is offering what it says is a solution. Budget carrier Air Asia says from February it will provide a "quiet zone" for passengers aged 12 and over at no extra cost.
Separated from the rest of the cabin by toilets and bulkheads, these seven rows of economy class seats should be immune from the sound of infant tantrums, the company claims.
It is following the example of Malaysia Airlines, which in April announced it would limit families with children sitting on the upper deck of its Kuala Lumpur to London service.
For the childless and the easily irritable, it may be a blessed relief.
Equally, many parents will surely be disgruntled at the suggestion they should be segregated from other passengers like second-class citizens.
But others accustomed to getting around with offspring in tow can see the point.
Cathy Winston, 35, who runs the MummyTravels blog about her journeys with her 10-week-old daughter, is planning to fly both of them to the Spanish island of Lanzarote in November.
She is determined that her love of travelling should not be curtailed. But she believes a dedicated family compartment would at least mean she wouldn't have to worry about reproachful looks.
"I know from before I had my daughter what it's like when you're trying to get some sleep and there's a baby crying," she says.
"If I knew that all the people around me had chosen to sit there, it would take some of the stress off."
Hitherto, the sound of noisy or distressed children was one that all users of mass transit were expected to tolerate.
Typically, UK train operators which provide "quiet coaches" instruct commuters not to use their phones and ensure music devices aren't heard by other passengers - but no mention is made of infant noise pollution.
Certainly, there appears to be support for segregation. In April, a survey of 1,666 British adults by Jetcost.co.uk found that 53% supported child-free flights.
A poll by Tripadvisor in August found that over a third of Britons would be prepared to pay extra to travel by air without the presence of children.
But although airlines could presumably charge a healthy premium for the privilege of no-infant compartments, there might be logistical difficulties.
In smaller aircraft, with different layouts to those used by Air Asia and Malaysia Airlines, screening off the sound of crying children will not always be practical. Adult-only flights would mean reducing the number of available customers, and thus have a negative impact on profitability.
And perhaps most importantly, introducing segregation would risk infuriating families who resent the idea they should be treated as second-class citizens.
After all, there are no separate schedules or compartments for adults who impinge on the peace and quiet of others by snoring, for instance, or taking off their shoes to unleash malodorous feet.
Arguably, part of the deal when travelling in economy class or on low-cost carriers is that you have to put up with other people's irritating habits in extremely close quarters.
Simon Calder, travel editor of the Independent, has taken his two daughters around the world with him. He believes families who pay for their tickets should not be discriminated against.
"I very, very much think that people need to be tolerant," he says. "People who have a problem with children on flights need to get over it.
"If they don't like it, I have two words for them - ear plugs. We're living in the 21st Century where people have iPods."
Perhaps, while they're listening, they can play a lullaby.