10 readers' tribal tattoos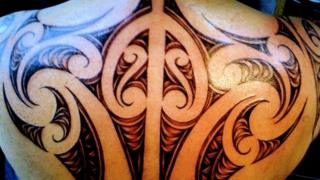 The Magazine's recent piece on Maori tattoos prompted a worldwide response from readers also sporting tribal ink. Whether in homage to a homeland or a decision based on style, all come with a story. Here are 10 of them.
1. I'm a record producer and I go to New Zealand several times each year to make records. That is how I became interested in moko, the art of tattoo. Each overall design is unique, with mine featuring symbols for protection from the perils of the music industry, and by the fact I am drawn to be near water, along with many other personal symbols. The whole moko, covering my back and both arms, took a total of 21 hours and was designed by tattooist Inia Taylor based on stories of my life. Greg Haver, Gloucestershire
2. John Thorncroft's tattoo explained
Sally's symbol with weaving pattern
John's symbol with shark teeth
Two hooks combined symbolise coconut
I was married in the Cook Islands in 2006 and had a local tattoo me to commemorate the event. When our son was born I got in touch with the lady that did my wedding tattoo for an additional design to commemorate his birth. I had this tattoo done by a local artist in Somerset. We are going back to the Cook Islands for our 10th anniversary and I will have more work done while we are there.
The centre-piece, which looks like an inverted hook linking with another the other way up, represents me and my wife Sally. It is the symbol of the coconut [7]. The smaller inverted hook that represents me is decorated with a shark tooth pattern [5] to show strength and power, and is the root of the coconut that grows into the earth for stability and support. The hook that points up, the longer stem [4], represents my wife who will grow and flourish with my support. Her symbol has a woven theme - like basket weaving - to denote a female. To the left of the coconut plant is a whale's tail [6] representing power and speed, and under the tail are symbols of people holding hands in celebration of our marriage [3]. To the right of the coconut, the top line is a symbol of village drums [8], played in celebration of our marriage, and under that are spearheads [also at 2] to symbolise strength and protection. Everything above the original armband represents protection [11] and my son. John Thorncroft, Paulton, Somerset, England
3. I'm one of a handful of female Taa Moko artists. This is my nephew Te Pehi's moko on his arm. It's a symbol of his pride, identity and belonging within his iwi (tribe) of Ngati Toarangatira. It portrays his whakapapa (genealogy) and his ancestors. It references where his bones are from, and the area in which he grew up - Porirua, in Wellington. It features an image of his tribal mountain Whitireia, and traditional designs that represent his whanau (family) members. His mother, a weaver, is represented, as are his spiritual guardians and ancestral guardians. Shark teeth, or niho, represent his tribal history and are also a sign of strength and protection. The red ink is another reference to his Toarangatira roots, and the red and black carvings that feature in his marae (Maori meeting house) in Porirua. The journey of his tribal ancestors to the Porirua area is also represented in his design. Taryn Te Uira Beri, New Zealand
4. My moko reflects my livelihood, my roots, my family and for just being me. The humbleness. As Maori from Cape Town, South Africa, I am so proud to see every day my roots embedded on my skin, tattooed by a Maori artist Tane, from Rotorua, New Zealand. He crafted it on my skin with so much pride and dignity. The fishing hook is a very strong traditional symbol and stands for safe travelling, friendship or bravery - for me it displays my roots from a very poor fishing community. The fishing spines are that of the most eaten fish here in the Cape, named snoek. The spines are open and in hunting mode to protect everything symbolised within the whole tattoo. The first broken fern, next to the fishing spines, is my mother who died several years ago (that's why it is broken). It is because of her that my whole existence as a family unit can live on towards more generations. Derick Hunter, Cape Town, South Africa
5. I'm a New Zealander but my parents emigrated to NZ from Samoa where the tradition of the Samoan tattoo is very strong and it keeps getting stronger. My uncle was a tufuga tatau - master craftsman in tattoo - and he gave many a young man the traditional full-body tattoo, or pe'a, when they took on a traditional title. Women also have a tattoo called the malu. I have a taulima - an armband tattoo - which is a contemporary version of the Samoan tattoo. In my taulima, I have patterns representing my life and people connected in my life. I have to say that when Swedes in my town see my tattoo they are not sure how to react. Some react curiously and ask questions, others with disgust. But it doesn't bother me. I grew up in a country where tattoos (Maori, Samoan, Cook Island designs) are common. My students, who are mostly from around Europe, always ask questions about my tattoo and it becomes an opportunity to share my culture with others. Anita, Sweden
6 and 7. I have a tribal Maori tattoo on my back. It was done in Rotorua in the Thermal Village by Jason Phillips, a well-known Maori tattooist. Jason - who designed the tattoo based on his training as a master woodcarver - made the experience as much a spiritual as a physical one. My wife Megan is a Kiwi and I have a strong interest in Maori culture. I admire their use of the koru - an uncurled fern - as a symbol of life. Jason also designed a tattoo for Megan based on her genealogy and inspired by the shape of a heron in flight. It is one of the most beautiful Maori tattoos I have ever seen. My tattoo is on my back between my shoulder blades and symbolises a guardian to quite literally watch my back. Peter Clarke, Winchester, UK
8. I had my facial tattoo, which covers half of my face, done last year although it had been four years in planning so it was not a spur of the moment thing. The actual design is not Maori - it is neo-tribal, so not affiliated to any tribe. However I do have the greatest respect for the Maori culture and the art work they put on themselves. Tommy, 21, Cambridge, UK
9. I always wanted a tattoo, but was restrained by work and unsure of what. So when visiting New Zealand this year after retiring, I had a Maori whakapapa (genealogy) designed around my own family and life journey. It's on my upper arm and I'm going to get it further extended in November. Tony Leach, Witney
10. I don't have a Maori tattoo, but on my last but one New Zealand passport, the design in the security tape over my photograph by chance gave me a kauae. OK, I'm really of the wrong sex for a chin tattoo, but I remain very pleased with this unexpected administrative embellishment. William Tobin, Vannes, France
Listen to The Why Factor: Why do we have tattoos? via iPlayer or the podcast.