The ups and downs of garden trampolines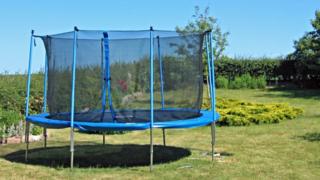 A group of doctors has warned that children can be injured by trampolines. But when did they become a fixture of so many suburban family gardens?
Travel by train past a run of gardens, and something strange seems to be going on.
Trampolines - often compact, and with protective netting to stop children bouncing off - have been springing up everywhere.
Gardening guru Pippa Greenwood, who regularly appears on Gardeners' World, says she first noticed trampolines becoming more popular about 10-12 years ago, with them becoming "incredibly common" five years ago.
"Most people who have got kids under the age of 12 seem to have one now - they are very much a garden feature," she says.
Retailers say garden trampolines - which typically cost between £100 and £500 - really took off in 2005. Sales tripled that year at John Lewis, and outdoor toy company Big Game Hunters says sales increased by 132%.
"All my friends' children have trampolines," says Siobhan Freegard, co-founder of Netmums. "We have a trampoline, and it's always a topical subject on Netmums forums - which one to buy, safety tips for example."
Those people lucky enough to have gardens often still don't have much space. The compact nature of trampolines partly explains their popularity.
"The good thing about them is people that don't have big gardens and don't have access to quality, safe outdoor areas - or don't like their children to spend much time out on their own because of 'stranger danger' - can fit them in a relatively small space," says Freegard.
"Trampolines provide a huge outlet for energy for children, and save sofas," she says.
A recent survey by Mintel found that 49% of four to 15-year-olds trampoline, while 23% do so regularly.
British Gymnastics says trampolining can be enjoyable, sociable, and good for fitness. It can increase co-ordination and body control and boost confidence, the body says.
It is a sentiment that Cath Prisk, director of Play England, agrees with. "Trampolining can be fun and challenging - it gets kids huffing and puffing, it's outdoors, and it can be done with friends.
"Children love the feeling of bouncing on a trampoline, the disorientation they get from doing somersaults. They like the feeling of creating disorder in the world. We want parents to take a risk benefit approach to it," she says.
For those who want to be extra careful, Greenwood suggests digging a hole to put the trampoline in, leaving the child with a shorter potential distance to fall.
But is the trend for trampolines likely to become permanent?
Sales remained buoyant until 2010, but John Lewis says they have been static for the last couple of years, while Big Game Hunters says sales fell by 16% in 2011 and 29% in 2012.
However Abbi Stewart, marketing executive at Big Game Hunters, says the downturn does not necessarily mean Britain is falling out of love with trampolines.
"The weather has been a big factor this year - plus most families already have one now," she says.
Tommy Walsh, of gardening programme Ground Force, believes they are also part of a wider trend which is seeing increasingly ornate and fanciful objects in gardens.
"We are seeing more exercise machines, or tree houses - which are becoming more fashionable again - in gardens. And bigger climbing frames, which are using more green, eco-friendly products and timber rather than steel.
"There are also more raised swimming pools, which are like a large paddling pool, appearing," he says. "Ultimately, I think it reflects a more affluent working class."
He's not convinced the craze will last.
"Trampolines are a bit of a fad, a bit like a new car. When you buy it, you wash it all the time, but after six months it doesn't see soap or sponge," Walsh says.