News tweets: Armstrong, Middleton, Bacile and the iPhone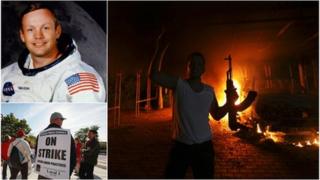 For the week ending 14 September, here is the news making waves in the US - condensed into 10 topical tweets, some more serious than others.
1. Shorter Bacile saga: A group of Christians smearing Muslims libels Jews.
The Atlantic writer Jeffrey Goldberg (@JeffreyGoldberg) sums up the news story about the anti-Islamic video causing anti-Western riots in the Middle East and Africa.
2. How do you tell if someone has the new iPhone 5? Don't worry, they'll let you know...
Actor Zach Braff (@ZachBraff) anticipates smug pride from owners of the new Apple gadget.
3. Explaining the current rage by pointing to a 10 minute film is equally superficial to saying the Arab Spring was only caused by Bouazizi
Yemeni writer and political activist Ibrahim Mothana (@imothanaYemen) refers to the young Tunisian street vendor who set himself on fire to protest official harassment, kicking off the anti-authoritarian movement that has swept the Arab world.
4. In other news, with 400k kids out of school b/c of the teacher strike, i'd HATE to work at a mall in Chicago right now.
Sports analyst Bomani Jones (@Bomani_Jones) notes what Chicago school children are doing while officials and the teachers negotiate.
5. Asked one woman here what she thought of events in Libya/Egypt/Yemen. "It's sad," she said. Not much more to say. "I'm more of a sports fan."
The Washington Post's Felicia Sonmez (@FeliciaSonmez) reports from a rally for Republican Vice-Presidential candidate Paul Ryan.
6. "Redesigning USAToday" is the new "rearranging deck chairs on the Titanic."
Sex columnist Dan Savage (@fakedansavage) analyses the new front page of one of America's top-selling newspapers.
7. If you want a drink larger than 16oz in NYC, it'll have to be something healthier than soda now, like whiskey or bleach. #sodaban
Comedy Central (@ComedyCentral) marks the passage of a New York City regulation banning the sale of large sugary drinks.
8. In a fist fight, 58% believe Obama would beat Romney. That such a poll was taken, still makes me believe in America.
Writer CJ Werleman (@Rationalists) analyses a poll taken by Esquire Magazine and Yahoo! News.
9. Breaking: Outraged British protesters storm French Embassy as anger over Kate Middleton pictures spreads
Writer James Doleman (@JamesDoleman) imagines the way the British people could have reacted to a French magazine's publication of topless photos of the Duchess of Cambridge.
10. With all the chest thumpers in the world, to think Neil Armstrong dodged the limelight reminds us to brag on some men who won't ever do it.
Comedian and political commentator Dennis Miller (@DennisDMZ) recalls the famously media-shy first man on the moon, who was laid to rest this week.
Some tweets have been edited for clarity