Hillsborough papers: The story of one boy's death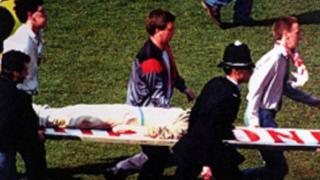 The mother of a 15-year-old Hillsborough victim who believes her son was "saveable" is seeking a new inquest into his death and a criminal investigation into allegations of manslaughter and a police cover-up.
Anne Williams's son Kevin died after the crush at Sheffield Wednesday's Hillsborough stadium on 15 April 1989.
Mrs Williams has refused to accept the inquest verdict that his death was accidental or the coroner's decision not to hear what happened to individual victims after 3.15pm on the day of the tragedy - the supposed "cut-off" time at which everyone who did die would have either died or received fatal injuries.
Having tracked down witnesses and consulted other experts herself, she believes Kevin would have survived had he been given oxygen and the right care.
The inquest's findings that Kevin died within minutes of the crushing were at odds with statements from people who tried to revive him on the pitch or were with him at the makeshift mortuary - one of whom insists he opened his eyes and said "mom" at about 4pm.
Mrs Williams has chased answers since the moment police sat her down and told her "that when Kevin was moved into the gymnasium with a Special WPC he had opened his eyes and called for his mum at four o'clock".
"He was one of the mildest injured and Kevin was saveable and he did die at four o'clock," she said after the Hillsborough Independent Panel published its findings.
The Panel reported that up to 41 of the 96 who died, including Kevin, may have been saved had there been a "swifter, more appropriate, better focused and properly equipped response".
The thousands of documents made public by the panel include witness statements from people who tried to help Kevin after he was pulled from the crowd and claims that police officers came under pressure to change their original reports.
Here, we include excerpts from documents examined by the Panel:
Police officers' evidence
PC Derek Bruder
Off-duty Liverpool policeman, Derek Bruder, was at the match and went on to the pitch to help in the rescue operation.
In his evidence from 27 April 1989, PC Bruder said he had seen Kevin Williams lying on the pitch near the Kop End of the stadium having convulsions.
PC Bruder and a St John's Ambulance man attempted to resuscitate him with mouth-to-mouth ventilation and cardiac massage. He could feel a slight pulse in his neck. They tried to flag down an ambulance that had come on to the pitch before both agreeing that it was too late and the boy had died.
PC Bruder amended his statement on 3 May 1990, after a visit by a detective inspector, to say that Kevin was not convulsing as he had first described and that he might have been mistaken about the pulse. The inspector then presented the revised version of PC Bruder's statement to the inquest the next day.
When PC Bruder met Mrs Williams in 1991, he said the inspector had visited the day before the mini-inquest to ask him to "reconsider" his statement, particularly the suggestion that Kevin had convulsed and had a pulse.
Notes from the meeting between Mrs Williams and PC Bruder say he also received a call from pathologist Dr David Slater trying to persuade him that the ambulance could not have been driving on to the pitch at the time he claimed.
PC Bruder's statements from 1989 and 1990
[483KB]
PC Bruder's letter to Lord Justice Stuart-Smith, January 1997
[25.9KB]
Dr Slater later wrote to Lord Justice Stuart-Smith as part of the re-examination of the disaster conducted for the Labour government in 1997. The pathologist said he had spoken to PC Bruder as the officer and the inspector were having difficulty understanding a medical issue, but he says he "did not suggest that PC Bruder should alter his initial statement".
Special WPC Debra Martin
Special WPC Debra Martin said in her statement of 8 May 1989 that she had come across Kevin and helped get him to the gymnasium, which was being used as a mortuary, where he stopped breathing. She gave him the kiss of life and heart massage, with the help of a doctor. She said Kevin started breathing, opened his eyes and said "Mom", then died. A doctor declared him dead at 16:06.
Special WPC Martin later claimed she was visited by a police officer, WPS Julie Appleton on 17 March 1990, who tried to convince her that her original statement was "untrue". She said she signed the statement prepared by WPS Appleton "because of the pressure exerted by her and because I wanted to put Hillsborough behind me".
Special WPC Debra Martin's revised statement and letter, 1990 and 1995
[149 KB]
At the Hillsborough Scrutiny - conducted by Lord Justice Stuart-Smith - in 1998, WPS Appleton said she was shocked that SWPC Martin had made allegations against her.
WPS Julie Appleton's evidence to Hillsborough Scrutiny, December 1997
[53KB]
Lord Justice Stuart-Smith said in his report that he was satisfied that SWPC Martin's "statement that Kevin Williams was alive and said 'Mom' to her in the gymnasium cannot be relied upon".
SWPC Martin still insists Kevin was still alive after 15:15.
"When they say they was a cut-off at 3.15pm when everyone died, some people had died others were badly injured but I know that Kevin was still alive," she said in an interview with the BBC in February this year.
Ambulanceman
Tony Edwards
Tony Edwards drove on to the pitch at about 15:35 in an ambulance believed to be the one the St John's volunteer helping PC Bruder failed to flag down. Mr Edwards says he was interviewed by police officers after the incident, but his evidence was not used in the inquest.
Kevin's family have raised concerns that efforts were made to convince PC Bruder the ambulance was leaving the ground rather than entering it in an attempt to discredit the policeman's statement. Mr Edwards wrote to Lord Justice Stuart-Smith in 1997 saying he believed his evidence should be taken into account.
Letter from Tony Edwards to Hillsborough Scrutiny 1997
[60KB]
Expert witnesses
At the mini-inquest into Kevin's death, medical evidence suggested he may have died, or at least been brain dead before he was pulled out of the crowd.
Dr David Slater
Dr David Slater, a pathologist, told the coroner he believed Kevin's death had occurred very quickly. He said the boy's injuries - to his larynx and chest - would have caused "very severe traumatic asphyxia". Dr Slater said his findings contradicted SWPC Martin's evidence that Kevin had spoken just before he died.
Dr Ernest Gumpert
Dr Gumpert, a neurophysiologist, told the inquest any movements or convulsions that the police officers reported they had seen might have been twitches caused by the nervous system. He said he believed Kevin was brain dead before he was pulled on to the pitch.
Transcript of 1990 inquest and application for fresh inquest
[1.3MB]
Mother's campaign
Mrs Williams has been gathering her own evidence for two decades, including reports from a number of experts who disagreed with Dr Slater and Dr Gumpert's conclusions. Their correspondence and statements were also considered by the Panel.
Dr James Burns
In 1994, Home Office pathologist Dr James Burns said the pathologist's evidence to the inquest contained a number of generalisations.
In a letter to Mrs Williams, he said he could not disagree that Kevin had lost consciousness very quickly, but it was "by no means certain that even in a severe case of traumatic asphyxia, death necessarily ensues three or four minutes after the compression begins".
Dr Burns also criticised the treatment of SWPC Martin, saying he saw no reason to doubt her evidence that Kevin had said "mom" before he died.
Dr James Burns' letter to Anne Williams April 1994
[153KB]
Dr Nathaniel Cary
In 2002, Dr Nathaniel Cary, a Home Office-accredited consultant forensic pathologist, told Mrs Williams he saw no justification for the 15:15 cut-off and, despite Kevin's neck injuries, did "not think it is inconceivable that he could have nevertheless uttered a word or two".
He added that although a specialist emergency response was unlikely to have been available at the scene, "simple supportive measures such as the administration of oxygen, passing of an endotrachael tube, if this were possible, could have had some useful effect".
Dr Cary's letter to Mrs Williams, November 2002
[42KB]
Mrs Williams's campaign has taken her to the European Court of Human Rights, where she was told her appeal for a new inquest was out of time, and she raised more than 100,000 signatures for her request to be debated in parliament.
She has now made a fourth submission to the Attorney General asking for a new inquest into her son's death.
Her last submission was in 2005, when the then Attorney General, Peter Goldsmith, said the "interests of justice would not be served by requiring another inquest" as there had been an "adequate examination of the case" by the inquests, the Taylor inquiry and the Stuart-Smith scrutiny of evidence.
Anne Williams's fourth application for a new inquest, September 2012
[394KB]
"Both the inquests were empty and gave me no answers," says Mrs Williams. "They were full of lies. They were more interested in suppressing evidence and changing people's statements than letting the jury know what happened to Kevin.
"I have been suffering for 23 years. They should have given us the truth from the outset. It is hard to live without your child without having to deal with all this. It has been very hard and very upsetting."
Mrs Williams's lawyers are writing to the Director of Public Prosecutions asking for a full criminal investigation into the allegations of manslaughter, corporate manslaughter, perverting the course of justice and misconduct in public office following the Panel's report.
She says her focus is on a fresh inquest. She will not pick up her son's death certificate until the cause of death is put right - that he was unlawfully killed and did not die in an accident, she says.
All she wants is "everything put right and some accountability". Then, she says, she can collect a new death certificate and put it in a little box with Kevin's things.