A Point Of View: And prizes for all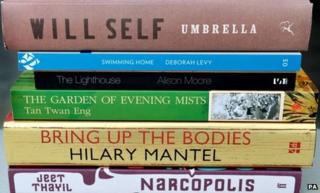 If a writer isn't JK "Harry Potter" Rowling or EL "50 Shades" James, how best to crank up book sales? Win one of the increasing proliferation of literary prizes, says Sarah Dunant.
So - anyone looking for a good novel this weekend now has six official ones to choose from.
You are probably already aware of some the names on this year's Man Booker shortlist. But how much more aware you - and others - become over the next four weeks will determine not only each book's commercial fate, but in some cases the writers' publishing future.
Like everything we are being sold in a hopelessly over-crowded market, novels strain to get their voices heard amid the cacophony. Launch a new brand of moisturiser and smart marketing and a big budget will ensure at least an element of brand recognition.
Moisturisers soften your skin. Novels enrich your imagination, but that, alas, is of no help when it comes to selling them individually, because each one pulls off the trick by different means. While an unhappy 19th Century Russian marriage which leads to a fatal adulterous affair may be irresistible to one reader, a man who wakes up one morning as a beetle may be what presses the button of another. That is both the wonder and the nightmare of selling novels.
About 25,000 works of fiction were published in the UK last year - a staggering average of 68 novels every day. So how do readers and writers - especially new ones - ever find each other?
Well, that word genre helps a bit: you love crime, sci-fi, history, romance or literary fiction, you can usually - to misquote the aphorism - tell a lot about a book from its cover.
If you yearn for different immersion, for returning characters or an unfolding world, there is brand loyalty to be had in Wexford or Rebus or, at a more commercially stellar level, Harry Potter or the Twilight series. Holding readers through more than one book is not a new trick. Literary fiction has been doing it for a long time. Lawrence Durrell, Olivia Manning, Anthony Powell, Mervyn Peake, Paul Scott, and in our own time, Pat Barker, all grew substantial readerships through trilogies or quartets.
But when it comes to predicting the next runaway success, no-one has much of a clue. Certainly not publishers. Books with insane advances regularly sink without trace. Others - unknown - explode from the seabed like volcanoes. In such cases, the extreme nature of their success makes them impossible to emulate, since at a certain point they take on a life of their own. Rather like celebrity culture where people are famous for being famous, so The Da Vinci Code or the Shades of Grey trilogy become mega-successful because of how successful they already are. Fifty Shades of Grey didn't even arrive via a publishing house originally. It came out of the depths of the internet. As a result, shoals of agents and publishers are cruising like basking sharks in the shallows of fan fiction on the look out for the next unpredictable phenomenon.
While the guardians of high culture may fear the dumbing down within such trends, the commercial imperative is hard to argue with. Random House recently announced profits up 60% thanks to the Shades of Grey trilogy. Hachette, another publishing multinational, were down, partly because Stephanie Myers' Twilight series has peaked and ebbed.
In a publishing industry which over the past quarter century has seen independents and what used to be called gentlemen publishers swallowed up by multinational, often multi-media businesses, there is no going back. Feeding the profit sheet is as important as feeding the imagination. For some, this more brutal climate has proved disastrous. Midlist novelists - men and women of singular talent and imagination but not new or successful enough within a crowded market - have found their advances plummeting. On the other hand, publishing is still an industry where many people are passionate about books and writers. If they are going to keep the good ones, and find and nurture the new, they need to get them noticed.
That is where prizes come in. It is no coincidence that, as choice has become something as much to be feared as welcomed, as publishing has gone multinational, as bookshops have suffered under the onslaught of supermarket and internet price wars, as serious literary coverage has shrunk, that as all this has happened the number of prizes for books and for fiction in particular has mushroomed.  
Until the 1940s, Britain had only one real literary prize. The James Tait Black for biography and literary fiction, administered and judged by academics. Then came the John Llewellyn Rhys prize aimed at young writers. Both were modest in their remuneration and both founded in memory of a publisher and a writer. The arrival of the Booker in 1969 saw the beginning of commercial sponsorship - a company out to link their name (and what a perfect name it was) with the promotion of literary excellence. The Sunday Times, the Whitbread (now the Costa), the South Bank Show, WH Smith and the Orange all followed with dozens of smaller, more niche prizes.
At last count there are between 40 and 50 annual book awards, some fiction, some non-fiction. There are prizes for first novels, prizes for writers under 35, under 30, prizes for crime, for romance, for novels set in history, for ones with a sense of place, one specifically for a novel set in or inspired by East Anglia. Prizes open only to Scottish writers, to Welsh ones, to Christians and most recently to gay men.
All in their way are out to get new fiction noticed. Out of all of these, the most provocative was (and possibly still is) the Orange, or whatever it will be called now the company (I shan't name it again) has ended its sponsorship. I happened to have been part of the original initiative in setting up the prize in 1991, when the shock of an all-male shortlist for the Booker, passing over Angela Carter's highly regarded Wise Children, coincided with a survey which showed that publishing and reviewing were both industries noticeably stacked against women - despite the fact that women were recognised as by far the biggest book buyers and readers in the country.
Faint echoes of complaint rise up most years but no-one can doubt that the prize has enriched rather than diminished fiction, raising women's profile and spearheading the careers of many writers - Linda Grant, Andrea Levy, Lionel Shriver come to mind - who without it might have struggled longer to find their place.
So prizes are a jolly good thing and the more the merrier. Well, yes and no. Of course, seeking out excellence is to be applauded. Think of the sublime summer we have had, watching sportsmen and women compete. Such performance. Such drama. Such unambiguous desire to win and usually such unambiguous criteria to decide who does. Perfect.  
Such raw public competition, however, is a nightmare for novelists. Most of us are much more comfortable in front of a keyboard than an audience, and the rollercoaster feelings provoked by making or not making another long or a shortlist do very little for the quality of our writing.
The act of judging is a pretty fraught business too. Everyone - even judges - accept that personal taste plays an enormous part in people's reaction to fiction. Indeed, at some point, judges usually bend over backwards to praise everything they are forced to finally choose between.
Unfortunately, for the oxygen of publicity - more mention, more attention - it's often more helpful if they disagree. It's even better if they have a bloody great row. A judge storming out is the best. But a spat about how important readability is to high-class fiction - as the Booker chair Stella Remington discovered last year - will do. The literary world is small and somewhat inbred with sharp teeth and the capacity to lash out when it feels threatened.
The irony is you don't need to make up rows. Anyone who has ever been on a judging panel (and many of us writers have) know that taste, conscious or unconscious interest and competing egos are usually enough to make deciding any prize a nightmare. I am not the only writer who would say: "Show me the judges and I will show you the shortlist." From there to the winner is a minefield of compromise, strategy and horse-trading.
It doesn't mean that wonderful books don't win awards or that vibrant new writers aren't discovered en route. But it does mean that prizes are a kind of lottery. Almost as random as trying to predict the next big success. Talk to everyone involved - publishers, agents, judges, writers themselves. Privately they will all say the same thing. Publicly, however, it's a different matter. Because everybody knows that in an overcrowded world, prizes do the job of marketing, each year throwing up dozens of novels that might never have been noticed otherwise. Whatever their downside, prizes are here to stay.
So the names you need to hear again are:
Deborah Levy
Tan Twan Eng
Hilary Mantel
Will Self (himself a Point of View columnist)
Jeet Thayil
Alison Moore
By 16 October, one of them will have written the best novel of the year. Even though we know there is really no such thing.