10 more charges that make readers scratch their heads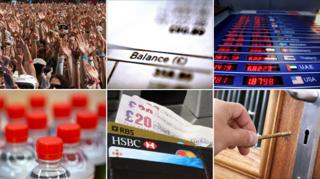 Our piece on 10 charges that baffled consumers prompted nearly 2,000 emails. Here are 10 more that readers suggested.
Having to pay to call freephone numbers, being charged two rates for electricity and airline fees were among those highlighted in the piece.
The following examples are drawn from reader suggestions.
Landline charges for broadband
Line rental charges for internet packages are always hidden in the small print on billboards, giving a misleading impression on price. Often the cost exceeds that of the internet deal itself. There is no choice not to pay this. J Ford
It is common these days for a household to have a landline but never make calls on it. The telephone line is there for broadband only. So why is line rental the same cost as for phone users?
A spokesman for BT says that their pricing structure is two-pronged - line rental and call charges. Broadband users need a landline, so it is fair to charge for line rental. But they will not incur call charges. BT's standard line rental is £14.60 a month. It also offers a contract of £13 a month for broadband, plus £10.75 monthly line rental and a supermarket discount voucher worth £25.
Virgin Media offers broadband that does not require a landline telephone, using a cable instead. Its 30Mb broadband starts at £22.50 with no phone line required. However, if taking TV, broadband and phone line, it tends to be cheaper when bought in a bundle, the company says.
Sky Broadband line rental is fixed at £14.50 for new customers or £12.25 for Sky TV subscribers. Broadband is £10.00 a month or £7.50 for customers who have Sky TV.
Booking fee for gigs
Booking fees for concert/theatre tickets. Need I say more? Jan Butler
Buying a concert or theatre ticket used to be a simple art. The face value equated to the price paid by the customer at a straightforward ratio of 1:1. Nowadays, the array of booking, transaction, facility and delivery charges leave the average customer perplexed.
The vast majority of concert and theatre tickets are now sold by ticket agencies, rather than directly from venue, or promoter, to the customer. The ticket-selling companies take no cut of the face value. Some tickets also have a "facility charge", none of which goes to the booking agency.
A Ticketmaster spokesman explains that per-ticket booking fees are thus the "sole source of revenue for ticket agencies". See Tickets states that these fees are necessary to cover the overall maintenance of the business, including a 24/7 booking service and labour costs.
Booking fees typically range between 9-11% of the face value.
Transaction fees relate directly to the cost of processing the order and producing the tickets. These apply per order, rather than per ticket. See Tickets explains that the transaction fee varies depending upon the type of postage requested by the event organiser and that they "only send tickets securely for events that do not issue duplicate tickets" in the event of postal loss. Accordingly while these transaction fees rise to £6, e-tickets carry no charge.
But this is not always the case. Numerous consumers are baffled by "delivery charges" levied against them even if they print out tickets using their own paper and ink. Ticketmaster says that "this option can only be offered once a high level of technology infrastructure has been installed at the event venue and the right level access control systems are in place".
Venues do not pay the agency for the technology so the cost must come out of the fees.
Even direct venue sellers, such as London's Barbican, charge transaction fees from £2-£3.50 for phone or online bookings, but box office collection is free. When ticket agencies do charge for box office collection, they justify it by saying it's part of the general costs of the business.
Personal information changes
Why in 2012 with technology at everyone's fingertips must I pay to change address with my car insurance company? David Palmer
If you move house you expect your insurance premium to go up if the level of risk to the insurer rises. Or down if the risk is lower.
But why, even if the risk remains the same, are customers often charged a separate "administration fee" for making changes to their car or home insurance, such as their address or marital status? You can move next door and still incur a fee.
This fee, typically ranging up to £35, might seem disproportionate to the amount of work incurred by the insurance company. Is there more to it than a few clicks of a mouse?
Among those that charge, fees range from around £10-£35. Insurance company Admiral, which charges £17.50, states that "our admin charges do not include any element of profit and there are FSA (Financial Service Authority) rules to ensure that it complies with this".
AXA Insurance allows changes to be made free online but charges £30 for telephone-based adjustments. The difference "reflects the administrative and processing costs incurred", says an AXA spokesperson.
Transferring money to foreign account
I just made a bank transfer to Spain for 650 euros and the bank charged me £25, approximately 32 euros, to send it. Ironically my bank is Santander, based in Spain. I can't see how electronic transfers should have such a high charge. Alan Garbett
Moving money from one UK bank account to another is free for basic transfers.
But try transferring cash to a bank abroad and everything changes. Customers are hit by a transfer charge and an uncompetitive exchange rate to turn the money into euros or other currency.
To move money to Europe is usually cheaper than other continents, but it still incurs a flat fee that applies equally whether the customer is sending £30 or £1,000.
Take a transfer to France as an example. Nationwide, which does not have branches abroad, charges £25.
Barclays charges a £15 fee for payments within the Single Euro Payments Area (SEPA), even to a Barclays France branch.
HSBC charges £9. For HSBC Advance and HSBC Premier customers transferring to an HSBC France account, the cost would be £5 or nothing, respectively.
Exchange rate is crucial.
On one day this week, ICE currency exchange at Heathrow was offering 1.243 euros to the pound. For transfers, HSBC was offering 1.212 or 1.219 depending on what account you had, while Barclays' rate was 1.205.
For a sum of £1,000, such a transaction rate would lead to a difference of nearly £40 between the ICE and Barclays exchange rate.
Alan White, media relations manager at Barclays, defended their system: "We believe the £15 fee for the SEPA payments is very competitive and will cover the operating and processing costs involved when sending currency overseas. The fee is broadly in line with other UK banks providing this service."
Non-direct debit charges
Why do we have to pay a monthly charge for not paying by direct debit? Wendy Schofield
The ability to pay online has cut the cost of billing consumers. Many firms offer rewards to customers who use paperless billing. Despite the advances that online billing has brought, some companies charge customers who do not want to be billed by direct debit.
Orange, Virgin Media, BT and Sky are examples of firms that charge for choosing not to pay by direct debit. Virgin Media says it charges a "handling fee" of £5 a month, BT charges £1.89 a month, Orange £3.58 a month.
BT says it is careful to ensure that customers on low incomes do not pay this fee. "BT maintains a differential because it costs more to process non-direct debit payments," a spokesman says. The extra expense is due to transaction costs and the cost of chasing people who forget to pay.
An Orange spokeswoman says: "When customers pay by means other than Direct Debit, Orange charges a small fee that reflects the costs we incur in processing these payments. This is the same for all mobile operators."
Bottled water in airports after security
The cost of water and soft drinks in shops beyond the departure gate at UK airports. You've had to give up your liquids at the gate and then you have massively hiked costs to buy it. Paul Barrow
Since the 2006 transatlantic aircraft plot, there have been restrictions on taking liquid through airport security in the UK, US and many other places.
In the UK, no container larger than 100ml can be taken through security, ruling out virtually any bottle of water you've brought from home or elsewhere.
Prices in the shops around the departure lounges do tend to be considerably higher than on the High Street.
Take Liverpool Airport, for example. In the Boots in the departure lounge, a 750ml bottle of Brecon Carreg water costs £1.15. The same bottle in a Boots city centre shop costs £1.05. It's a difference of nearly 10%. From a supermarket, an equivalent bottle of water would be cheaper again.
So why the high costs in the "airside" shops?
"Some of our prices in airport stores are marginally higher due to higher costs," says a Boots spokeswoman.
Higher rents charged by the airport are one reason. Another is the cost of security.
"We believe the rents are attractive," a spokesman for Liverpool Airport says. "We have massive overheads. The cost of security - we have to absorb."
It isn't just Boots - the pattern will be similar for most retailers operating in airports.
In the case of Liverpool Airport, the spokesman insists that while there aren't drinking water fountains around the departure lounges, there is drinkable water in the washrooms.
And of course, on the planes themselves, bottled water is even more expensive.
Exact money only parking ticket machines
Car park machines that don't give change. Is there a single other service you pay for that would not give change when you pay over the amount? Ross Moncur
Anyone who drives will be familiar with the scenario. You pull into a car park in a hurry to pick something up from the shops. There's a pay and display machine. You put your hand in your pocket for change and scoop up only pound coins. The machine does not offer change, so you end up paying £1 for a 40p ticket.
Or worse still, there is a minimum two hour parking charge when you only need 20 minutes. So you end up paying £3 for a £2.50 ticket, for 100 minutes of parking you don't need.
The no change policy, for some, is a sneaky way of charging customers more for their parking. If it is difficult to maintain them, why not install change machines?
The AA is aware of the problem. "If you have to pay £2.80 every day at the station car park, that means you have to have a lot of loose change at the start of the week," says press spokesman Andrew Howard. "We think machines should give change."
And yet, there are practical difficulties, he accepts. Busy machines can be hard to restock. A change machine might not always be viable.
NCP, which operates 700 car parks across the UK, says that 40% of its machines offer change. "We do have pay and display machines that don't allow change, but all our machines offer a variety of ways of paying, including pay by phone, by debit or credit card, pre-booking or season tickets. Putting a machine that offered change in to every car park across our estate would become extremely expensive, as it means we need to have people on standby to maintain those machines and constantly check the coinage."
Lettings agents' fees
Lettings agents charge you anything from zero to £400 to draw up a contract that you could print off the internet for free, to say nothing of up to £100 for a "credit check" which in reality costs them about £2, and they then ask you to provide all the references instead of doing the work themselves. Jessica Tye
Many letting agents levy some type of extra charge on landlords and prospective tenants.
Tenants - in addition to deposits and the first month's rent - can be charged fees for credit and reference checks, inventories, contracts and even the registration of a deposit.
There is no regulation in the lettings sector - anyone can set themselves up as an agent. But there is a voluntary self-regulating body, the Association of Residential Letting Agents (Arla), which demands that members be "completely upfront with both tenants and landlords about any fees". Arla does not cap fees.
Fees need to be charged to ensure good service, to train staff and to ensure that everything is legally correct, says Theresa Wallace, director of lettings at Savills.
Many agencies outsource reference checks and the charge to the agency can be about £25. Savills charges the tenant £30 for a reference check.
But this is not simply a credit check of the type someone could carry out using an online site such as Experian, but an employer check - or accountant if someone is self employed - and former landlord check. "If, for example, an agent charged £100 to carry out a single reference search, the Office of Fair Trading would look poorly at that," says Wallace.
The cost of the tenancy agreement should be shared between the landlord and the tenant, says Wallace, who preferred not to reveal the exact fees charged by Savills.
While you can buy stock tenancy agreements from law stationers, Wallace says that they are basic documents and that many agreements drawn up by some agents run to many pages, with a break-down of separately negotiated clauses - such as whether a tenant can keep pets etc.
Many agents - particularly those who are members of regulatory bodies such as Arla and the Royal Institution of Chartered Surveyors (Rics) - will charge around £125 to £200 for the agreement, she says. "If it is costing £300 to £400, then it is unreasonable," she says.
The inventory of all the items in a property should be paid for by the landlord and normally starts at about £100, says Wallace.
There can be "check out" costs - effectively an inspection by an agent at the end of the tenancy. Fees could start at £70 for each for a small property and rise to £200 for a big house.
Many agents charge for contract renewal. This can be baffling to tenants, as often the contract is identical to the previous year but with new dates.
But there can be more activities that justify a charge, and contracts can be significantly different, Wallace suggests. "At Savills, this is done by qualified renewal staff. They contact the landlord to discuss the rent level and negotiate between him/her and the tenant," says Wallace.
In Scotland, the law prohibits prospective tenants being charged "premiums" on top of their deposit and rent in advance. However, an investigation by the housing and homelessness charity Shelter Scotland discovered that most letting agents had been charging a pre-tenancy cost.
Motorway services (ATMs, food and petrol)
Fuel at a service station is always ~5p/litre more expensive than elsewhere. Who buys these products? There must be a market for them at this price which I fail to comprehend. Robin Greenwood
Surveys by What Car and by the Institute of Advanced Motorists have noted huge mark-ups for food at motorway service stations around the UK.
A spokesman for Moto, one of Britain's biggest operators for service areas, defended the company's prices, saying that comparing motorway service stations with the high street was not a like-for-like comparison because of the costs involved.
The expenditure for motorway service operators was huge and they incurred overheads that didn't affect high street shops, Moto said. The investment needed to buy, lease and maintain motorway service stations was "startling" and the stations have to provide clean free toilets.
"Motorway service stations exist in a retail bubble," the spokesman says. "It is the only operator obliged by law to be open 24 hours a day, whether or not there are any customers. Operators are also obliged to serve hot food and drink 24 hours a day, again including periods when the custom is low."
Joining fee for gyms
Joining fees for gyms (or other clubs). Exactly what are you paying for? Somebody to type the form you filled out into a computer? Hugh Tonks
Gym memberships for most consumers are a significant commitment. Although contract lengths vary, the perennial question is whether the customer will use the gym enough to justify their expenditure.
But why do customers have to pay joining fees?
Joining fees vary massively. In larger chains like Virgin Active, joining fees differ from branch to branch, as well as between membership options within branches.
A Virgin Active spokeswoman explained that "joining fees range from £10-30 and cover the administrative costs of setting up a new membership". The costs include "paperwork, membership card and member club induction".
"The joining fee is waived on 12 month contracts, as the company can absorb the administrative cost within the annual membership fee."
A spokeswoman for David Lloyd Leisure says the "standard administrative fee" covers the "administrative costs of setting up that membership and its maintenance for the duration".
"At a small minority of clubs, a discretionary joining fee is applied which takes into account a number of factors such as the level of new member demand for that club and its exclusivity."
Additional reporting by Kathryn Westcott and Finlo Rohrer