Greece: The pain behind the beauty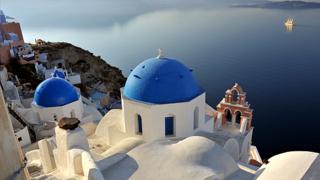 Holidaymakers in Greece this summer said the beaches were as lovely as ever and the ancient sites as fascinating as they have always been. But the effects of five years of recession in the country are becoming more and more evident.
I get a little tired after a while of the endless sheet-washing, itinerary-planning and bread-buying but then, living abroad, you come to expect it.
For every summer, my humble apartment in whichever country I am posted, turns into a convenient hotel for friends, family and anybody I may have met at a party years ago, who decides they fancy a free stay.
It can get a little trying but, on the whole, I enjoy showing my guests a new city through my eyes, taking them to my favourite spots. Seeing their reaction is the interesting bit.
And nowhere more so than in Athens.
For months they have watched footage of angry street protests in the capital and heard stories of the impact of austerity. They come expecting the place to look and feel almost like a war zone.
When a visitor of mine this summer told his colleagues he was going to Athens for a few days, one seriously asked whether he would still find food in the shops.
"Where is the crisis?" said a university friend as I took him around the city. "You can't see it."
In many ways, you cannot. It is easy to spend a few days in the crowded little restaurants of the capital, ambling through the popular boutiques, sipping iced coffee on a pavement cafe beneath the Acropolis and not notice anything amiss.
Athens seems to function pretty much normally, as does the rest of the country.
Greece is at its best at this time of year. The fabulous coastline gleams in the late summer sunlight, the white stone houses of the islands draped with bougainvillea and set against the deep blue of the Aegean make this place feel like the most blessed country in Europe - not the most indebted.
Perceptions of Greece are easily warped. I met tourists this summer who said they had been on the verge of cancelling their Greek trips because of fears of unrest but, as they quaffed an ouzo on a perfect beach, they were relieved they had not.
But listen to the stories of this warm and talkative nation - that is how you find out what is really happening here.
I spent time recently with a group of elderly ladies at a day centre on the outskirts of the capital. They had gone there since retirement. The exercises and strong Greek coffee had remained the same, the talk had not.
With pensions cut and set to be reduced yet further, conversation is crisis-filled.
"I can no longer afford to buy chocolate for my grandchild," 82-year-old Maria told me, as her kindly eyes glazed over with tears. "If they cut my monthly pension even more, I'll be left with 100 euros (£80) with which to live. Am I not human?"
I could not help but think of my own late grandmothers, as I sat listening to these women who have lived through so much - wars, dictatorship - and now simply long for a comfortable old age.
But they, like so many here, are facing further savage spending cuts.
Ermioni, 84 years old and with few teeth remaining, was keen to speak.
"My son asked to borrow two euros (£1.50) from me he was so desperate", she said, crying. "It was like a dagger through my heart. I can't afford to live any more. All I want is to close my eyes and never wake up."
After leaving the day centre, I went to meet an elderly man, Kostas Kokotsis, who depends on the box of free food he receives.
His home in the western suburb of Perama was like something out of Dracula - cobwebs in all corners, the sound of rats inside walls, old belongings piled everywhere, sheets soiled and unchanged.
On the table lay his mounting electricity bill that he cannot pay alongside his pension slip of 340 euros per month - a little over £250. It barely covers his rent.
In fact the tragic stories are everywhere. There is a foster-care home south of Athens that is now taking in more and more children whose parents can no longer afford to keep them.
A mother I met had given up her 10-year-old daughter last year and now comes just once a week for a snatched moment together. "It's hard not having her alongside me when I sleep or seeing her growing up," she said. "But there's no other option any more."
This is happening in a European Union country - a place of unparalleled cultural richness, of beauty, of history. How has it come to this?
You can read the theories, study the statistics and yet it still seems incomprehensible that a country can fall so far, so fast.
Those are the different faces of fascinating Greece - one sun-kissed, sophisticated, joyous, the other suffering in ways that still stun me with every tale.
It makes for a place that defies the expectations of my summer visitors and which is at once enchanting, baffling and heart-breaking.
How to listen to From Our Own Correspondent:
BBC Radio 4: A 30-minute programme on Saturdays, 11:30 BST.
Listen online or download the podcast
BBC World Service:
Hear daily 10-minute editions Monday to Friday, repeated through the day, also available to listen online.
Read more or explore the archive at the programme website.