Giles Duley - a second shot at life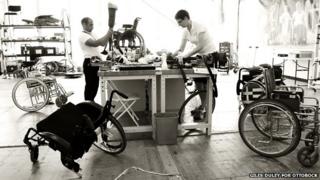 Photographer Giles Duley, who lost three limbs in an explosion in Afghanistan, talks about his recovery and shares his latest series of photographs capturing the technicians and prosthetists working at the London 2012 Paralympics.
Giles Duley is a dead man walking.
On 7 February 2011, while on foot patrol with US soldiers near Kandahar in southern Afghanistan, the British documentary photographer stepped on a pressure plate buried beneath the road, triggering an improvised explosive device.
The blast blew off both of his legs, one above the knee and one below. Shrapnel tore through his left hand, arm and torso.
Gravely ill, Duley was flown back to the UK. He spent 45 days in intensive care at the Queen Elizabeth Hospital in Birmingham.
As his condition worsened, his lungs and liver began to fail.
On two occasions, his family were called to his bedside to say their final goodbyes.
Against the odds, Duley's condition stabilised, but many months of gruelling treatment lay ahead.
Even though he was a civilian, the Ministry of Defence made the unusual decision to admit him into the Defence Medical Rehabilitation Centre at Headley Court in Surrey, because it is one of the few units in Britain capable of treating patients with traumatic multiple amputations.
For a fiercely independent freelancer, adapting to the strict military regime at Headley Court proved extremely difficult.
"It was the right place to be, but it was very hard," he admits.
"I've never worked for anybody in my life, and suddenly it was like going back to school. It was everything I had spent my whole life trying to avoid.
"I'm a very private person and suddenly my whole life was public, and all I wanted was my independence back. I couldn't even sit in a room on my own for almost a year."
In an attempt to regain some semblance of the control he had lost, Duley picked up his camera and turned the lens on himself.
He exposed his severed and scarred body in a defiant black and white self-portrait, which he calls his "Greek Statue" photograph.
"A lot of people wanted to take my photograph, but I was aware it was their interpretation of me. I wanted to show people exactly how it is," he explains.
"People who look at Greek statues never say it's a shame because they're not complete.
"I wanted to go back to my days as a fashion photographer and shoot myself in the same way I'd shoot someone for Vogue. I was exactly the person inside, but people talked to me differently because I was in a wheelchair.
"I wanted to be blunt about it. That picture represents the strength I felt inside."
Giles Duley has lost count of how many operations he has undergone over the last 19 months.
"Thirty-something," is his best guess.
As well as amputating his shattered legs and arm, doctors have carried out procedures to remove uncontrolled bone growths in soft tissue (a common condition among blast victims from Afghanistan and Iraq), as well as skin grafts and surgery to repair damage to his internal organs.
Now, finally, he is returning to work.
At the Paralympics in London, he has been photographing the technicians and prosthetists who maintain the wheelchairs and artificial limbs used by para-athletes.
Duley admits his first assignment as a triple amputee has highlighted some of the challenges that he is still learning to adapt to.
"My other hand was pretty badly smashed up as well," he says.
"Just holding a camera for a long time is painful, so I'm looking at trying smaller and lighter cameras.
"I can't respond so quickly, and as soon as I look through a viewfinder, I lose my balance.
"I have to be realistic. I look through most of my work from the last 10 years and I couldn't do it now. I couldn't live in a squat with Ukrainian street kids. I couldn't go on foot patrol in Afghanistan.
"That's not being negative. I've got no legs - it's just not going to happen."
Nevertheless, Duley believes that, in time, his limb loss will enrich rather than diminish his work.
"A lot of great creativity comes from restrictions," he says.
"Cinema is a great example. Alfred Hitchcock had to find ways to create tension without showing it, but now with computer-generated effects you can show anything.
"I can't move around like I used to, I can't get some of the angles I used, so I'm going to have to shoot in a different way - but those restrictions can be advantageous to me.
"It's about empathy," he insists.
"It means I'm going to have to focus even more on the connection with people. It's an unspoken art and an unspoken skill, but I'm convinced I'll be better than ever at that."
Later this year, Giles Duley plans to return to Afghanistan to complete the assignment he was working on when he was injured - photographing casualties of war at a hospital run by an international charity.
He hopes the photographs will form part of a major project documenting the long-lasting effects of war on the millions of people around the world who, like him, have been profoundly affected - but not broken - by violence.
"I'm not a war photographer. I've always dealt with the consequences of conflict," he stresses.
"I want to use the position I'm in to look at when happens when the trumpets fade.
"I'd like to look at the soldiers you never hear about from the World War II who lost limbs, people who suffered post traumatic stress in Vietnam.
"It may have been something I could have hoped to do over a career, but if I can do that over the next couple of years, I can truly say I've done something significant and then walk away."