Paul Ryan marathon claim: Would you fib about your PB?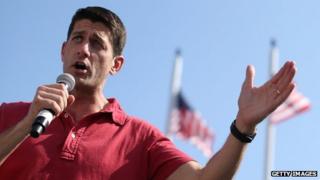 US vice-presidential candidate Paul Ryan has admitted exaggerating the time he achieved in a marathon. But is it possible to forget the time you clocked in such a gruelling event?
Quizzed by radio host Hugh Hewitt on his marathon personal best (PB), Ryan replied: "Under three, I think, you know, high twos... a two hour and fifty-something."
Hewitt responded with "holy smokes" to which Ryan shot back: "I was fast when I was younger, yeah."
This sort of time - representing sub-seven minute miles - puts Ryan in the top tier of club runners. There will be many who do repeated marathons and train hard who never come near.
US magazine Runner's World was intrigued by the claim. Its report noted: "If Ryan has broken 3:00, he'd be the fastest marathoner to be on a national ticket. John Edwards has run 3:30; George W Bush has run 3:44."
But it transpires that Ryan only ran 4:01:25 in a race in 1990.
Ryan later responded: "The race was more than 20 years ago, but my brother Tobin - who ran Boston last year - reminds me that he is the owner of the fastest marathon in the family and has never himself ran a sub-three.
"If I were to do any rounding, it would certainly be to four hours, not three. He gave me a good ribbing over this at dinner tonight."
The magazine noted that Ryan's PB is behind Sarah Palin, the Republican nominee for vice-president in 2008, who has run 3:59.
But does a slip-up like this matter? It does to runners.
As some amateur runners have noted, most people have their marathon PB indelibly etched in their brain. Even if it was one marathon, 20 years ago.
There is no shame in 4:01:25. Even a four-hour marathon is a gruelling, extraordinary feat. Most people's marathon PB is: "I'm yet to run a marathon."
Political commentator and former MP Matthew Parris - whose marathon PB of 2:32:57 is still a House of Commons record - is not sure anybody could let their PB slip their mind.
"You can't possibly forget a marathon time. You go through so much training and so much pain."
Runners are allowed some leeway.
"I've been known to say I did my marathon in two-and-a-half hours but that is about the extent of my approximation," says Parris.
"To anybody running seriously, the breaking of the three-hour barrier is a tremendous feat."
David Castle, editor of Running Fitness magazine with a marathon PB of 2:53:47, concurs.
"Marathon runners are very protective of their PB. Anyone running under three hours will have put in a fair amount of training. Model Nell McAndrew [who reduced her personal best by 14 minutes to clock 2:54 in this year's London Marathon] is virtually training like a professional athlete.
"You will certainly be doing up to 40 or 50 miles a week, running five times a week."
Each time barrier is hugely significant. A sub 1:30 half marathon or a sub-40 10k is hugely important for amateur runners. You can tell by the way runners so often refer to seconds, even in a PB for a long race.
If your half marathon personal best is 1:39:38, you never round to 1:40. You tore yourself apart for those 22 seconds. Those were the 22 seconds that nearly broke you.
"When we talk about runners becoming proper runners, [it might be] under 3:30 [for a marathon]," suggests Castle.
But it's hard to imagine that Ryan's "misspeak" was a calculated lie, suggests Parris.
"That is exactly the kind of thing you know journalists are going to check. I don't think he was lying. He may genuinely have forgotten."
But there is always the temptation caused by "bravado", Castle says.
"Who wants to say they ran four hours? It's an OK time but not a runner's time.
"To finish any marathon is an achievement. In his position, he was just over-egging the pudding. He is not the first and he certainly won't be the last."
It's too early to tell if the episode will have any effect on the amateur running vote. The four-hour runners may have found a kindred spirit.
"To do a slower marathon requires a great deal more guts than a 2:50 one. You suffer for a great deal longer," jokes Parris.
And Ryan can always console himself with one thing. Runner's World noted that Al Gore only managed 4:58.