10 charges that make consumers scratch their heads
By Lucy Townsend
BBC News Magazine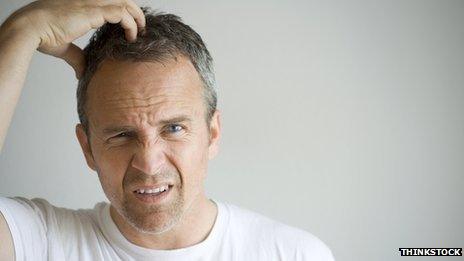 Rarely a week seems to pass without some kind of investigation into prices or charging. This week there's been a probe into petrol prices and separate allegations of predatory pricing by utility firms. But what are the charges that confuse customers most?
Freephone numbers that are not free from mobiles
Numbers starting 0800 are free to call from land lines and yet charged if they are dialled from a mobile. Industry regulator Ofcom is looking into the issue, and say they hope all will become free in the future.
"It is something that we find hard to justify," says Joe Smithies, from Ofcom.
"It would be a big change that will take a lot of time, but we are certainly reviewing all the numbers and hope to have an outcome by the end of the year."
But why is there a charge from mobile telephones?
When mobile phones first started being used, it did cost more to connect to the freephone numbers, but over the past decade the costs have reduced. However, phone operators say they are still more expensive to connect to.
"Fixed line operators don't need to charge callers because they get their costs covered by the companies that choose to use a freephone number," says a Vodafone spokesman.
"Mobile costs are higher and yet, at the moment, we get nothing towards those costs from the companies using the numbers. In an ideal world, it should be the companies choosing to use freephone numbers that bear the costs, not callers."
The way your first bit of electricity costs more than the rest
People often find energy bills difficult to decipher, as industry regulator Ofgem highlighted last year in a report. It found that tariffs and pricing offered by the big six energy companies "bamboozled" customers and lacked transparency.
Hundreds of tariffs were available using a two-tier pricing structure, where the first set of units a customer uses cost a higher price. The price is then lowered after a certain amount of energy is used. It was made even more confusing because each supplier had a different threshold and different prices, making comparison difficult.
Ann Robinson, of the consumer group uSwitch, said that under the two-tier system, lower than average energy users were getting an unfair deal.
E.ON, npower and Scottish Power are still offering the two-tiered pricing to new customers, but all of the "big six" are expected to move across to offering one fixed price for a unit of energy plus a standing charge.
And why don't the utility firms have no standing charge and just a single unit price?
Suppliers' trade association, Energy UK, says this is impossible because of the cost of the meters and network that supplies the gas and electricity to the home. The cost still applies even for customers who use tiny amounts of energy.
Booking fees - charges added towards the end of a transaction and not included in the trumpeted headline price - are a classic source of consumer complaints.
Consumer body Which? lodged a "super complaint" to the Office of Fair Trading regarding credit and debit card surcharges by airlines in March 2011. The OFT said that the fees must be listed in the upfront price.
But that is different to the headline price, written in large font on websites, drawing buyers' attention. Here the price without any admin fees is often used. In most cases, the buyer still has to click on the cheaper figure before the true cost is revealed.
"Any booking fee is annoying," says Jasper Griegson, of The Complainer website. "It seems quite a cynical way to make more money."
The super complaint prompted changes.
A spokeswoman for easyJet, one of 14 airlines named in the complaint, said: "In 12 January 2012, easyJet replaced its booking fee with an admin fee of £9 which is now included in all advertising, displayed as part of a full and final flight price at the first stage of the booking process and will be applied to all bookings regardless of payment method and how many flights are made.
"The credit card booking fee is 2.5% of the total transaction value, with a minimum charge of £4.95. This charge is made in order to cover the processing cost to the airline of this payment."
There is no fee for a debit card.
Tipping has always been a tricky subject. Who should get a tip? Waitresses? Taxi drivers? Hairdressers?
Should it be 10% or 12.5%? And is a tip only given for excellent service, or does adequately good service deserve one too?
Many restaurants now include the service as a matter of course - and typically at 12.5%. It's still optional, so the customer can ask not to pay, but many would find that too embarrassing.
Internet forums are full of the disgruntled.
"It creates lazy table staff who do not care about the service that they give, because they know that their tips are 'safe'," writes one annoyed punter on Yelp.co.uk.
"This is a growing blight. And if it isn't bad enough, restaurants that include service often add a voluntary tip box on the receipt - to make us pay more", adds another on moneysavingexpert.com.
Richard Bradford, chairman of the Restaurant Association and the Earl of Bradford, defends the charge.
"No service charge is compulsory, it can only ever be suggested," he says. "It actually works out better. If it was included in the price of the meal, the customer would have to pay VAT on it, and the restaurant would have to pay national insurance.
"Staff have to be adequately rewarded for the work that they do."
Convenience store cash machine charges
Usually found in convenience stores, the paid-for cash machine is a much hated thing. For some, it is a matter of principle, an aversion to the thought of paying £1.50 to access your own money.
"I would walk as far as I had to, to get to a cash machine that didn't charge me," says Fergus Muirhead, creator of the Money Sucks website.
"It's a total rip off, and something that I cannot stand."
Last year a Liverpool Echo investigation found that charging cash machines were most prolific in the poorest parts of the city. In affluent areas such as Woolton, only 17% of the cash machines were fee-charging, compared to deprived areas such as Toxteth where 81% of ATMs charged.
But why does it ever cost money?
"Generally cash machines that charge are in areas of low footfall," says Graham Mott, of Link, the company behind the UK cash machine network.
"There are costs that need to be covered, such as installing the machines, maintaining them and refilling them."
At free-to-use cash machines an agreement is generally in place between the banks and the landlord - the customer's bank will pay a fee of around 26p to the ATM operator for every transaction. The ATM operator will also pay some rent to the landlord - the owner of the building the ATM is attached to.
But where the ATMs are less used the bank payments will be much lower, and therefore a financial agreement has to be worked out between the landlord and the ATM operator - in charging cash points the operator is always a private company rather than a bank.
A spokesman for Spar says: "We always encourage store owners to install free-to-use ATMs, but this is not always possible".
A Londis spokeswoman adds: "As the trigger for this charge is the number of transactions, some of our retailers supporting smaller communities can fall below the threshold level. Most retailers decide that it is better to be able to offer the service and accept there may have to be a charge than not have it."
Train station toilet charges
It is a common experience. You're at a train station and desperate for the loo, but you don't have the 30p change to make it through the turnstile to the toilets. Or you do, but it involves coppers, and they don't accept those.
Is it fair to have to pay to use a public convenience when you have already paid for a ticket to travel?
A reader's letter to the Daily Telegraph this week posed the same question.
"At the airport, the theatre, the supermarket, or any other place providing a service you do not have to pay to use the facilities. Why are railway stations different?" the writer asked.
Network Rail manages 17 of the biggest stations in the country, the majority charge 30p for toilets.
A Network Rail spokesman said: "The small charge we make for using the public toilet facilities in our stations helps to maintain them, ensures they are fully staffed and prevents misuse such as vandalism. Network Rail is a not for dividend company, which means any profit from the use of station toilets is reinvested into the railway and passenger facilities."
When a printer can be bought relatively cheaply, why is the ink so expensive?
An HP colour and black ink multi-pack, which would print 190 pages, costs £34.99. An HP All-in-One printer, copier and scanner is currently available for £24.97.
"They know they've got you, so they can charge what they like," says Griegson.
"It's like razor blades," he adds. "They are so expensive but if you have the razor, you need the blades to go with it. You have no choice. It's how they make their money."
In 2003 Which? carried out research showing that measure for measure, ink was seven times more expensive than a vintage bottle of Dom Perignon champagne.
The consumer rights campaign body is about to conclude another investigation into printer cartridges, with results expected in October.
"HP ink cartridges are precision writing instruments that contain advanced scientific technology to produce reliable, fade-resistant printed pages," says Martin Hurren, HP Ink Supplies Business Manager.
"HP invests up to three to five years to develop and manufacture just one new line of ink, and the ink chemistry is so advanced that the HP team devotes as many as a 1,000 prototype formulations to perfect each new ink."
Epson adds that its cartridges offer "good value and high quality".
Usually costing between £1 and £2 an hour, hospital car parking can become very expensive in England - unlike in most of Scotland, Wales and Northern Ireland, where it is free.
The Patients Association has called it a "tax on the sick", arguing that people who have already paid their tax should not be re-taxed to fund hospitals.
But the NHS says it would cost £200m to make car parking free.
Chief executive David Loughton told the Wolverhampton Express and Star: "I know it will be unpopular, but I have to save millions of pounds and I am trying to do it without directly affecting front line services."
Some patients who have to make numerous visits to a hospital are given concessions, which are set by individual NHS Trusts and can vary.
As an example, Maidstone and Tunbridge Wells Hospital Trust usually charges £1.50 for an hour for parking, but patients undergoing radiotherapy treatment, which is often daily, pay £1.80 per week, while those undergoing chemotherapy pay £1.50 per day and parents and guardians who have children in hospital pay £1.50 per day.
They offer a number of other reductions as well.
Health Minister Paul Burstow says that car parking money is spent on patient care.
"Many hospitals provide concessions to patients who require extended or frequent access to hospital, such as cancer patients undergoing treatment. They also often offer concessions to visitors, such as reduced rates or weekly tickets," he adds.
Conveyancing - the process in which solicitors check information before a house sale - is often grudgingly paid.
It forces the consumer to place their trust, and money, in the hands of a professional when they may not always understand the work involved. It is a situation referred to by economists as information asymmetry, and the result of such a knowledge imbalance for the consumer is often a sense of being ripped off.
Usually costing between £500 and £800, conveyancing allows a solicitor to check the building is a safe buy, and investigate any extraordinary factors.
"People don't understand what we do, but it's much more than just chatting to another solicitor," says Jonathan Smithers, chair of the Law Society Conveyancing and Land Law Committee.
Smithers helps his clients through the conveyancing process as they buy and sell homes.
"Conveyancing involves lots of checking and cross checking. It is about risk analysis and giving a service which is bespoke to each client."
The fee is based on the solicitor's time, though the value of the property can play a part. More expensive properties can take more time and carry more risks.
It's possible to do your own conveyancing, but solicitors would warn you strongly against it.
He is arguing that a Michigan law which prohibits "charging the consumer a price that is grossly in excess of the price at which similar property or services are sold", was violated by charging him $8 for a Coke and box of Goobers (chocolate covered peanuts). He says the exact same items are available within a mile of the theatre for $2.73.
AMC is not alone in selling expensive food - so why do cinema snacks cost so much?
Vue Cinemas, where a regular popcorn and soft drink costs £8.25, say food and drink is an optional extra and customers are free to take their own snacks in.
A spokesman adds: "Vue's pricing of retail items is in line with other out-of-home entertainment venues."