How the Paralympics checks intellectual disability
By Bethan Jinkinson and Claudia Hammond
BBC World Service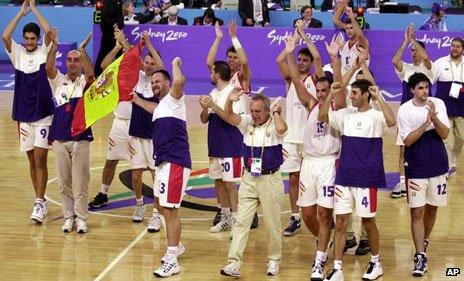 In some Paralympic sports, the athletes' disabilities are visible - when they run on blades or use a wheelchair, for example. But intellectual disabilities are invisible, and harder to classify - making it trickier to guarantee a level playing field.
Athletes with intellectual disabilities competed for the first time in the 1996 Paralympic Games, in Atlanta. They competed again in Sydney four years later - but a scandal erupted when 10 out of 12 members of the Spanish basketball squad were unmasked as impostors without any disability.
The Spanish players went to great lengths to conceal their deception - growing beards and wearing bobble hats off the court, in the hope that they wouldn't be recognised. They won gold, but one player blew the whistle, an investigation followed, and they were stripped of their medals.
After that, the International Paralympic Committee (IPC) said that until there was a reliable system for verifying intellectual disability, no further events in this category would be held.
Sweden's Jeffrey Ige was an athlete who missed out because of the ban at the Athens and Beijing Olympics.
"A year before Athens they told us that we couldn't really participate," says Ige, a shot putter who broke the world record for an intellectually disabled athlete multiple times.
"I was at my highest level then, I could have taken a medal if I'd had a chance to compete. I was really sad and upset."
It was only in 2009 that a rigorous new system for verifying intellectually disability was approved, allowing this category of Paralympians to be reinstated in time for 2012.
In London they will be competing in three sports:
Athletics - long jump, shot put, 1500m (sport class T/F 20)
Swimming - 200m freestyle, 100m breaststroke, 100m backstroke (sport class 14)
Table tennis (sport class 11)
All competitors in these sport classes have to fulfil the World Health Organization (WHO) definition of intellectual disability:
An IQ below 75
Impairment in adaptive functioning - for example, social, domestic and communication skills
The disability must have occurred before the age of 18
Many countries have a standard test which assesses such things as ability to use public transport, handle money and respond appropriately to weather conditions. Measured against these criteria, intellectually disabled people are in roughly the lowest 2% of the population.
A psychologist's assessment verifying that the competitor meets the WHO criteria is submitted to a National Eligibility officer, then checked by two or three independent psychologists from an eligibility committee assembled by Inas, the international federation for para-athletes with an intellectual disability.
But that is just the beginning. Once an athlete is acknowledged to be intellectually disabled, he or she undergoes a sports-specific classification, a process overseen by the international sports federation for the sport in question - the IPC in the case of athletics and swimming, and the International Table Tennis Federation in the case of table tennis.
"What we need to be able to demonstrate is that the impairment has an impact on the performance of the sport," says Jan Burns, head of eligibility at Inas, the international federation for athletes with an intellectual disability.
"The first component is looking at some intellectual skills, some cognitive skills, the skills that everyone needs if you're going to compete at a high level, so things like reaction time, or pattern recognition we'll be testing, and we do that via a touchscreen computer," she says.
"The second series of tests are very specific to the sport. And they are more technical tests. So, say, for the 1500m, we'd be asking the athlete to do a test of pacing."
Pacing - when a runner moderates his or her speed to avoid flagging before the end of the race - is a challenge for intellectually disabled athletes. Someone who was brilliant at pacing would not be eligible.
"Or for table tennis," Burns goes on, "we would be asking athletes to demonstrate certain types of serve or to be able to respond to a number of serves from another player in a certain way."
Finally, the athletes are observed in competition or on track.
So an athlete who is too good is not eligible. But among those who are deemed eligible there will still be a range of abilities, and those at the upper end of the scale will have an advantage.
IPC chief medical officer Dr Peter Van de Vliet draws an analogy with the different weight categories in the Olympic sport judo.
"For example in the 70-75kg weight category, if you are towards the top of that category you might have an advantage over someone who weighed in near the bottom," he says.
"Not everyone is equal, we are humans, but the process has to be meaningful," he says.
Athletes with some less serious intellectual disabilities - for example, those at the milder end of the autistic spectrum - are unlikely to be sufficiently disabled to compete in any of the Paralympic events for intellectually disabled athletes, acknowledges Nick Parr, head of sport for the learning disability charity Mencap.
But this doesn't only happen with intellectually disabled athletes. Physically disabled athletes may also fall just outside the parameters for eligibility, De Vliet points out.
An athlete might be classified as legally blind in his or her home country, he says, but they would not necessarily be visually impaired enough to compete in the Paralympics.
"There are limitations to the system, but you have to draw the line somewhere," he says.
In theory there's nothing to stop an intellectually disabled athlete from entering the Olympics rather than Paralympics, but competing against athletes without any disabilities would be extremely tough.
Verona Elder, team manager of the GB Paralympic team recognises that some people might still find it difficult to appreciate that intellectually disabled people have a right to be Paralympians too.
"It's not obvious to the public when people with a learning disability are competing, what their disability is," she says.
"You can see a physical disability, but you can't see a learning disability so I think it will take the public a while to understand that there is a learning disability, a physical disability and that they're all part of a main umbrella of people with a disability."
Could there be cheating, people pretending to be more intellectually disabled than they are?
"There are some athletes who will try everything to achieve their goals - and it would be wrong to presume that this was not the case in the Paralympics," says Van de Vliet.
But, he adds: "There are repetitive assessments - athletes are tested again and again. And the assessments are checked by expert classifiers with an in-depth knowledge of both the sport and the medical issues around it."
The new testing system, he says, is "extremely robust". A repetition of the Spanish basketball fiasco would appear to be unlikely.
Related Internet Links
The BBC is not responsible for the content of external sites.