Carried by soldiers, no score-keepers at 1960 Paralympics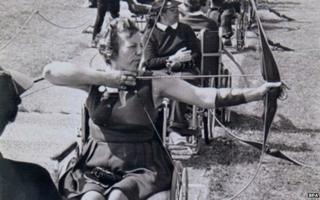 The first Paralympic Games in Rome in 1960 was a disorganised and undignified affair, symptomatic of attitudes in the 1950s and 60s. Soldiers carried competitors to and from the athletes' village, and score-keeping was haphazard.
When archer Margaret Maughan won Britain's first-ever gold medal in the Paralympics, there was no crowd, no podium and almost no Maughan.
She had to be dragged off the coach going back to the rudimentary Olympic village to be presented with her prize. As no-one was keeping the score in the archery competition, she had no idea she'd won, let alone the fact there was a ceremony.
The incident was typical of the first Paralympics which took place in Rome in 1960, which, as Maughan acknowledges, had something of a sports day feel about it.
Maughan's other event was a swimming race, in which she was the only competitor.
It is hard to imagine this when you see more recent glitzy events, with their hours of TV coverage, their sports equipment costing thousands of pounds, and complete with the darker side of big-time competitive sport, drug-testing and classification disputes.
Paralympic villages these days are fully wheelchair accessible, each athlete has an assistant to help with any special needs, and they can get advice about anything from diet to the very latest equipment.
In Maughan's first games, the accommodation was borrowed from the Italian army and was on stilts - so competitors had to be carried in and out by soldiers.
Undignified it might have been, but Maughan didn't seem to mind. Indeed, she rather coyly admits that some of the soldiers were "quite dishy".
In any case, they'd been prepared for such indignities when they were all loaded onto their flights out to Rome from a forklift truck.
"People just took it for granted in those days," Maughan says. "We were just glad to be going."
It was a sign of the times and Maughan, now in her 80s, tells her story with the laconic acceptance of her generation. It had been typical of her treatment since a road accident in Malawi in 1959 left her paralysed and in a wheelchair.
After being flown home, she was taken to Stoke Mandeville Hospital, then more or less just a row of huts, but offering what was at the time the most sophisticated treatment around for those with spinal injuries.
It was run by Ludwig Guttmann, one of the leading experts in the field, whom Maughan greatly admired, even though he conducted the place a bit like an army camp.
Maughan once had the temerity to tell Guttmann that she was bored. Far from getting the sympathy someone so recently paralysed might have expected, she was told to pull herself together - there were still plenty of interesting things to do in life, he told her.
Discipline was tough, trips to the local pub which got out of hand were greeted with a firm dressing-down by the doctor, and accompanied with threats that you might have to leave the hospital.
It was Guttmann who decreed that sport was therapy, and turned what began as sports days into the start of an international phenomenon - the Paralympics.
A few hundred competitors went to the first Games. Now it's about 4,000. Then, hardly anyone noticed the athletes go. Now, there is hour upon hour of television coverage.
Then, competitors begged time off work, if they were lucky enough to have a job. Now athletes such as South African sprinter Oscar Pistorius and Britain's former wheelchair racer Tanni Grey-Thompson are household names.
But Maughan's story shows how the rudimentary 1960 event was symptomatic of attitudes back in the 1950s and 1960s.
On her return from Rome, she and her wheelchair had to travel in the guard's van on the train back to her home town in Preston.
Although she was a qualified teacher, it was assumed that she would be unable to control a class and instead she was offered a job stamping cards in an office.
There was no financial support. No anti-discrimination legislation. But Maughan wonders whether present generations had the same get-up-and-go as she and her friends had.
While she is delighted that the modern Paralympics is now a major international festival, she wonders whether some of the camaraderie has been lost along the way.
She intends to go to the Games to enjoy a bonanza of sport which could not have been imagined 50 years ago - and where Team GB will be fully expecting to equal, and perhaps succeed, the medal haul of their Olympic compatriots.
Peter White interviews Margaret Maughan on No Triumph, No Tragedy on BBC Radio 4 on Sunday 26 August at 13:30 BST, or listen via the Radio 4 website