The 'embarrassing' Italian holiday riviera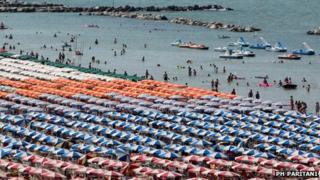 During the summer holidays, some Italians make for fashionable islands like Capri or the calm waters of Lake Garda. But those who head to the Riviera Romagnola on the Adriatic coast, have a rather less serene experience.
With a mixture of pride and embarrassment - that is how locals tell you they are off on holiday to the Riviera Romagnola.
It is often preceded by "just" and invariably accompanied by a sheepish giggle, quickly followed by an explanation of the benefits. A sort of confession and justification.
What is unique about this coast, stretching 68 miles from Ravenna down to the south of Rimini, is its enormous popularity - in spite of the unanimous agreement that the sea is, well, just not very nice.
It is a turbid greenish-brown that makes you feel like you are swimming in a giant muddy puddle.
Most astonishing of all is that nobody cares. That is because bathing is not what coastal tourism here is about.
As perfectly bronzed Camilla tells me: "Romagnola invented the 'beach without sea'."
Camilla is from Bologna and has been coming every summer since she was a toddler. The Riviera Romagnola is, she says, in her DNA.
"From the age of five to 13, I spent June and July here with my grandparents." Her working parents would come down at the weekends.
"During the week the only people on the beaches are little kids and old people," she grins.
But come the weekend, the entire demographic changes, and the coast is overrun by Italy's 16-to-35-year-old beautiful people.
Incredible to think that not long ago this was mostly undeveloped, malaria-infested marshland.
It was the Italian dictator Mussolini, born nearby, who really launched it as a tourist destination, promoting development, building large concrete holiday camps and spending his own summer holidays here in Riccione.
It became the seaside destination for the children of millions of north Italian factory workers.
Since then, the Riviera Romagnola has never looked back. Rimini with the legacy of its homegrown film director Federico Fellini, Cervia with its historic salt pans, Milano Marittima constructed last century by Milanese builders... all these resorts are now famous nationwide.
The appeal of the Riviera Romagnola today is all down to the shrewd charm of the Romagnoli. They have earned a reputation for unequalled seaside hospitality.
From push-chair to pensioner, the Riviera promises something for everyone, with the emphasis on fun and indulgence.
Hundreds of top quality seafood restaurants, thousands of piadina kiosks selling the famous local flatbread, millions of overflowing gelato cones. Every sport, health and shopping facility your heart desires.
As for evening entertainment, there are live bands playing waltzes for the old-timers, exclusive VIP beach parties for the new-timers and - most famous of all - Italy's top nightclubs.
It is St Tropez meets Blackpool, Ibiza meets Bognor Regis - as tacky as it is chic, as trendy as it is kitsch.
But if, like me, you prefer unspoilt, deserted beaches, the Riviera Romagnola is not for you.
An aerial view would look like a vast washing-line of neatly-hung checked tea towels - some 140,000 beach umbrellas.
For about 15 euros (£12, $19) a day, you can rent one with a couple of sun loungers and inhale the suntan lotion and cigarette smoke of those next to, behind and in front of you, while listening to a selection of conversations in surround-sound.
Most of your sun-kissed neighbours are probably neighbours back home. It is the city transposed to the sand. Beach clubs are known as "bagni" and these holidaymakers are as faithful to their bagno as a Yorkshire man to his local pub.
"It's just like in the song," laughs Camilla. "Stessa spiaggia, stesso mare - same beach, same sea."
"Ours was Bagno 146 at Miramare di Rimini. My grandparents' umbrella was in the front row so we had an unobstructed sea view." She giggles and I notice it again - that mix of pride and embarrassment.
At the beach club I am visiting, the music starts at 4pm, clashing with the music from the bagno next-door. Even the sound of the sea cannot drown it out.
Whether your beach club favours chill-out or live DJ sets, you can never escape the annual "tormentone" - a tormenting summer hit you hear everywhere and cannot get out of your head until well into the autumn.
At 6pm a voice chirps over the tannoy - "Tra cinque minuti, babydance," and 10-year-old Anna darts off.
"Where's she going?", I ask her mother. "Oh, the kids' disco. Afterwards there's the nutella party."
I raise a quizzical eyebrow.
"They each get a slice of bread and chocolate spread. Anna loves it." And again, that funny giggle.
Anna's mother and I are having a drink - here called a "happyritivo" - at her family's chosen beach club. I confess I am exhausted by all this noise, activity and organisation. I have tried the pine wood behind the beach but I wanted to be by the sea.
We come up with a plan. Next day I make my way to the beach at midday. As I walk down the avenue towards the seafront, I am swimming against the tide. Faithful to their ritual, despite the heat, the Italians are all off home for a cooked lunch and a siesta until 3.30pm.
At 1pm almost all the sun loungers are empty and, feeling like a seaside squatter, I nab one in the front row. At last I can hear the gentle lapping of the waves.
How to listen to From Our Own Correspondent:
BBC Radio 4: A 30-minute programme on Saturdays, 11:30 BST.
Listen online or download the podcast
BBC World Service:
Hear daily 10-minute editions Monday to Friday, repeated through the day, also available to listen online.
Read more or explore the archive at the programme website.