The Premier League footballer hatred vortex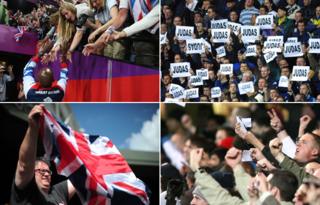 The achievements of Team GB at the Olympics have led to a wave of criticism of footballers. They've been lambasted for being overpaid, arrogant underachievers. But why do some people hate footballers so much?
Ex-England striker Michael Owen knew there was trouble ahead when the Olympics started.
In a post on his blog he wrote: "I turned to my wife, Louise, while sat in our lounge at home watching the Olympics, and said, 'just you watch footballers get hammered once this is over'. And here we are two weeks on with the bandwagon in full flow."
As the medals and plaudits flowed in, there was also a slew of comments and columns comparing the hard work and humility of Team GB's medal-winners with the brash arrogance of footballers.
The Independent's James Lawton wrote a column under the headline: "Let's hope our offensive, overpaid footballers have been watching the Games."
It was typical of a number of outpourings in the newspapers.
Footballers have acknowledged a change in mood. Joey Barton wrote about what football could learn from the Games, suggesting players should start with humility.
Some of the QPR midfielder's commenters agreed with his points, but one acidly noted: "You are the epitome of all that is wrong with football."
Barton has an extraordinary CV.
In 2004, he stubbed out a lit cigar in the eye of a youth team player. In 2006, he dropped his shorts in front of opposition fans during a match. In 2008, he was jailed for six months for an assault in which one man was punched 20 times and a teenage boy was left with broken teeth. Barton received a suspended sentence for punching a team-mate on the training ground.
He has since attempted a transformation, admitting to having an alcohol problem and becoming a noted tweeter. He is currently serving a 12-match ban for violent conduct on the pitch.
It's not just violence. The tabloid scrutiny of the private lives of footballers has led to a parade of stories of casual infidelity.
Many of those who dislike footballers also do not enjoy the sport, but there are plenty of die-hard fans who simultaneously resent the conduct of some of the players.
There is a sense of ownership among football fans.
When a fan invests so heavily in a team - paying for season tickets and travel to away games, devoting weekends and raising their children as supporters - a show of dedication is expected in return.
But as Owen added, that is not always well placed.
"I do appreciate that we as footballers should, at all times, be aware that we are being watched by millions of people on a regular basis but many people are simply not capable of being role models. Surely that is not their fault."
Many are not sympathetic.
"Footballers should be embarrassed and ashamed, absolutely," says football journalist Hunter Davies. "It's not a fair comparison but we are all just so fed up with the amount of money they are paid. It's gross.
"Their behaviour on the whole is so bad, so arrogant, they keep saying that should be respected, that they deserve respect. But they are rubbish, they [the England team] haven't won anything."
The Olympics had its share of issues - drug cheats, the badminton disqualifications, and athletes sent home for racism. Cricket had its match fixing scandal, and rugby suffered the shame of the fake blood scandal.
But there are few professions that evoke such loathing as football.
"They get paid extraordinary sums of money and it's the ones that lose touch with reality who are an embarrassment to the sport," says former Scotland international turned pundit Pat Nevin.
There are numerous anecdotes of footballers' decadent spending habits.
In the Guardian the Secret Footballer recounts the time he spent $130,000 during a "champagne war" with a group of other footballers in Las Vegas. The point of a champagne war being to send over a bottle of champagne to the enemy - in this case a nearby table - who is then meant to reciprocate, and on it goes until the bill gets too big for one side to pay.
Ashley Cole famously revealed in his autobiography that he almost crashed his car when his agent called and told him that Arsenal were offering him only £55,000 a week. Cole's affrontedness earned him the nickname Cashley, as well as occasional booing at the beginning of England matches. The very same fans later voted him England player of the year in a poll on the FA website.
"Look at Tevez last year, at John Terry and Suarez, awful. But I would be a liar if I said that the vast majority of footballers weren't great athletes and good, hard working people," adds Nevin.
Carlos Tevez was accused of refusing to play for Manchester City because he was trying to engineer a transfer, a claim he denied. Liverpool's Luis Suarez was banned for eight matches for racially abusing Patrice Evra.
"Footballers have become superstars, and the attitude of the nation to celebrity has become extreme," says Nevin.
"I was really impressed with how all the Olympic athletes handled themselves with the media, but I wonder how they would behave if they had been subjected to four years of media scrutiny and a harsh press."
For every Barton, there is a Niall Quinn, who donated his testimonial match revenue to charity. For every star with a dubious personal life, there is a plethora of unremarkable happily married ones.
Even controversial footballers like Craig Bellamy and Emmanuel Adebayor are also noted funders and organisers of charity initiatives.
An oft-heard gripe is that there are no gentlemen playing football anymore.
In the 19th Century the biggest football teams were Oxford and Cambridge, or the Corinthians, a team who famously would not take a penalty because it would be ungentlemanly.
But demand for the game was too high for it ever to continue to be dominated by amateurs. People couldn't play three matches a week if they also had a day job. The game became professional, and when the maximum wage was eventually abolished players started to earn considerable wages.
With the influx of television money in the 1990s there was another leap in wages. Now many Premier League players earn more in a week than the average fan earns in a year.
Underlying much of the criticism is the sense that footballers are undeserving recipients of their vast wealth. That is exacerbated by the notion that standards of behaviour have declined.
"People are always nostalgic about the past, that's how we are, it doesn't mean it was any better, there are still gentlemen in the game," says Steve Claridge, another player turned pundit.
"People make opinions about footballers based on nothing, on things that they read that usually aren't true, but they stick."
There have of course been more recent examples of gentlemanly behaviour.
In 2001 Paolo Di Canio was awarded the Fifa Fair Play award after he opted to catch the ball rather than shoot at an open goal when Everton goalkeeper Paul Gerrard was injured on the ground.
And the outpouring of emotion for Fabrice Muamba after he suffered a heart attack on the pitch proved players and fans capable of great kindness and respect.
But when the Premier League season begins on Saturday, there will be many fans torn between love of the game and loathing of some of the players.
Footballers v Olympians: Elsewhere on the web
"If Britain's sporting consciousness has increased with the heroics of Mo Farah, Jessica Ennis, Bradley Wiggins, Sir Chris Hoy and the rest of that true 'golden generation', then so, too, has the spotlight and the scrutiny on football and footballers - on the way they perform and how they behave on and off the pitch," says Oliver Kay of The Times.
"It is a sore point among a few of the older players, who feel that the tribalism of the modern game, plus the money they earn and the media attention they attract, make it all too easy to demonise them. But for the new generation of English footballers that is emerging, there is a recognition of a need to project a softer image than that associated with John Terry, Ashley Cole, Steven Gerrard and Wayne Rooney."
And in Manchester next month, players and Premier League officials will gather to discuss what they can learn from London 2012.
This is no sudden epiphany, says Matt Lawton in the Daily Mail. "Officials at the Premier League and the Football Association have long been aware there is a perception of the multi-millionaire footballer in this country as someone who can be arrogant and aloof.
"The money does create an obvious divide. It cost £26m over four years to deliver the 12 medals that were secured by those brilliant British cyclists in London; £6m less than Chelsea have just spent on Eden Hazard. That said, it is Chelsea's money, not UK Sport's."
Then there is the pressure of a life lived in the spotlight.
"Nobody at the Olympics is under the kind of scrutiny that has become part of everyday life for footballers, on and off the field. It has made some footballers afraid to play for England at Wembley and others afraid to engage with the media and the public."
Football manager and former player Ian Holloway, writing in the Daily Mirror, says the cash that has flowed into the Premier League has corrupted the beautiful game.
"These [Olympic] athletes have no ­problem when they look at themselves in the mirror every morning. They play sport in its ­purest form - for the glory of the game.
"I know for a fact that when our footballers were kids they played the game because they loved it for what it was. They dreamed of scoring goals at Wembley, winning trophies and becoming a hero for thousands. Then, somewhere along the line, the stars in their eyes were replaced by pound signs."